Catherine Rusoff is a Hollywood actress who is married to Ed O'Neill. O'Neill is best known as Al Bundy from the series 'Married… with Children'. The pair got married a long time ago and have two adorable daughters. Despite having an on-and-off relationship, Rusoff and O'Neill seem to be very happy with each other at present.
Let's have a closer look at the pair's relationship and find out how their life as a married couple has changed over the years and all other details about their children and past affairs as well.
Catherine Rusoff and Ed O'Neill's children
Rusoff tied the knot with O'Neill in 1986. In 1996 Rusoff gave birth to the pair's first daughter Sophie 1999 and their second daughter Claire was born in 2006. Despite being known for his role in 'Married… with Children', it took 13 years for O'Neill to have children in actuality.
Must Read: Catherine Rusoff Married Life And Ethnicity
CAPTION: Catherine Rusoff and Ed O'Neill
SOURCE: afternoonspecial.com
You might be amazed to know that O'Neill didn't want to have kids at first as he revealed in an interview that it was Rusoff's idea to have children. He also opened up by saying that at first, he felt like doing a favor to his wife but later when their first child was born, he instantly fell in love.
At the beginning, I sort of reluctantly went along with it. As a favor to her, I was thinking. Then when we had the first one, I was like 'Oh, my God, I'm in love.' They are the best thing that has ever happened to me.
CAPTION: Ed O'Neill with daughters Sophie and Claire
SOURCE: Pinterest
He also admits that his daughters are the best thing that has ever happened to him.
Catherine Rusoff and Ed O'Neill's on and off relationship
Rusoff and her husband have already crossed 3 decades of their togetherness as a husband and wife but their journey wasn't easy. They separated in 1989 due to some issues but got back together in 1993.
Later in 2009, NYpost claimed that the pair live separately and they share the custody of their daughters. However, in 2012's Emmy awards Rusoff arrived with her husband O'Neill and her husband planted a very warm kiss on her cheek to show how much he loved her.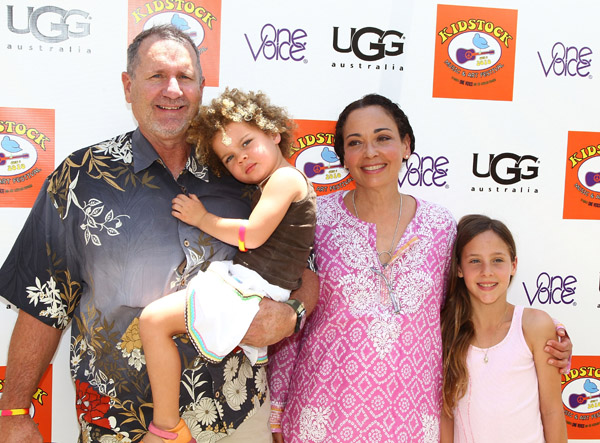 Image: Catherine Rusoff and Ed O'Neill with their daughters Sophie and Claire
Source: growingyourbaby.com
This indicates that the chemistry between Rusoff and O'Neill is still rich and they haven't separated yet. The pair are said to live in Los Angeles along with their daughters.
Also Read: Catherine Rusoff
Catherine Rusoff's beauty and youth
Rusoff is already 68 years old but she amazes all her fans with her immense beauty. It's quite shocking to see how Rusoff has maintained her beauty and youth even in her early sixties. This might be one of the reasons why O'Neill hasn't laid his eyes on any other woman.
The couple is often seen together at many red carpet events along with their kids. Despite, the couple encountering several problems in their relationship history the couple is still leading a happy life along with two adorable daughters together, which is not possible without a strong bond.
Quick Facts
How old is Catherine Rusoff's husband Ed O'Neill?
As of 2022, Ed is 68 years of age. He was born in, 1954.
For more updates stay on famousStardom.