It's usually a hard job for a television personality to keep their personal life out of paparazzi. Especially, if you have millions of fans who always tries to keep in touch with you.
Hilary Duff as one of the most renowned American actresses, best known for her role as the bubbly Lizzie McGuire on the series Lizzie McGuire, falls in the same category. Hilary Duff, who kept her past relationship a secret with the personal trainer Jason Walsh has recently revealed her relationship with her boyfriend to the media after nearly five months of dating.
Moreover, nowadays, Hilary is also rumored to be reuniting with her ex-husband Mike Comrie as she had a dinner with him a few days ago. Let's find out more about this hot celebrity. Just stay with us.
Must read - Police warn Hilary Duff of an obsessive fan who has been stalking her and wants to propose her
Hilary Duff finalized her divorce with her husband Mike Comrie after 6 years of their marriage
Hilary Duff was previously married to Mike Comrie on 15 August 2010, in an intimate ceremony in Santa Barbara, Calif. The couple had exchanged their vows at the Mediterranean Villa La Quinta under an arch of flowers and in front of about 100 guests.
Hilary Duff with her husband Mike Comrie at their wedding ceremony 
 
Source: Pinterest
Hilary had been dating professional ice hockey player Mike Comrie since 2007 and after three years of dating, they got married. Hilary was 22 and Mike was 29 years of age when the couple tied the knot.
Just after a year of their marriage, Hilary gave birth to their first child; son Luca Cruz Comrie which brought an uttermost happiness in their life as they became parents for the first time.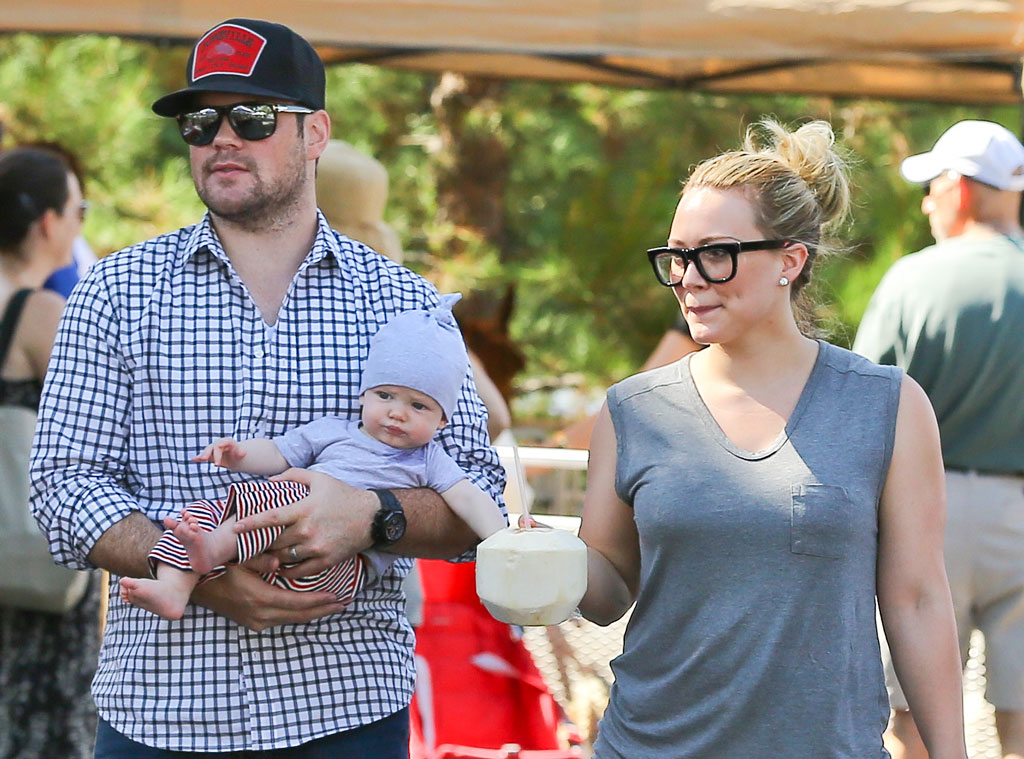 Hilary Duff with her husband Mike Comrie and her son Luca Cruz Comrie
Source: eonline
Hilary Duff had been spotted in various places along with her husband and son and it looked like she was living a happy married life. None of her fans ever even thought about the separation of Hilary with Mike.
But, unfortunately, nearly after six years of their marriage, the couple finalized their divorce on 2nd February 2016 without sighting any reason behind their separation. Some sources say, they split up because of difference in their attitudes.
Hilary Duff finalized her divorce with her husband Mike Comrie
Source: Radaronline
Although the couple split up with each other, both of them reportedly celebrated their son Luca's fourth birthday together. Their son Luca Cruz is currently with Hilary but Mike Comrie is demanding for the joint custody of the child.
Hillary has a lovely bond with her son as we can see in the above Instagram picture posted by Hilary herself. She is looking gorgeous kissing her son. It proves her strong relationship with her son. A motherly love is never shallow.
Hilary Duff revealed her affair with her ex-boyfriend Jason Walsh whom she started dating just after her divorce
After the divorce with Mike Comrie, Hilary began dating a personal trainer, Jason Walsh who is also a founder of the Rising Nation.
Firstly, their relationship started as a friendship but lately, they have been spending a lot of time together, both in the gym and out at various restaurants. Very soon, their relationship as friends turned into love partners.
Video:  Why Hilary Duff Kept her relationship a secret her ex-boyfriend Jason Walsh
After being in the relationship for over five months, the couple eventually broke up. However, the reason behind their separation is still locked somewhere in the secret walls.
Moving deeper in the personal life of Hilary duff, a few days ago, she reportedly had dinner with her ex-husband Mike Comrie, who is under investigation for alleged sexual battery.
Mike Comrie with his wife Hilary Duff and son
Source: Popsugar
Does it mean that the duo is again going to reunite? Only time will tell us. Now, what we have to do is just wait till any new news comes regarding $500 dollar net worth's Hilary Duff's personal life. For more updates, keep in touch with FamousStardom.