Rachel McAdams and Taylor Kitch are the two stars of HBO's True Detective. Even though McAdams and Kitch were friends before they worked in this show True Detective, the bond between them grew stronger as the show progressed. Eventually, they were seen to be in a relationship. But they always maintained their affair and kept it private.
In a short time, the bond between this duo was so strong that, they met each other's parents and it is also said that Taylor is very close to Rachel's mom. Whenever this duo met, they use to make something up so that people would not know about their relationship, but we do know about their relationship, don't we?
According to the source, we have come to know that, they are in a live-in relationship and Rachel is seen in Kitsch's condo most of the time. This is not only the relationship that Rachel has kept a secret to the world there is another relationship too but the most notable relationship that Rachel was with her co-star Ryan Gosling from The Notebook.
Rachel McAdams
Source: santabanta.com
We will soon talk about the relationship of Rachel but before that let's make clear the split between Rachel McAdams and Taylor Kitsch.
Rachel McAdams Split with Taylor Kitsch
We have already mentioned the relationship of Rachel McAdams and Taylor Kitsch which has grown stronger on the set of True Detective but there is a twist in that. WOW! Eager to know the twist?
Here's the twist, Rachel McAdams was seen with a different man (Jamie Linden) at a wedding, due to which a news came out that 'True Detective' Co-Stars Rachel McAdams and Taylor Kitsch Split and they are no longer dating and that she moved on with Jamie Linden. But this duo has neither confirmed nor denied this so, they could still be on track.
This is not the only relationship that Rachel McAdams has been in. On the other hand, Taylor also had a relationship with another actress Jennifer Welch which he ended recently. Now, let's talk about their relations.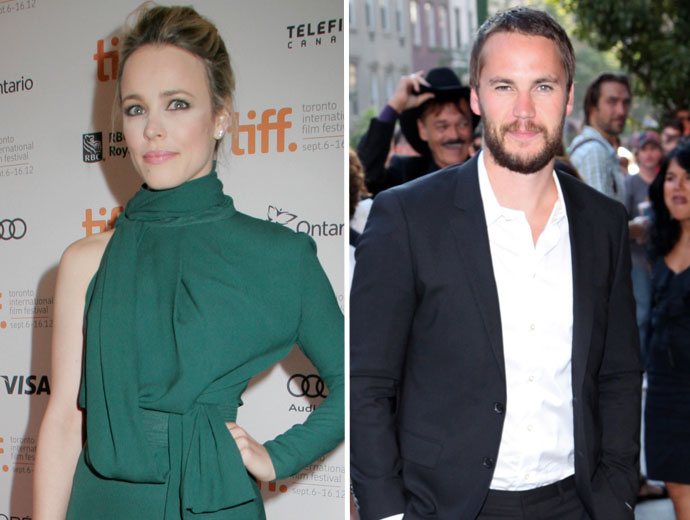 Taylor Kitsch and Jennifer Welch
Source: X17
First, check out Taylor Kitsch Speaks Out on Rachel McAdams Dating Rumors.
Rachel McAdams and Ryan Gosling Relationship
Till now we already know that both Rachel McAdams and Taylor Kitsch had some relationship in the past. Now, let's start talking about Rachel McAdams more past relationships.
Rachel who is reported to be pregnant with her first child as per an article published by E! News on Thursday, February 22, 2018, and the star of La La Land Ryan Gosling had 2 years long relationship and it is said to be the most famous relationship that McAdams ever had since he is really good at keeping secrets and when we say really good it really means really really good.
Rachel McAdams and Ryan Gosling
Source: popsugar.com
You also might have known this till now since she has managed to keep the relationship between her and Kitsch secret even when they were both in the same show they managed to keep their relationship low-key.
Check out an Instagram post where you can see Rachel McAdams and Ryan Gosling.
We wish her the Best of luck in her love life and her career in the future. Best of Luck!!