The Hollywood couple, Adam Rodriguez and Grace Gail, who recently attended the 2017 People's Choice Awards earlier this year, has been officially husband and wife since 2016 and they recently celebrated their first wedding anniversary.
The couple is blessed with a daughter named Frankie who was born before they got married. Additionally, earlier this year, they again welcomed a baby girl. Let's get inside the personal life of the pair and dig out all the details about their wedding, married life, and children. Just stay with us.
Adam And Grace Became Husband And Wife officially: Wedding At Italy
The Magic Mike XXL star Adam Rodriguez and the fashion model Grace Gail tied the knot in front of friends and family members on 2 May 2016 and the wedding ceremony was conducted in Tuscany, Italy as confirmed by the actor's representative.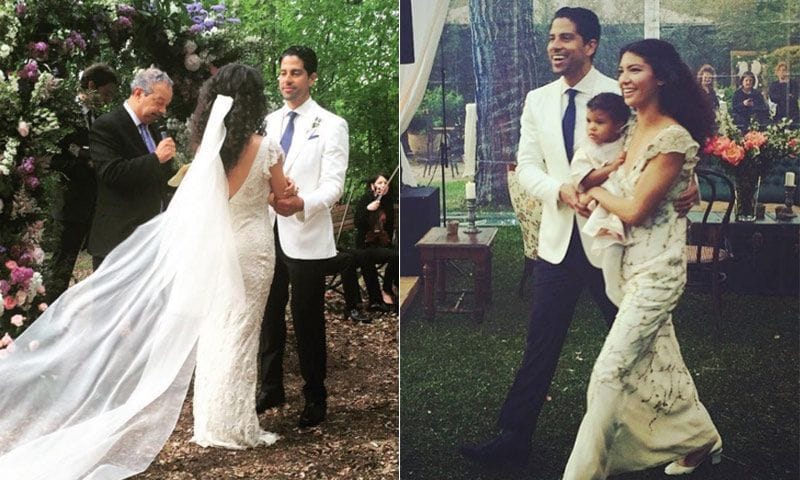 Happily married husband and wife: Adam Rodriguez and Grace Gail at their wedding ceremony
Source: hola
The guests were treated with a light lunch in a courtyard as they headed to the forest for the ceremony. The wedding was officiated by the writer of the Magic Mike film, Reid Carolin, who worked with Adam on Magic Mike XXL.
Happily married husband and wife: Adam Rodriguez and Grace Gail
Source: Dailymail
Adam and Grace's friends and family members shared pictures from the stunning ceremony on Instagram.
Here is a couple of posts from their wedding day. Check themThese two...?????????? #graceandadam #mybabysisisgettinghitched #mostbeautifulbride #tuscany #prou
Moreover, here is a video of their intimate wedding. Enjoy watching, guys!!!
Wow!! What an amazing wedding. 
Do you want to know one more interesting fact about their marriage? Well, the bride and grooms' 3-year-old daughter who was born in 2014, Frankie Elle Rodriguez, was also in their wedding.
Here is a picture in which you can see Frankie in their marriage. Check it out.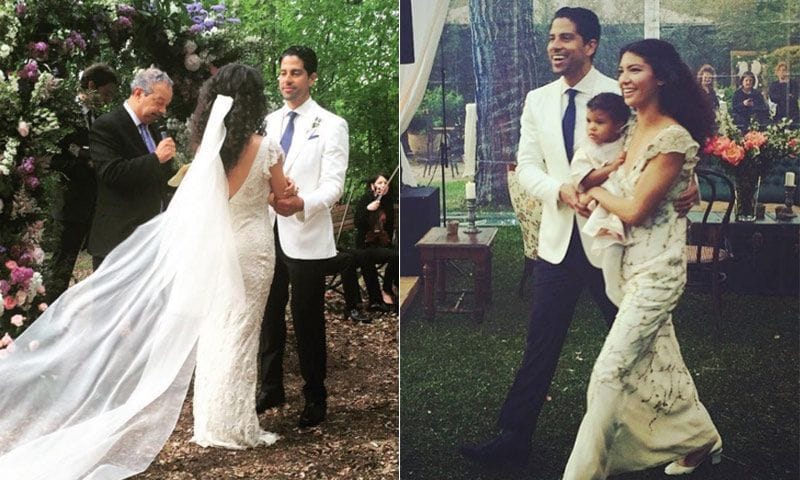 Happily married husband and wife: Adam Rodriguez and Grace Gail with their 3-year-old daughter Frankie Elle Rodriguez at the wedding
Source: hola
Besides Frankie, the pair have another daughter whom they welcomed earlier this year on18 January 2017, Adam exclusively told Entertainment Tonight about the arrival of their second child:
The second baby is alive and well! So far so good. It's been really great. We lucked out. My daughter is loving being a big sister and couldn't be more affectionate.
The proud father loves to enjoy quality time with his kids. Here're some of the moments Adam shared while spending time with his daughters. Check out them.
Here is another picture he shared on the third birthday of his first daughter Frankie. Check it ou
The perfect family of four is living happily together.
We wish the family all the very best and we hope they never have to face any difficulties.
Quick Facts
What is Adam Rodriguez Age?
As of 2019, he is 43 years old. He was born on April 2, 1975, in Yonkers, New York, United States.
What is Adam's height?
He is 6 feet 3 inches, ie. 1.83 m.