Marriage can be tough; even tougher are divorces. And when one has gone through two divorces, there persists a wound that never really heals up. One of the hottest co-hosts of The Five on Fox News Channel, Kimberly Guilfoyle is married twice in her life. But the married life of 49-year-old Kimberly failed with divorces.
And with such major heartbreaks twice, the mother of a child, Kimberly's reports on her third marriage are not out. But Kimberly is dating with the U.S President Donald Trump's son Donald Jr. which has made the highlights. 
Let's know all the details about Kimberly's married life, her husband, and her affairs in this section.
Kimberly Guilfoyle Is Current Dating, Her Relationship
Well, many of us familiar with the co-hosted The Five on Fox News, Kimberly Guilfoyle and her close relationship with the Trump family.  As reported, a news in 2018 cast a spotlight on Guilfoyle's datings after 8 years of her second divorce. Kimberly's new boyfriend is none other than Donald Trump Jr., the son of the U.S president Donald Trump.
Guilfoyle and Trump Jr. are reportedly dating after he separated with his wife Vanessa Trump, following 13-years of marriage.
Even though Kimberly shares her close friendly relationship with the Trump family for years, the couple has not disclosed their relationship beginning details. Kimberly and Donald Jr. shocked all after they officialized their relationship by June 2018. Though, both divorcees have not talked about their marriage plans.
 Hope the further reports on their relationship will be out soon.
Also Read: Remarkable Similarities between Donald Jr. mother Melania Trump and New Girlfriend Kimberly Guilfoyle
Kimberly Guilfoyle First Marriage and Divorce
In 2001, Kimberly Guilfoyle was married to Gavin Newsom, who was then a city supervisor. Newsom was elected the mayor of San Francisco in 2003 and Kimberly became the First Lady of San Francisco.
In January 2004, Guilfoyle moved to New York to host the program Both Sides on Court TV, as well as to take a job as a legal analyst on Anderson Cooper 360°.
Kimberly and Gavin
Source: Getty
After several months of rumors circulating about their failing marriage, the couple finally filed for divorce officially.
Video: Five Surprising Facts About Kimberly Guilfoyle 
The divorce of the Mayor and his Court TV analyst wife was announced "with great sadness" at the end of their 3-year-old bicoastal marriage in a brief statement issued by the Mayor's City Hall press office in January 2005.
The divorce was finalized in 2006. This couple had no children.
Kimberly Has a Son From Her Second Marriage: Divorce with Second Husband
A few months after her first divorce was finalized, Kimberly got married to the CEO and heir of the Villency Design Group, Eric Villency. The couple tied the knot on May 27, 2006, in Barbados.
Five months after the marriage, Kimberly gave birth to the couple's first son, Ronan Anthony Villency on October 4, 2006.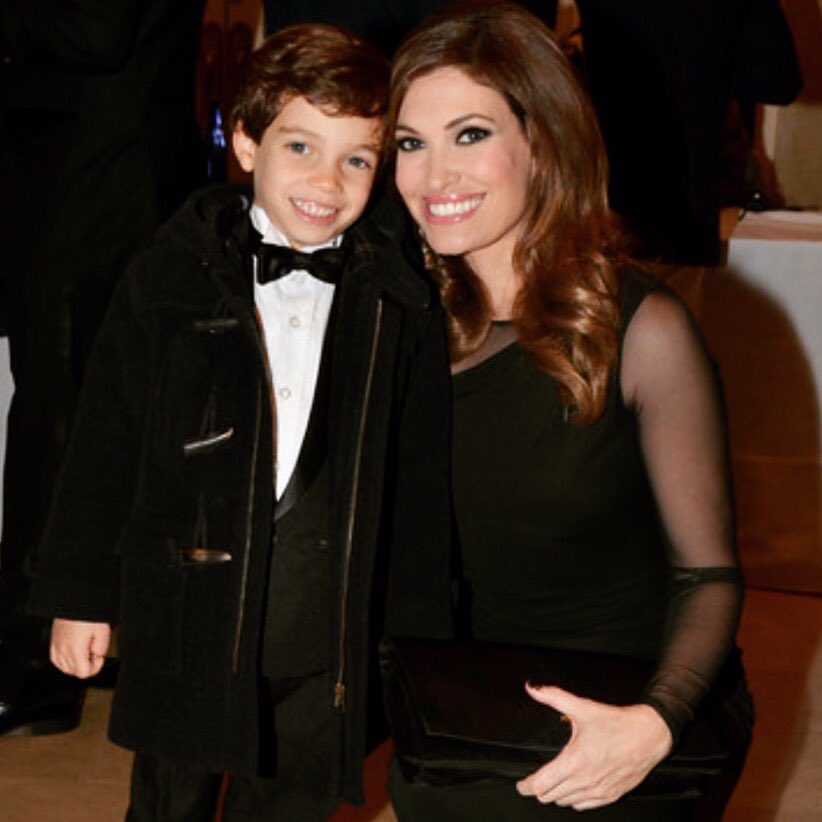 Ronan Anthony and Kimberly
But even her second marriage went downhill after a couple of years. Kimberly's field for the divorce in 2009.
Kimberly and Eric Villency
Like her first marriage failure, Kimberly without disclosing the reason for her separation finalized her divorce in 2010. Reportedly, Kimberly Guilfoyle, 49, took the custody of her 12-year-old son Ronan Anthony and seems happy to publicly share the mother-son moments on her Instagram page.
Kimberly's Third Husband Maybe Donald Trump Jr; President's Son
Kimberly Guilfoyle has revealed many times that she still harbors a cordial and close relationship with both her ex-husbands. She despises the fact that she had to lose "two of the greatest human beings" of her life. Her divorces had irreconcilable differences and she regrets having to make those decisions that were fatal for her marriage.
But with all the heartbreaks, she seems content with her life now as she is not dating her boyfriend Donald Trump Jr. After her divorce from the second husband, Kimberly made a dating debut in 2018, linking her possible daughter-in-law position in the Trump's family.
CAPTION: Kimberly Guilfoyle
SOURCE: Hollywood Life
But on July 20, 2018, Kimberly left Fox News amid her sexual misconduct which included showing colleagues pictures of male genitalia. 
What happens next? Is Kimberly going on for her third husband? Well, no reports on Kimberly's engagement or marriage plans are not out yet. Let's see what the future has to offer. Stay tuned.