Alicia Silverstone is an American actress known for her work in the comedy hit, Clueless in 1995. She is also known as a batgirl in the 1997 film Batman & Robin with George Clooney. Silverstone, who made her debut in the 1993 film The Crush, won the 1994 MTV Movie Award for Best Breakthrough Performance. The 41-year-old actress is married to her longtime boyfriend, Christopher Jarecki.
Christopher, the Polish-American musician shares a child with Alicia. The couple being married for over a decade is making everyone curious about their relationship. So, how is their married life? Are they living happily? Let's find out all about couple's relationship, their past relationships, and children.
Married life of Alicia and Christopher
Alicia and Christopher are the late 90s lovers. Even though the couple has not opened up much about their love life, but as reported, Christopher met Alicia outside a movie theatre in 1997 and in no time, they got indulged in a relationship.
Later, the couple got engaged after Christopher proposed Alicia with his grandma's ring in 2014 after 8 years of dating. Alicia recalls the happy moment saying:
He was waiting on our old wicker love seat, ring in hand, with the most beautiful proposal any best friend could ever give.
The following year on June 11, 2005, the old-time lovers got married in Lake Tahoe, California in front of their family, relatives and close friends. Have a look at the beautiful couple.
Christopher and Alicia in their wedding
Source: Tradesy
Many of you may not be aware, but both Christopher and Alicia are vegan. So, the green-themed marriage took place in an eco-friendly way, planned by pro-planner Joannie Liss. Perfect match for the couple!
Well, it's been 12 years since their marriage, and no news of mishaps or divorce has been reported. The happy couple is reportedly free from the records of past affairs and relationships. Probably, they are only meant for each other.
Christopher Jarecki and his wife, Alicia Silverstone
Source: NY Daily
The couple barely shows their love on social media, but their love for each other growing every day. 
Also read: American musician and singer, Nick Carter is living a happy married life with Lauren amid rape allegation
Christopher and Alicia who shares lots of affection, love, and interest for one another also share a son named Bear Blu Jarecki. Let's know more about him.
Christopher and Alicia's Son
The couple after 5 years of marriage gave a news of the pregnancy and told that they were expecting their first child in January 2011. Later, the couple welcomed a new member of the family with the birth of their baby boy, Bear Blu on May 5, 2011.
Alicia shared a photo on her Instagram recalling the days soon after the birth of her baby. Have a look.
Really cute!
Bear shares beauty and charm of his beautiful mother and father. The couple is often spotted together sharing some lovely moments together.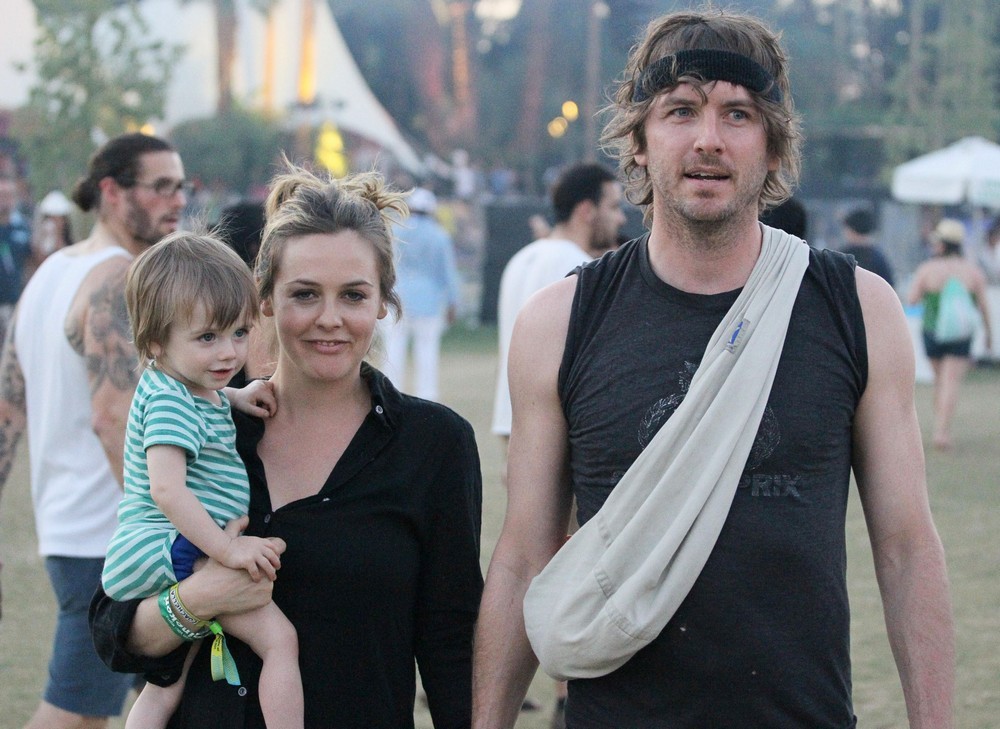 Christopher and Alicia with their son, Bear Blu at 2012 Coachella Valley Music and Arts
Source: Alchetron
Currently, the couple lives in their home in LA, decorated with solar planets and organic vegetable garden. We wish the happy family lots of happiness!
But, wait there's something more about them. Many of you might not know, but Christopher seems to be overprotective when it comes to caring his child. Scroll down for details.
Also read: Children of The 40-Year-Old Virgin actress, Kate Luyben  
Christopher Jarecki: A bit too Caring Father
Christopher, known for his work as the frontman for Geffen Records-signed band S.T.U.N, has been literally nicknamed as "a bit too caring father." The incident happened shortly after Bear's birth in 2011. While on a stroll along with his wife and a newborn baby, Christopher seemed to be quite overprotective of his child.
He carefully zipped up his baby in his grey hoodie, probably to protect from the paparazzi.  Have a look.
Christopher cuddles up his baby in his hoodie while taking him out
Source: Daily Mail
Well, his possessiveness is quite likely as Christopher and Alicia became parents for the very first time. It, in fact, shows his love for his child.
For updates, be in touch with FamousStardom.com