Robert Hames Ritchie professionally known by his stage name Kid Rock is a singer, songwriter, rapper, record producer, musician, and actor based in the United States. Till date, he has won 5 Grammy awards and one of his albums Devil Without a Cause released in 1998, sold over 14 million copies. Throughout his career, Kid has ventured into different types of music styles and is indeed one of the biggest names in the music industry. He is also very active in politics and has met US President Donald Trump and former presidents Barack Obama, Bill Clinton, and others. 
Born on 17th Jan 1971, the 47-year-old made headlines after he got engaged to his long-term girlfriend  Audrey Berry back in 2017. The news was one of the sensational cases to the social media and Internet at that time. Moving on to 2018, there have been many questions about their relationship, mostly if they are married or not. The couple is yet to get married; however, they are still living a happy life as engaged couples. 
Kid Rock
Source: Billboard
Here we are going to share you the information related to a romantic affair of Kid Rock and Audrey Berry. And toggle down to know more about his past relationships and girlfriends.
Kid Rock's relationship with fiance Audrey Berry
Kid usually prefers to keep his personal life at a low profile and doesn't prefer to share information related to his sweetheart. He rarely shares pictures captured together with his girlfriend on his social media profiles; however, we have taken out interesting things about his romantic affair.
Kid Rock with fiance Audrey Berry
Source: Daily Mail
Nonetheless, the couple started dating in 2010. Later in April of 2017, it was reported that he proposed Audrey and she obviously answered with a big 'YES.' According to sources, Kid who is the father of a child from his previous marriage proposed his girlfriend with a large oval-cut center stone diamond ring. And the dark-haired beauty was also spotted flashing her gigantic ring worth thousands of dollars in Los Angeles during Rock's Chillin' The Most cruise. 
Kid Rock's fiance Audrey Berry showing off and eyeing her diamond ring
Source: TMZ
Although the couple is dating for a long time and they are enjoying their romance, they are yet to get married and living together as fiances after the engagement. The duo is in a relationship for the past 8-years and Kid's fans are eagerly waiting for him to share the news of his marriage with the gorgeous lady. 
Kid Rock's past affairs and marriage
Kid's first well-known relationship was with his high school sweetheart Kelley South Russell whom he started dating when he was just an 8th grader. They couldn't give continuity to their affair as they had ups and downs in their relationship.
However, together they have a son whose name has not been revealed yet. However, according to sources, he along with his wife gave birth to their first child, a baby girl back in 2014. 
Moving on, one of his popular relationships was with actress Pamela Anderson. The couple started dating back in 2001 after they met at VN1 tribute to Aretha Franklin. A year later in April 2002, it was revealed that they got engaged but called off their engagement later.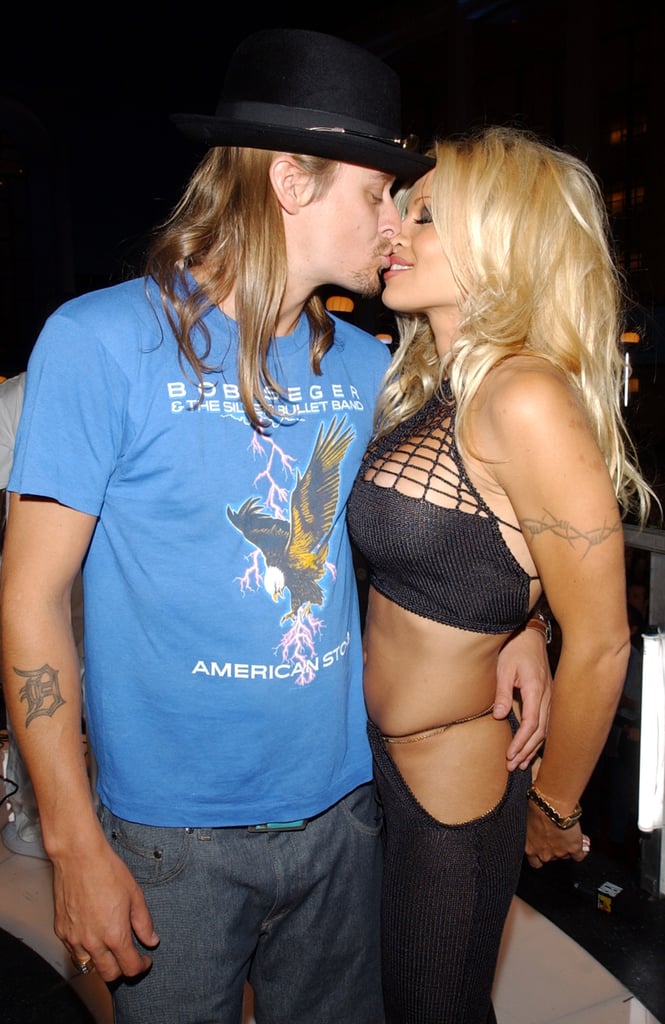 Kid Rock with ex-wife Pamela Anderson
Source: Pop Sugar
Again on 29th July 2006, they surprised the world with a news that they are going to get married at a secret ceremony. Later in November of the same year, it was reported that Pamela was pregnant but had a miscarriage while shooting for Blonde and Blonder.
After 28 days of their wedding and 18 days of the miscarriage, the couple filed for divorce because of irreconcilable differences. However, later it was revealed that Pamela was openly insulting Kid's mother and sister to his son, which he found very offensive. Their divorce was finalized in 2007. 
Kid Rock with Paris Hilton
Source: Gossip Rocks
Furthermore, apart from Pamela, Kid had an encounter and affairs with other famous faces like Paris Hilton; back in 2007, Briana Banks, Krista Ayne, May Anderson and many others.