Ashton Meem is an American sensation best known as the ex-wife of NFL player Russell Wilson. The pair were in a years-long relationship which later became a marital relationship which did not have a very happy ending. After her split with the player, Meem has stayed away from the glitz and glamor of Hollywood. 
Meem was born on 6th September 1987 in Richmond, Virginia. The 30-year-old has a degree in B.A from NC State. Apart from the fame, she received as the wife of the quarterback, there is not really much when it comes to her personal life and professional life. 
Ashton Meem with ex-husband Russell Wilson
Source: Married Wiki
Nonetheless, here we are going to share some information about Ashton Meem's current relationship, her marital life and harsh split with ex-husband Russell Wilson. 
Has Ashton Meem moved on? Who is she dating?
Ashton officially divorced her, one and only, husband Russell Wilson back in 2014. After the split, there has been little to no information about the new life she is living. 
In fact, she has gone completely underground and sources claim that she is working at an American Family Insurance Company. 
Ashton Meem with her ex-husband's fan
Source: Heavy
Speaking of her current love life and if she has moved on, it seems that she is having a hard time to do so. Initially, she did not even change her last name on her Twitter page but as of now, her account has been deleted.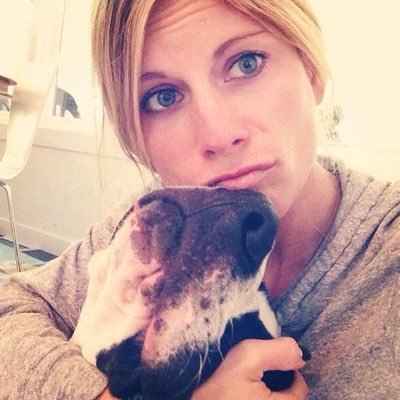 Ashton Meem
Source: Twitter
No reports have surfaced claiming that she is married to dating a new man so, it is safe to say that she is currently single and having a hard time moving on not only from her ex-husband but also from the life of a star-struck wife to a normal person.
Or she might just be trying to focus on her career and make the best of what she has. 
Ashton Meem relationship with ex-husband Russell Wilson and their divorce
Ashton met Russell back when they were both in high school. Even though they did not study in the same school, their paths crossed anyways. They met a few times on the way and during parties and eventually started dating in 2006. 
Ashton Meem with ex-husband  Russell Wilson
Source: Pinterest
Meem is a year older than Russell and they dated throughout their high school and college years. According to sources, Meem even changed 4 colleges just to stay close to her beau while he changed colleges easily. 
Following her graduation in 2010, Wilson put a ring on the same year, and they were officially engaged. 
CAPTION: Aston Meem with husband Russell Wilson
SOURCE: ibtimes
The high school sweethearts lived as an engaged couple for two years until they tied the knot in Jan of 2012, not long before Wilson made his debut in the NFL.
The relationship was picture-perfect at the beginning. The world was going crazy over the gorgeous NFL player wife who appeared in ESPN too. 
Watch Meem and Wilson answer some questions
However, in 2013, rumors hit the market that Meem was allegedly cheating on her husband with his friend who is also a football player, Golden Tate. Even though there was no strong base to the rumor, it was being fueled by the media and everyone talked about it.
Ashton Meem with then-husband Russell Wilson, rumored boyfriend Golden Tate and his girlfriend
Source: Heavy
Eventually, in 2014, Russell Wilson announced that he was filing for divorce which shocked everyone and somehow proved that Meem cheated on him. The divorce was harsh for the couple who were together from a very young age. 
Following the divorce, Tate spoke on the rumor and shared that Meem and his now fiance were best friends and it never would happen. He quoted:
I did not have an affair with Russell Wilson's wife, nor did I have anything to do with his divorce. That is laughable for anyone who knows us. His ex-wife, Ashton, is still best friends with my girlfriend. Russell and I were good friends when I was in Seattle, on and off the field — he knows the rumors about me were unfounded, damaging to my reputation, and an attack on my character. Anyone who circulated that rumor was just plain irresponsible.
Russell Wilson and Ciara at their wedding
Source: Popsugar
Even though the divorce was not easy for Meem, Russell moved on quite fast and started dating singer Ciara whom he is married to now.
Quick facts about Ashton Meem:
When did Ashton Meem and Russell Wilson get married?
Ashton Meem and Russell Wilson got married in January 2012.
When did Ashton Meem and Russell Wilson get divorced?
Ashton Meem and Russell Wilson got divorced in 2014.
Did Ashton Meem get married again?
There are no rumors of Ashton Meem getting married again.
Did Russell Wilson get married again?
After the divorce, Russell Wilson got married to singer Ciara.