One more heartbreaking news this month!! It's all over between Audrina Patridge, 32, and Corey Bohan, 35. Yes, it is official! that the couple, who just married in 2016 and also had a daughter together is no longer in a marital relationship. Audrina filed a divorce in September 2017 and handed him a year-old child, Kirra Max to Bohan.
So, what went wrong? Why the cute couple separated soon? Let's find out the story behind it. 
Must Read: Is Corey Bohan And Wife Audrina Patridge Happily Married? Know About Her Love Affair And Children.
Audrina Patridge and her year Huband Corey Bohan: Know about their Relationship
Patridge and her ex-husband Bohan started dating back in 2008, and after years of togetherness, the couple finally decided to walk down the aisle in 2016. The couple tied the knot in November 2016.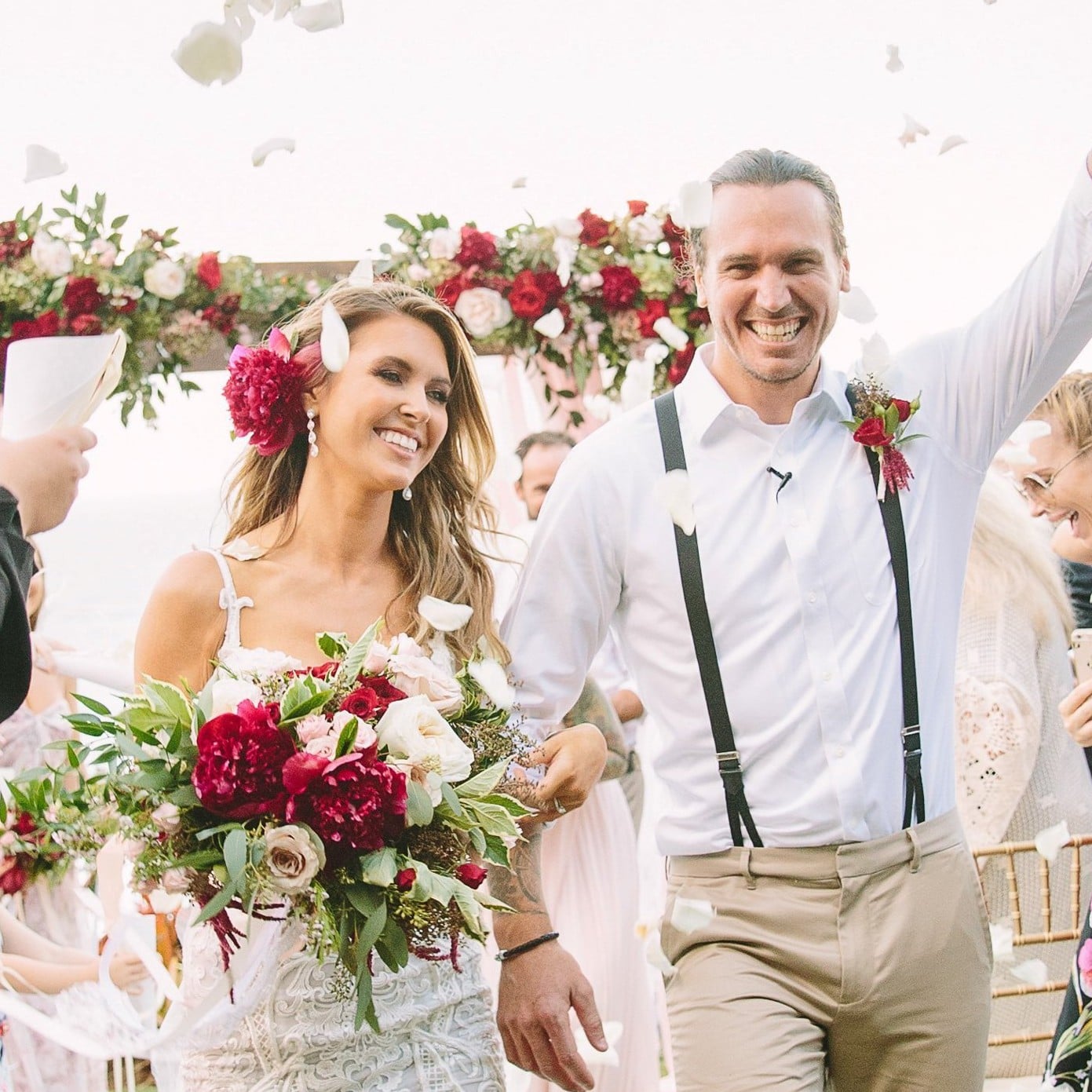 Audrina Patridge and her eight-year-long boyfriend Corey Bohan tied the knot in November 2016
Source: PopSugar
The couple tied the knot nearly five months after the birth of their daughter Kirra Max, who was born on June 25, 2016.
We have decided to go with our original plan and get married after the baby is born.
Also Read: Audrina Patridge and Corey Bohan first-time parents as they welcome a baby girl - Kirra Max Bohan.
The couple who knew each other for more than a decade was really excited to have started a new life together. Before their wedding, the "Dancing With The Stars" star shared her excitement with the PEOPLE,
It's family. It's connecting all the dots and bringing it all together. We both came to a decision where we're like we're giving this 100 percent now. No more being gone all the time. And we're both ready for it.
Despite all of the beautiful moments, the darker side of the couple came openly in public after Patridge's spouse, Corey Bohan filed the divorce in September 2017.
Audrina Patridge Filled Divorce For Husband Corey Bohan: Know the reason.
Patridge filed for divorce from her husband Boahn on Wednesday, September 20, just two days after she obtained a temporary restraining order against the BMX rider.
According to the US Weekly, Patridge claims that her husband was violent with her on some occasions.
[Bohan] has become increasingly possessive, angry, agitated and jealous of my work and travel schedule, His aggressive behavior usually escalates whenever I am paying attention to work obligations, rather than to him. When we are apart, he texts me obsessively, rattling my nerves and making it difficult for me to concentrate on my work commitments.
Moreover, A source told US Weekly
Their relationship has been tumultuous form the beginning, they have a kid together and wanted to make it work for her.
The couple hasn't come up with a decision about who to take over the custody of their child. As of now, both of them keep their child in turn.
After days of their split, The Hills (2006-10) actress was spotted together with her estranged husband handing over a year-old daughter before meeting up later for another swap.
?
Audrina Patridge handed over her daughter to Bohan.
Source: Daily Mial
Recently after weeks, Pattridge filed for divorce, and the couple reached a living agreement in court.
Audrina Patridge and Corey Bohan reached a Living Agreement in Court.
Though Patridge claimed Bohan was abusive, the court didn't find that he was any-way abusive. However, after Patridge requested form some modifications in the restraining order, the former couple agreed on their housing situation.
Bohan who has been living in Patridge's house has finally agreed to move out, and The Hills actress decided to pay him $35,000 in the name of relocation costs.
Out of the house! Audrina Patridge has agreed to pay Bohan $35,000 as relocation costs.
Source: Mommyish
Partridge is living with her parents in Orange County. A source suggested to the NZCity,
Audrina was staying with her parents in Orange County. But has been moving around staying with other family members too.
Also Read Audrina Patridge's Estranged Husband Free of Domestic Violence Charges.
Now the actress is pleased to be at home with her child. A source revealed to the E! News,
Audrina is focusing on her child and really just wants this to be over. She's happy to be back in her house and has worked hard to create a loving home there for Kirra.
Hope whatever the former couple is up to, in the future everything goes right.