It's official: Sara Eisen and Matthew Levine are husband and wife. Eisen's personal life had always been a matter of interest to her fans as she is not only an amazing host but also equally gorgeous. Many men's hearts broke when Eisen's marital news came in limelight.
We must admit that Levine is the lucky guy who married the CNBC anchor Eisen. Let's have a closer look at who Eisen's husband is and how is their married life going on at present.
Who is Sara Eisen's husband Matthew Levine?
Eisen's husband Levine is the managing director of Bloomberg TV. He handles almost all the editorial content of the network in the US.  As they both are into the television industry, we believe that they met because of their profession.
Image: Sara Eisen and Matthew Levine
Source: NY times
Sara Eisen and Matthew Levine wedding
Eisen tied the knot with her long-term boyfriend Matthew Levine on 29th May 2016. Their wedding ceremony took place at the Weylin B. Seymour's, Brooklyn among close friends and family. Eisen looked more than gorgeous in a magenta gown during her wedding day, and Levine wore a neat Tux. Levine's bow-tie's color was matching to Eisen's gown which made the couple looking like they were actually made for each other. They look really happy in all of their wedding photos.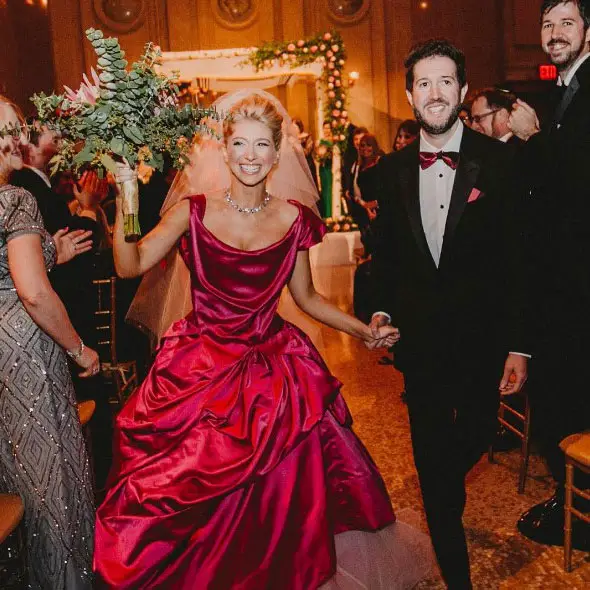 Image: Sara Eisen and Matthew Levine
Source: Live Ramp up
Sara Eisen and Matthew Levine honeymoon
The level of Eisen and Levine's happiness hasn't gone down, as their relationship is going pretty amazing.  They spent their honeymoon in Thailand.
A few glimpses of their honeymoon trip could be seen on Eisen's Instagram posts.
Sara Eisen and Matthew Levine baby
On 1st August 2016, Eisen posted a photo of a baby on her Instagram with the caption: 'Going after the younger demo but baby Gerson is bored'
There were rumors that the baby was Eisen's own, however, it appeared to be false as Eisen never showed any signs of pregnancy. She has always been in perfectly fit shape since the beginning. Thus, it seems like the baby is not hers but of her cousin or relatives.
Sara Eisen and Matthew Levine's relationship
Even though it has only been a couple of months since Eisen and Levine's togetherness, their relationship appears to be very strong. They celebrated their 2017's new year in San Francisco, California. A moment of their trip was seen on Eisen's Instagram where the pair was seen with a broad smile on their face and matching jackets as well.
We believe that Eisen and Levine's marriage is gonna go a long way as they show no hint of divorce. We hope to hear the news of Eisen's pregnancy soon. Best wishes to the amazing pair.