If Grey's Anatomy star Camilla Luddington's pregnancy announcement made you guys excited, here's another news for you. The 33-year-old star took to Instagram to reveal her yet-to-be-born baby's gender and It's a girl!
Luddington's baby's father is her boyfriend Matthew Alan. Alan is also an established actor. The pair is together for quite a time now. Let's find out more:
Camilla Luddington baby's gender revealed
Luddington has been astonishing her fans with her frequently updated baby bump posts on Instagram. But when she announced that she is expecting a girl by posing in a cute onesie gifted by 'Tomb Raider' video game's developer, all her fans went aww!
She mentioned in her caption that she is very excited to announce that she is having a... girl. She further wrote some inspiring words for her baby girl:
"I want her to grow up knowing how strong women are. To be a little warrior who is not afraid to use her voice and stand up for what she believes is right. To navigate through life with courage and kindness, and to be one of the girls who says 'you CAN sit with us.'"
Camilla Luddington spoofs pregnancy photo shoot of Beyonce
Most recently, Luddington's attempt of Beyonce's pregnancy photo shoot spoof was rather hilarious. She tried to imitate Beyonce as much as possible by sitting in front of a huge wreath of flowers wearing a blue panty and brown bra while her 'Grey's Anatomy' co-star Ellen Pompeo directed her.
Pompeo appears to be more excited than Luddington as she tells her friend that she is pregnant at the same time as Beyoncé and there's only a rare chance that this will happen again.
Watch Camilla Luddington doing the Beyonce photo shoot
Camilla Luddington relationship with boyfriend Matthew Alan
Although Luddington hasn't tied the knot with her boyfriend and soon-to-be-born baby's father Alan, we believe that they'll think about taking their relationship to another level after the birth of their child. As the pair's relationship is in great terms, till date, there has been no rumors of split between them.
We hope there won't be any in the future as well.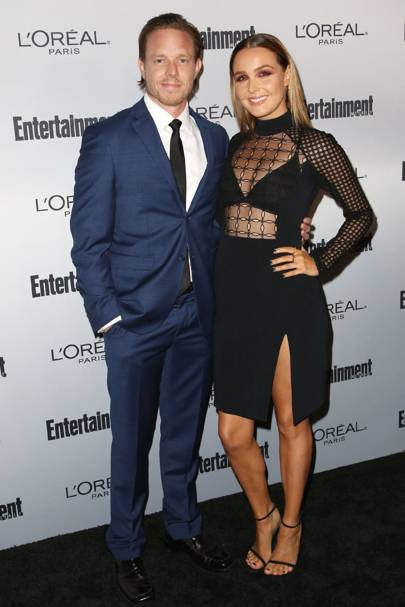 Camilla Luddington with boyfriend Matthew Alan
Source: Glamour UK
In an interview with E! News, Luddington shared her excitement by saying that she often hear mall the moms stories on set and see is very much excited to have all the experience, the joys, highs, and lows by herself. Well, it's not just Luddington, but we are equally excited as well.