The CEO of Snapchat, Evan Spiegel is one of the youngest Billionaire in the world. His love affair with his long-term girlfriend Miranda Kerr has always been the tops stories of several news channels.
Well, the couple who recently got married has once again become the center of attention with fans and media curious to know the details of the couple's life and their romantic relationship. 
So, read the full article for the answer. 
Evan Spiegel and Miranda Kerr are now officially husband and wife after getting married
Yes! You read that right. After a whirlwind romance, the handsome hunk Evan, and the gorgeous lady Miranda are officially husband and wife. The pair exchanged their vows in front of their family and friends at Evan's home in Brentwood, California, earlier today on 28 May 2017.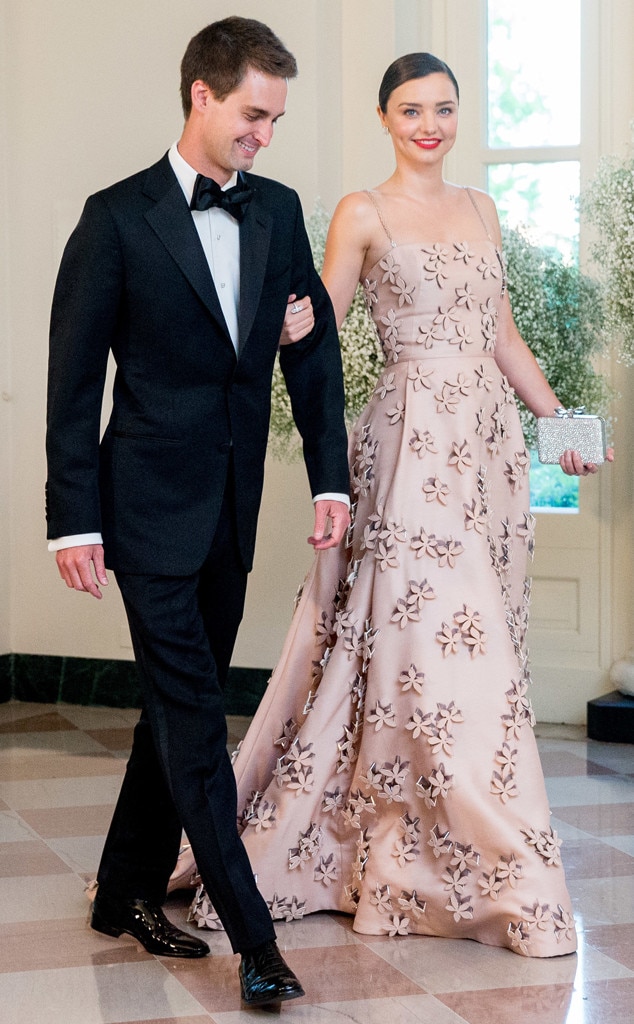 Husband and wife couple: Evan Spiegel and Miranda Kerr
Source: eonline
According to E! News, their wedding ceremony was attended by hardly 50 guests. 
It was a small intimate wedding, and the bride looked regal and like a "natural princess".
Both the bride and groom had tears in their eyes while getting married.
Wow! Though we don't have any pictures or video of their wedding, looking at the statements, their marriage sounds to be amazing and beautiful.
Now, you might be wondering how this beautiful love story began. So, let's start from the beginning. The couple first met at the fashion event in 2015.
Their first meeting was so good that they subsequently fell in love with each other and began dating. During an interview with The EDIT magazine, Miranda said about how she kept her relationship with Evan so real and amazing. She said;
He's 25, but he acts like he's 50. He's not out partying. He goes to work in Venice [Beach], he comes home. We don't go out. We'd rather be at home and have dinner, go to bed early. But in some ways, he does feel like a younger man. I'm telling you, I've got the best of both worlds.
After a year of their relationship, these lovebirds got engaged on 20 July 2016 and the engagement was revealed by the beautiful supermodel through a beautiful Instagram post. In the picture, Miranda is seen showing the diamond ring given by Evan while proposing her. Check it out.
Well, the couple is already married now. Congratulation Evan and Miranda for your happy married life.
Guys! If you don't know then let us tell you a really interesting fact. Prior to Evan, Miranda was already married to her first husband Orlando Bloom. She also has a child; a son named Flynn Christopher Bloom from her relationship with Orlando.
Former husband and wife couple: Orlando Bloom and Miranda Kerr with their son
Source: Dailymail
Orlando and Miranda later got divorced and then soon Orlando Bloom began a romantic affair with the hot and sexy American singer Katy Perry, ex-wife of Russell Brand.  However, Orlando and Katy too separated after a year of dating.
Evan and Miranda are now married. We wish them all the very best for their future and we hope they soon welcome a new member to their family. For more updates, stay connected with FamousStardom