Fox News Channel's anchor Jenna Lee is a well-renowned journalist. She is married to Lieutenant Commander Leif Babin. This couple has two adorable kids together. They have been married since 2011 but still, it seems like they are in love with each other since forever. Their relationship is going well without any divorce rumors.
Jenna Lee and Leif Babin married
The 'Happening Now' co-host Lee tied the knot with her happening Navy guy on 3rd July 2011 in Wimberley Texas. Even though Lee and Babin lived on opposite coasts, fate made them meet. They met in Waldorf-Astoria in New York at the Navy SEAL Warrior Fund dinner. All of this happened in the year 2008.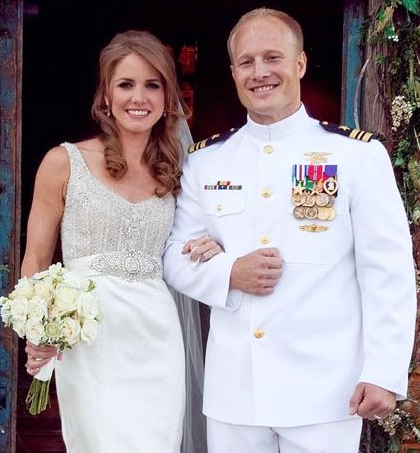 Image: Jenna Lee and Leif Babin
Jenna Lee is the mother of two
Lee got the privilege to become a mother for the first time in the year 2014. She gave birth to Babin's first child and it was a boy. The couple together named him Brian Marc Babin. Baby Babin weighed 7 pounds, 11.5 ounces, and was 20 and 1/4 inches tall at the time of his birth. His nickname is 'Trace'. Eventually, Lee gave birth to an angelic baby girl in April 2016. Her name is Liberty Josephine. Isn't it too cute?
Image: Jenna Lee with her husband and son
Jenna Lee is close to her kids
Lee's relationship with her kids is as amazing as with her husband. Her elder son is 1.5 years old already now. Both of her children is growing up with immense love from their parents. Lee often posts photos of her kids on her official Instagram account. Recently she posted an adorable photo of her babies where they are cuddling.
Jenna Lee and Leif Babin are not getting a divorce
Talking about Lee's relationship with her husband, it is going pretty amazing. Her husband Babin seems to be a really supportive and understanding guy. That's the reason how Lee has been juggling her work life and motherhood so perfectly. Lee has been very faithful towards her husband and thus she does not have a boyfriend. There are no rumors of divorce with this couple.
Short bio about Jenna Lee:
1979/1980 born Jenna Lee is the daughter of Janice and Robert 'Bob' Lee of San Francisco. Jenna's father Bob is a former NFL quarterback. Lee is a student of the University of California. She is a 2002 graduate in English and global studies. She is a master's degree holder from Columbia University Graduate School of Journalism. She was hired by Fox News CEO Roger Ailes in 2007. She left Fox Business Network to join Fox News Channel in July 2010.