Maisie Williams is generally recognized as Arya Stark from the popular HBO fantasy television series Game of Thrones. Her professional acting debut gave her a huge recognition, and she has won several awards including Ewwy Award, Saturn Award, and Prime Time Emmy Award.
Talking about Maisie's net worth, she has an estimated net worth of over $6 million. Maisie Williams earns $500,000 per episode from the ongoing series Game of Thrones according to Variety. Maisie's net worth is mostly influenced by her career in the series.
There are five main actors in the series, who has the same income. Maisie's character has been in the Game of Thrones since the first episode.
Maisie Williams Source: 7Wallpapers
Maisie was 12 years old when she was selected for the role of Ned Stark's daughter, Arya. She was chosen among 300 actresses across England. Well, let's talk more about her career, her salary, net worth, and awards.
Maisie Williams Career, Her Role In GOT
Maisie Williams, who is 20 years old, started her career in 2011 when she was 12 years old as she made her debut with HBO series Game of Thrones where she played Arya Stark. Her character is a young tomboyish girl from a highly reputed family. The character Arya is the daughter of Ned Stark, who was played by Sean Bean.
Maisie Williams as Arya Stark in Game of Thrones Source: The Equistir
Maisie has given an astonishing performance, and she is one of the important characters at the present time in the series. It has been over six years and we all have seen Maisie growing up in the series. Her career as an actor also has been blooming, and she is continuing to improve her performance over the years. She met her castmate Sophie Turner in the sets of GOT for the first time and became really good friends since then.
Masie's career was just at its beginning when she was selected in Game of Thrones in 2011. Maisie has also performed in the BBC series The Secret of Crickley Hall in 2012. In the series, she played the character Loren Caleigh.
Also Read: Maisie Williams' Boyfriend Ollie Jackson; Know interesting facts about their Relationship
Maisie's Career In Big Screen and Music Industry
Maisie also was seen in a recurring role in the BBC series Doctor Who in 2015, where she performed the character Ashildr. Maisie has also shown her acting skills in the Channel 4's TV Movie, Cyberbully where she was cast as Casey Jacobs. Besides, she also appeared in the independent films Heatstroke and Gold in 2012 and 2013 respectively.
Video: Seafret - Oceans featuring Maisie Williams
Besides the series and movies, Maisie has also appeared in the music videos which includes Oceans by Seafret, Sing by Pentatonix, Sunday by Gardna and Rest Your Love by Vamps. All these music videos were released in 2015.
Maisie's Net Worth, Salary, Properties
The English actress who is just 20 years old has settled career as an actor and has made a lot of income and recognition for her amazing performance. Her net worth is estimated to be around $6 million as in 2018. As we mentioned earlier, Maisie earns around $500,000 per episode from Game of Thrones.
Maisie has already become a youth icon at the present time. The 20 years old who started her career as an actor in 2011 when she was only 13 has been escalating her net worth and earning by improving her performance over the years.
Moving towards her earnings from her role in the big screen, her income can be estimated to be around half a million. Maisie's performance in The Devil and the Deep Blue Sea showed her acting skills besides her character in GOT and she took home $174,825.
Maisie was the lead character in the Television movie Cyberbully which was premiered on Channel 4. She was a typical teenage character Casey Jacobs for which she earned $142,045.
Maisie Williams in Cyberbully Poster
Source: Amazon
In the movie The Fall, Maisie had a remuneration of $108,225 for the character Jay. She earned $81,169 from the movieCorvidae and $69,290 from Robot Chicken. In 2014, Masie was in an offbeat comedy movie, Gold. She played the lead character, Abbie and banked $63,131.
Maisie Williams is currently starring in the new superhero film, New Mutants which is based on the Marvel Comics and distributed by 20th Century Fox. The 13th installment of X-Men franchise has set its release date on February 22, 2019. Maisie will be seen playing Wolfsbane in the film.
Maisie Williams Houses, Cars, Favourite Brand and Endorsement
Maisie Williams owns a house in Clutton, Somerset, England. The house is reportedly worth $1.3 million. Maisie has also recently said that she wants to buy a house in Ireland. Maisie Williams also rents an apartment in London. She reportedly pays $26,000 per year in rent for the apartment. She also owns two cars, a Land Rover Discovery and an Audi. The Land Rover Discovery is priced at $50,000.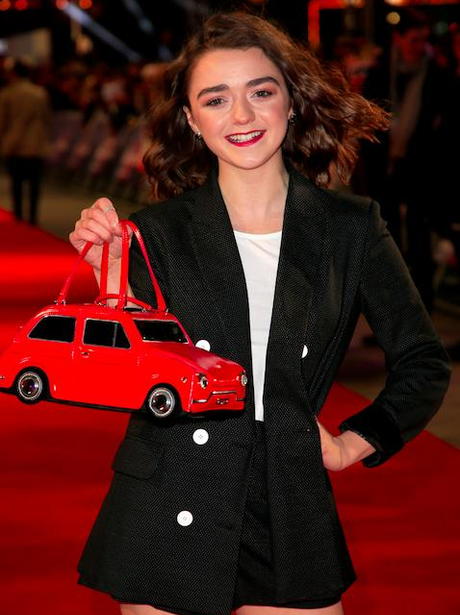 Maisie Williams Source: Heart Radio
In her new commercial for the U.K. mobile service provider Three, Maisie Williams parodies beauty stereotypes shown in advertisements ad stereotypes as she laments her struggles with "black spots" ? a term used for areas with little or no mobile signal. Black spots are apparently the reason for all Williams' problems.
Maisie Williams and Sophie Turner at Annual Golden Globes Awards Source: Pinterest
The Arya Stark from the popular TV series GOT appeared at the 74th Annual Golden Globe Awards in an Ong Oaj Pairam Spring Summer 2016 Dress. She carried a Manolo Blahnik Nadi Satin Egg Shaped Clutch (price: $1,925.00) and wore Jimmy Choo Pearl Satin Sandals that cost $825.00.
Maisie Williams Achievements and Awards
Maisie William's debut role as an actor in Game of Thrones has already become a critically acclaimed role by her. Her performance was even more praised and recognized after the second season when the story took its turn and got even more intense. Maisie currently is one of the main characters in the series, and its final season is expected to air in 2019.
Maisie Williams with her cast member of Game of Thrones
Source: Telegraph
Maisie's character in Game of Thrones has changed over time as the story of the series has been growing and getting intense. Maisie won the Portal Awards the Best Supporting Actress-Television in 2012. She was also the Portal's best young actor. She was only 15 years old when she got the best-supporting-actress category.
Video: Maisie Williams Has a Game of Thrones Stamp! | The Graham Norton Show
She also had a nomination for the Primetime Emmy Award for Outstanding Supporting Female Actress in Drama Series in 2016. Back in 2012, HBO submitted Maisie's name in the 2012 Primetime Emmy Awards for the same category, but she did not receive a nomination.