Numerous fashion designers come up with unique, new and fabulous designs every year, but there is no one like Victoria Beckham who could turn an impossible fashion idea to a beautiful, perfect, possible one.
The fashion genius, Victoria Caroline Beckham, is an English businesswoman, fashion designer, model, and singer. In the late 1990s, Beckham rose to fame with the all-female pop group Spice Girls. She married David Beckham in 1999 who is an English former professional footballer. They have four children together; three sons; Romeo James Beckham, Cruz Beckham, Brooklyn Beckham, and Harper Seven Beckham.
You must have seen numerous color combinations that you thought would be fashion disasters. But, Victoria manages to bring out those disastrous color combo into preferable ones. Let's know more about the story.
Victoria Beckham Surprising Color Combo that You Will End Up Loving
With new springs trends this year happening around the world, we can find people playing with various colorful dresses. But it is hard to think of the colors like red and pink, blue and orange, to match up with each other.
Also Read: David Beckham Wife, Victoria Beckham Receives OBE From Prince William, Twitter Unhappy
Guess what? Vitoria broke the rule and tried these color combinations and even succeeded in making them flawless.
1. Maroon Red and Bright Pink
Victoria Beckham, a British fashion designer
Source: Pinterest
Hats off girl! Victoria totally justified the outfit. Ever imagined someone could look so elegant in the most undesirable color combination?
Everyone in the past days must have thought of maroon red and bright pink color combo as one cheesy look. But, here is Victoria defying all the odds.
And the most interesting thing is Victoria didn't wore this dress in any event, but she was heading to the airport during the time. Now she has created this color combination as one of the greatest summer spring trends of 2017.
What she did was, she matched her red sweaters with her red boots looking fresh and happening.
Also Read: Victoria Beckham plastic surgery: Married David Beckham in 1999 and living happily
2. Peach Pink and Metallic Blue
Victoria Beckham wife of a former professional football player David Beckham
Source: Pinterest
How about this peach pink and a bright blue color combo? Victoria's totally rocking the look! You also have to keep this in your list.
3. Sky Blue and Orangish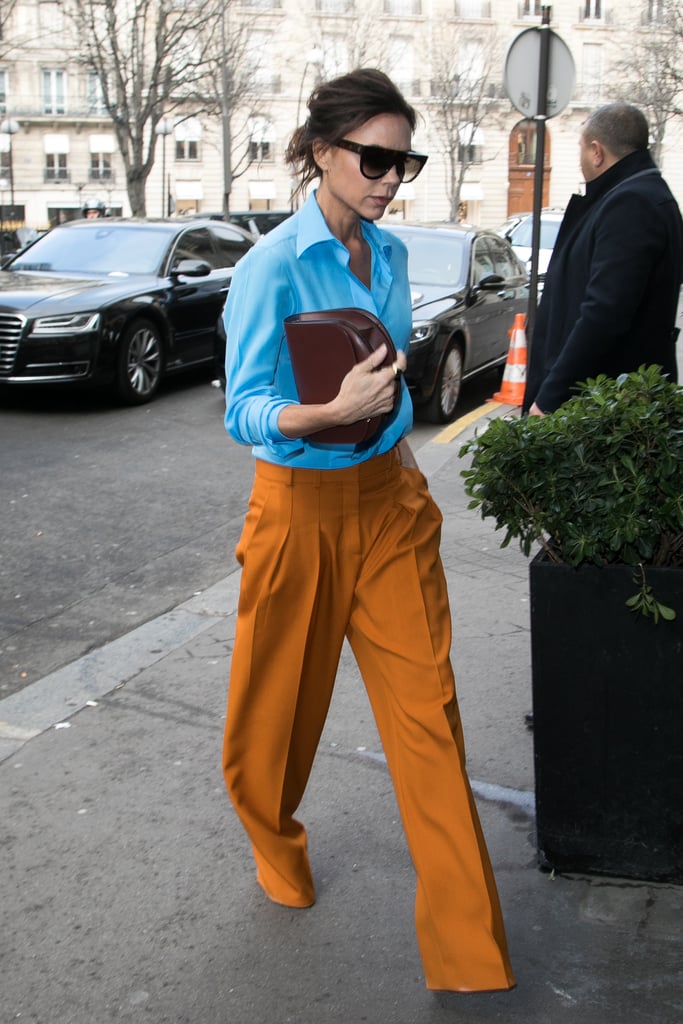 Victoria Beckham channeling Van Gogh this season
Source: The Guardian
This is another color combo which Victoria easily pulled off. This outfit is definitely meant to be today's working outfit that reflects less boredom and more exciting and passionate look.
Also Read: Romeo James Beckham — Everything you need to know: age, height, net worth, and family
4. Purple and Grey
Victoria Beckham an English businesswoman
Source: Bloglovin
Here's another outfit that you may have thought of an inappropriate color combo, however, Victoria proved it can't get too bad after you try them.
5. White and Printed White
Victoria Beckham's net worth $300 million
Source: Pinterest
We may have enlisted these color combinations as a big no factor in the fashion world, but after Victoria's stamp of approval to those color combinations, they are now becoming a trend.
Victoria Beckham, a judge for the International Woolmark Prize along with Donatella Versace and Diane von Furstenberg
Source: Wikipedia
Also Read: What's the height, weight, and age of Romeo Beckham, son of David Beckham and Victoria Beckham
One of the successful fashion designers, Victoria, is now a judge for the International Woolmark Prize along with Donatella Versace and Diane von Furstenberg.
Also Read: Trust and communication the pillars behind Chloe Grace Moretz and Brooklyn Beckham's relationship
The husband and wife couple David Beckham and Victoria Beckham with their whole family
Source: Daily Mail
Her successful fashion career can be witnessed from her $300M net worth.
Also Read: Sexy Chloë Grace Moretz has an affair with Brooklyn Beckham. Explore their relationship
Here's a video clip of her interview.
Victoria who stepped into the fashion world as a model in London Fashion Week is now the fashion goddess. The 43-years-old British fashion diva Victoria Beckham is always in the limelight of the fashion world.
Thanks for your inventive and attractive color combo tryouts Victoria. We believe people will now have a different perspective towards these color combinations. FamousStardom will always be keeping an eye on her so stay tuned people.FamousStardom will always be keeping an eye on her so stay tuned people.