Dipa Karmakar is the shining Indian girl of gymnastics. She is a very talented athlete who represented India at the 2016 Summer Olympics. She has won many glorious medals till date.
Karmakar doesn't have a high net worth as she lives in Agartala, a city in Tripura state, India. Her actual net worth is not known but on approximation, it's around six figures dollars.
Dipa Karmakar's car
Looking at Karmakar's brilliant performance in Rio Olympics, she was gifted a BMW car by V Chamundeswaranath, president of the Hyderabad Badminton Association. However, her family returned it to Mr. Chamundeswaranath as Agartala, the place where Karmakar lives have narrow roads and no BMW service center.
Image: Dipa Karmakar with the BMW car
Source: hindustantimes.com
However, her coach Bisweswar Nandi said, "Considering her situation, Dipa was given cash amounting to Rs. 25 lakh. Her family bought a car recently, and it was a brand that has a service center in Agartala,".
Dipa Karmakar rejected financial aid of 30 lakhs
When Karmakar was selected for the Rio Olympics, she was offered a financial aid of 30 lakhs by India's sports authority. Moreover, she was also given an opportunity to get training in any country of her choice. However, Karmakar declined the golden chance and asked for an Olympic vaulting table instead.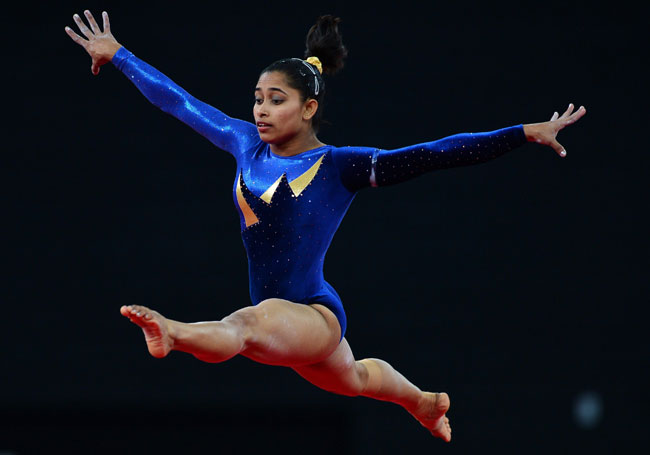 Image: Dipa Karmakar
source: Indiatvnews.com
Dipa Karmakar's amazing gymnastic career
Karmakar started practicing gymnastic at an early age of 6. Karmakar competed in the Junior Nationals that took place in Jalpaiguri in the year 2008. She won the competition then. During her junior year, Karmakar progression in gymnastic was impressive.
Image: Dipa Karmakar with her medals
Source: Thelogicalindain,com
Karmakar won gold medals in all the four events in 2011 National Games of India. They were floor, vault, balance beam and uneven bars. She won a bronze medal in the women's final vault in 2014 Commonwealth Games. She is the first woman to win Commonwealth Games gymnastics medal from India and the second Indian after Ashish Kumar.
She ranked fourth position during the 2014 Asian Games with a score of 14.200. However, she wasn't disheartened then. During an interview, she said, "See, the two top girls here are the gold and silver medalists in the Olympics, while the third girl was a bronze winner at the World Championships. So I'm more than happy that I gave them a good fight and finished fourth here."
Karmakar won a bronze medal at the 2015's Asian Championships. She got qualified at the World Artistic Gymnastics Championships in 2015. On 10 August 2016, she got qualified for the final vault event at the Olympics. She finished in 4th position and couldn't win a medal.
Video: Dipa Karmakar asking to pray for her
source: #action=share">Youtube
This is how Karmakar has earned all her net worths.
Dipa Karmakar's has won 67 gold medals
Karmakar is definitely a very hard working woman. Looking at her amazing career, we can say that she has done so much in her life already.Till date, Karmakar has won 77 medals among which 67 are gold. Bravo, Dipa. India is sure progressing on woman empowerment.
What do you think about Dipa? Please, leave your comments