If you have watched the animated television sitcom The Simpsons, then you might be familiar with the characters Moe Szyslak, Cheif Wiggum, and Carl Carlson. The voice of Moe and the others are given by non-other than Hank Azaria.
Hank Azaria didn't end up being the cast of The Simpsons just by luck. Behind his success, there is a long series of hard work and belief. We will provide you the information related to Hank's early life, career, his achievements and about his money too.
The 54 years' old Hank Azaria has voiced several other characters for the sitcom, The Simpsons such as Apu Nahasapeemapetilon, Chief Wiggum, Comic Book Guy, Carl Carlson and several other characters. He started his regular job in The Simpsons from the second season of the show. Find out more about Hank Azaria in the sections below. 
Hank Azaria's Net Worth: $70 million
The famed American actor, producer, comedian, and voice-over actor, Hank Azaria has an estimated net worth of over $70 million making him one of the richest voice actors of this generation. 
For his show, The Simpsons, Azari was getting $30,000 per episode until 1998. And later after some disputes, he and other casts got a rise and was later paid $125,000 per episode till 2004.
Image: Hank Azaria
Source: ThoughtCo
Hank Azaria's pay increased to $250,000 to $360,000 per episode in the next years. And later due to some issues related to Fox, their pay was cut by 30% and was paid $300,000 per episode.
Azari's current estimated net worth of $70 million was earned from not only his role in The Simpsons but also from the movies, he has appeared in. It can be said that he is undeniably one of the top voice acting earners in the Hollywood industry. 
Who is Hank Azaria?
Hank Azaria whose real name is Henry Albert Azaria is an American actor and producer. Azaria is originally from Queens, New York City.
Azaria's mother was a publicist for Columbia Pictures and used to promote films in Latin America. Azaria started showing his talent from his childhood. In his childhood days, he used to memorize and mimic the scripts of the films, shows, and other comedy shows often. He decided to become an actor at the age of 16. 
Source: Vulture
Image: Hank Azaria and his Simpsons Characters
He went to Tufts Universiy in 1981 to study drama and became friends with Oliver Platt and according to Azari, Platt was one of his inspirations. 
Hank Azaria's Early Career
Hank Azaria's first job as an actor was when he was 17 years old where he played in an advertisement for an Italian Television. Then later, Azari and Platt set up their own theater and named it Big Theatre. But they only performed one show, The Dumb Waiter by Harold Pinter. Later he moved to Los Angeles and started working with his agent Harry Gold.
Source: TV Guide
Image: Hank Azaria and Oliver Platt
In 1986, he first appeared as an actor in the pilot episode of Joe Bash, the ABC comedy-drama series.
Later he appeared in the TV film Nitti: The Enforcer which was related to the story of the gangster Frank Nitti.
YouTube: A fighting scene from Hank Azaria's Nitti: The Enforcer 
He worked with Matthew Perry in the pilot of Morning Maggie which didn't gain any success but the short collaboration made Azaria and Matthew good friends though.
Later he appeared in several Tv shows such as Family Ties, Growing Pains, and several others. He also performed as a stand-up comedian and also been a bartender for a catering firm before fame.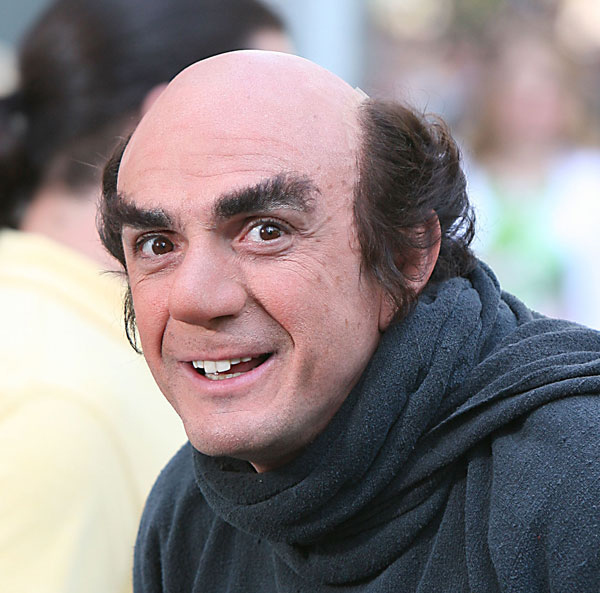 Source: BuzzFeed
Image: Hank Azaria as Gargamel
He has also starred in the movie The Smurfs, playing the role of the villain Gargamel.
Hank Azaria's Career In The Simpsons
Hank Azaria performed in the failed Fox pilot Hollywood Dog. He gave the voice to the dog. The dog in the series was the only animated character and the rest were all real.
Also, see: Is Bridget Fonda Happily Married To Husband Danny Elfman? What About Her Past Affairs? Boyfriends
Then later he auditioned for the role of Moe Szyslak, the bartender. It was his first job for the show The Simpsons where he replaced Christopher Collins for the voice of Moe.
Source: Pinterest
Image: Hank Azaria voiced Moe Szyslak
Then later, he was offered to voice the characters of Chief Wiggum first and Apu Nahasapeemapetilon later.
Matt Groening and Sam Simon were the executive producers of the show.
He stated that
"the producers didn't seem too pleased with what I had done...[Simon] was very exacting...and was kind of impatiently directing me on the ABCs of comedy. But then, much to my surprise, he would still keep having me back every week. But each week, I thought it was going to be my last week, because I really didn't think I had done that well."
Again, later he was given a contract and was included in the main cast.
Here are some of the Moe Szyslak's moments. 
The voices of Azari in the show includes Comic Book Guy, Carl Carlson, Cletus Spuckler, Professor Frink, Dr. Nick Riviera, Lou, Snake Jailbird, Kirk Van Houten, the Sea Captain, Superintendent Chalmers, Disco Stu, Duffman, the Wiseguy, and several other one-time characters.
Check out the interview of Hank where he does voices of some of his characters. 
Hank Azaria's Achievements; Awards
Hank Azaria won four Emmy Awards for the Outstanding Voice-Over Performance in the years 1998, 2001, 2003, and 2015. And was also nominated in the years 2009 and 2010 but didn't get the award.
Also Read: Russell Brand discussed his Marriage to Katy Perry; Know about their Married life
In 2016 and 2017, Hank was nominated for the Outstanding Guest Actor in a Drama Series by the Primetime Emmy Award for his appearance in the TV series, Ray Donovan. Even though he won the award in 2016, he failed to achieve it in the latter year.