Lionel Messi, who doesn't know the living legend of football? The 29-year-old Argentine football star Messi is considered as the God of football by his fans. Everyone who is pursuing his career in football wants to be like Messi. Before we move straightly to his net worth, we think it is better to know little more about him.
Messi was born in 1987 in Rosario, Argentina as the third child of Jorge Messi and Celia Cuccittini. Messi has been playing professional football for Argentina since 2005 and he is linked with the famous Spanish club Barcelona from 2004. The highest paid footballer of the world has a very handsome amount of net worth. To know more about his net worth, stay with us.
Must read: Lionel Messi Manchester City Bid Rumours Emerge transfer from Barcelona
Messi net worth in 2017
The Argentine Captain Messi is the 2nd highest paid athlete in the world in 2016 just behind his arch-rival Cristiano Ronaldo. Messi's estimated net worth of 2017 is around $280 million. According to the Forbes, he earned $81.5 million in 2016. He earns $ 53.4 million as his salary and $ 28 million from the endorsements from various brands. The world's best player major sponsors are Addidas, Tata, Gillette, and Electronic Arts (EA). Messi has multiple houses in Argentina and Spain but the house of his dream is being built in Barcelona.
Also read: Lionel Messi win at the Globe Soccer Awards
Video: Messi doing an add for Tata Tiago
Messi house in Barcelona
The five times FIFA best player, Messi is currently residing with his girlfriend Antonella Roccuzzo and his two children in his amazing soccer-style house in Barcelona, Spain.
The house is unique because it has a round shape and it looks like a soccer ball. Not only the house looks like a ball but also the ground on which it stands looks like a football pitch from the top view and also the structure of the house looks like it makes the shape of the number 10.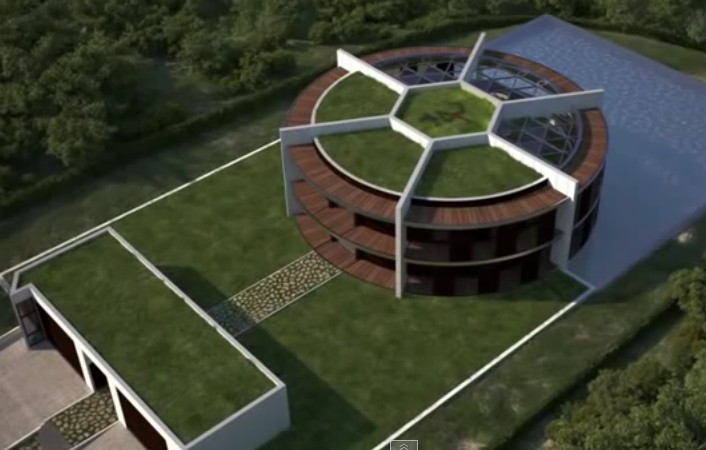 Caption: Messi's One-Zero Eco-house in Barcelona
Source: Not Just Rich
Half of the roof of the hexagonal patterned-house is made from mirrored glass to allow the natural light to come in and the yard is divided into two halves where one-half contains lawn and the other has a huge swimming pool.
Must See: Lionel Messi out 7-8 weeks with knee injury? 
The gorgeous house is designed by the architect Luis de Garrido and the house is called as
One-Zero Eco-House who talked about the house as It certainly is an ambitious project, and while it make the house more difficult to sell on if Messi decides he doesn't like it in a few years, he can at least claim that he was making a structure in the shape of a Ballon d'Or to wind up poor aul Cristiano Ronaldo
Lionel Messi Cars
Lionel Messi bought the most expensive car in the world in February 2016. He is reported to pay a whopping 25 million pound for the Ferrari 335 S Spider Scaglietti in the auction at Artcurial in Paris, France.
The Barcelona veteran striker outbid his long-time rival Cristiano Ronaldo to secure the car in Paris. After he got the car, he posted a picture holding a red toy car, with the caption: 'My new car'.
Caption: Messi's Ferrari 430 Spider
Source: Auto Advance
Besides this, Messi has 7 more cars in his car collection. The cars areFerrari F430 Spider, Dodge Charger SRT8, Maserati GranTurismo S, Audi Q7 and other more.