Pamela Rose Martinez known mostly by her stage name Bayley is an American professional wrestler, who gained her fame from NXT and was a former NXT's women champion. She is currently signed to WWE. 
Bayley's Net Worth Details
The estimated salary of Bayley's is $1,500 per show in 2015. As she is growing popular among fans we can assume that her salary will only increase in the future. She also has her own merchandise sold on WWE's official store and online shops and she was part of the WWE 2k17 video game. She also owns a house with her boyfriend Aaron Solow in San Franciso, California. So we assume her net worth is in 7 figures.  
Career Highlights
Martinez has been a wrestling fan since a very young age just like all of us. She enjoyed watching her favorite wrestlers on TV like Lita, the late Eddie Gurrero. She started her professional wrestling career at the age of 18 in April 2008, when she attended Big time wrestling training classes.
She was trained by Jason Styles. She had her first watch in September 2008. When she started in this field she wrestled under the name of Davina Rose.  She wrestled for Big Time Wrestling from 2008-2012.
In December 2012, she signed a contract with WWE and in late January 2013, she made her debut for WWE's development territory NXT at a live event where she wrestled under a mask. She made her official debut as Bayley on March 20, where she wrestled with Paige, even though she lost that match she was noticed for her unique persona.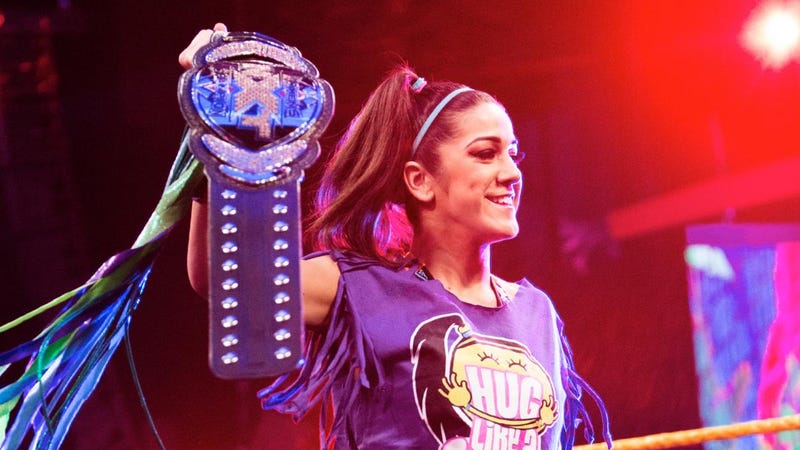 Source: Kotaku
Bayley changed the standards of women's wrestling. She took us back to the era where women's wrestling was considered wrestling, not just a catfight. In 2015 she competed in the first 30-minute WWE Iron Man Match featuring divas.
She fought against another wrestler Sasha Banks to become NXT Women's Champion and that match set whole new standards for the women's wrestling division. She was also taken seriously after that match where she proved that she is not only a hugger if needed she would hug you and pin you down.
Bayley's last match was on August 20th, a rematch for the women's championship with Asuka which she lost. 
On July 24, 2016, Bayley made her WWE main roster and pay-per-view debut in a one-off appearance as Sasha Banks' mystery tag team partner at Battleground. She made her official main roster debut at Raw after being established as part of the brand by raw general manager Mick Foley on August 22, 2016.
Awards And Achievements 
Bayley became NXT Women's Champion in the epic match with Sasha Banks in 2015. That match was also awarded Match of the Year in 2015 by Pro Wrestling Illustrated and by Rolling Stone.
She was also awarded as the most inspirational Wrestler of the Year by Pro Wrestling Illustrated in 2015 and was ranked no. 5 of the top 50 female singles wrestlers in the PWI Female 50 in 2016.  
Source: Youtube
She was also awarded as the most improved wrestler by Wrestling Observer Newsletter. She won the NXT Year-End Awards for Female Competitor of the Year and Match of the Year in 2015.