Vanessa Marcil is very famous for her role in General Hospital. The actress first appeared on the show as Brenda Barrett Corinthos in 1992. Her role in General Hospital was highly appreciated. In fact, her character proved to be a breakthrough role in her career. Not only fame, but the actress also accumulated a tremendous fortune. Her net worth as in 2018 is estimated to be $2 million.
The first episode of General Hospital was released on April 1, 1963. The show holds Guinness World record of the longest TV drama in American Television. Well, in this section, we are going to talk in detail about Marcil's career and success as an actress. 
Vanessa Marcil Career and net worth 
Marcil started her acting career from her early age playing stage dramas. Her acting career got a boost after she attended Indo High School in Indio, California. There, she got involved in a theatre group that had a huge impact on her career choice as an actress.
Vanessa Garcil
Source: Celebrity Plastic surgery online
Starting from high school, Vanessa continued her pursuit of acting and appeared in many minor theater roles. Finally, in 1992, she got the major role of her career as Brenda Barret in General Hospital. Her role in the series was highly praised leading her way to other prominent projects of her life. She, then, worked in superstar Steven Spielberg's police drama High Incident.
During her 6 years of appearance in the General Hospital, Vanessa also had her hands on other works. It was while she appeared in General Hospital, she made her movie debut in The Rock (1996) with Nicolas Cage.
The total budget for the movie was $75 million and grossed around $134,069,511. Her acting in General Hospital and The Rock became very successful both in terms of actings and financially. Likewise, the actress also appeared from 1998-2000 in Beverly  Hills, 90201.
General Hospital 2017 trailer
Likewise, Venessa is also the recipient of several awards and honors. In 2003, Vanessa won Daytime Emmy Award for "Outstanding Supporting Actress. Likewise, she also won a Soap Opera Digest Award as Outstanding Lead Actress for General Hospital. 
Vanessa Marcil 
Source: The Inquisitor
Even though Vanessa's salary is undisclosed till date, the average annual salary of the cast member is reported to be $57,100.
Marcil's car and Houses
Out of her career, Vanessa Marcil has accumulated a tremendous amount of money. Apart from owning expensive mansions she also owns a number of luxury cars. As we have already mentioned, she owns a house in California worth of $748,00.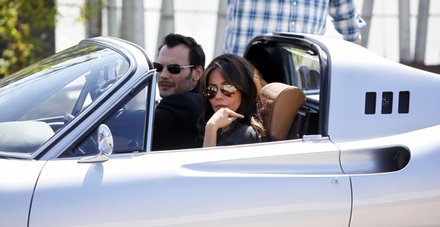 Vanessa Marcil & Mark Grant
Source: Lawrence journal world
The house spreads around 2,300 sq. ft and is accommodated with four-bedroom and three bathrooms. The house was regarded as one of the expensive houses of that time. ?
Well, the actress is yet to do a lot more in her career. Let's wish her all the best in her life ahead.