Life is all about giving and taking, but the best part is to bestow ourselves for someone's good without any expectation. The popular multi-talented television personality Reign Edwards is one who not only plays positive characters but also reflects character's good soul.
The 20-year-old American actress is best known for her role as Nicole Avant, the younger sister of Maya Avant, on the popular soap opera The Bold and the Beautiful.
Her professional career is undoubtedly an open book, however, the personal life of this gorgeous lady is more like a stagnant water. Thus people are wondering if she is dating anyone special or is still single? Let's find out her mysterious love life and know if she is married. Just stay with us.
Is Reign Edward Engaged With A Boyfriend or Married?
Looks like Reign Edward is very much secretive about her personal life and thus, she never talks about the private stuff of her life like her love affairs, relationships or anything related to marriage
Though with her beauty and magnetic personality, the Bold and The Beautiful actress has won the hearts of million, it seems the actress is barely seeing someone in her real life.
Hot and Sexy Bold and The Beautiful actress Reign Edwards
Source: gotceleb
When asked, in none of her interviews, she has ever spoken about dating someone or having a boyfriend. Neither her social media sites are suggestive of her being in a romantic affair.
However, she was once surrounded by the dating rumors with her co-star Rome Flynn as they shared the screen together. Recently, she also shared a post on her Instagram that featured the pair looking more than friends but she only mentioned him as her best friend and not about marriage or else.
Here's that Instagram post, guys, check it out.
They definitely look amazing together, but sadly they are just friend as said by Reign.
As a hard working dedicated lady looks like she gives the first priority to her career rather than getting involved in any kind of love affair. Right now the actress is busy concentrating on acting career and she loves spending time with her family despite her busy schedule.
Aged 20, Reign Edwards
Source: hawtcelebs
In an interview with soapcentral.com, Reign also talked about her holiday plan with her family. She said;
We're trying to figure out where we want to go right now. My mom and my sisters want to travel. We don't know where to yet, but I know time is running out! We've been talking about it for days, and we need to make a decision, but we don't know yet.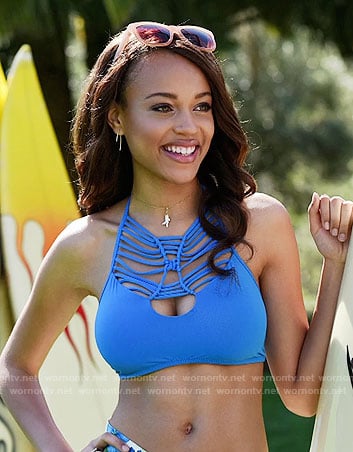 Reign Edwards loves spending time with family rather than making boyfriend
Source: wornontv
All these concentrations led us to the point that Reign Edwards is currently single and is only focused on her career. We wish her all the very best for her future and we hope she achieves everything she wants from her life.
Also, we heartily hope that she reveals about marriage or boyfriend once she makes her mind.
For more updates, stay tuned with FamousStardom.