Donnie Wahlberg and Jenny McCarthy are one of the most talked-about Hollywood couples. They are happily married since 2014 and are living a blissful life along with two children who are from Donnie Wahlberg's previous marriage.
Donnie Wahlberg is a versatile American television personality. Besides being an actor, he is also a singer, songwriter, and producer. He is a founding member of the boy band New Kids. Besides, he has appeared in many renowned movies like Saw films, The Sixth Sense, Dreamcatcher, and Righteous Kill.
Also Read: 49 Years Old Australian Singer Kylie Minogue's Net Worth In 2018: Know Her Career And Awards
His wife, Jenny McCarthy, meanwhile is also a versatile personality. She is an actress, model, author, television host, screenwriter as well as and anti-vaccine activist. She has appeared in various successful television series such as  BASEketball, Santa Baby, Diamonds, and Scream 3.
Well, today in this section we are going to get into the personal lives of these actors and know all the details about their love affairs and married life. To some extent, we will also deal with the past relationships and dating life of Donnie and Jenny. Just stay with us.
Love Affair And Married Life of Donnie And Jenny
Let's start from the beginning. The couple's love, all started on McCarthy's VH1 show The Jenny McCarthy Show. In March 2013, Donnie was a guest on Jenny's talk show where she reportedly prompted him to talk dirty to her. Well, their talk at the show promoted some sort of chemistry between them and eventually, after several meetings, the couple fell in love with each other and began dating.
News about their relationship was officially announced in July 2013 by US Weekly.
Nearly after a year of dating, on 16 April 2014, the 44-year-old actress Jenny announced live on an American talk show The View that she was engaged to the 47-year-old actor  Donnie.
And the same year on 31 August, the two love birds tied the knot in a lavish wedding ceremony that was held in Hotel Baker in St. Charles, Illinois.
Wedding photo of a happily married husband and wife: Donnie Wahlberg and Jenny McCarthy
Source: FamousStardom
The couple exchanged their vows in front of 90 guests altogether.
Ever since this amazing couple is living a blissful married life together, however, in 2016, their divorce rumors were swirling all over the web as Jenny once joked to the Entertainment Tonight that if her husband Donnie was not there, she would make out with strangers.
Donnie Wahlberg Was Previously Married To Kimberly Fey
Prior to Jenny, the Righteous Kill actor Donnie Wahlberg was married to his first wife Kimberly Fey. The couple got married on 20 August 1999. They enjoyed their marital relationship for approximately nine years and eventually got divorced on 13 August 2008 citing the reason as "irreconcilable differences".
They together have two children and both are sons and their names are Xavier Alexander Wahlberg (born on 4 March 1993) and Elijah Hendrix Wahlberg (born on 20 August 2001).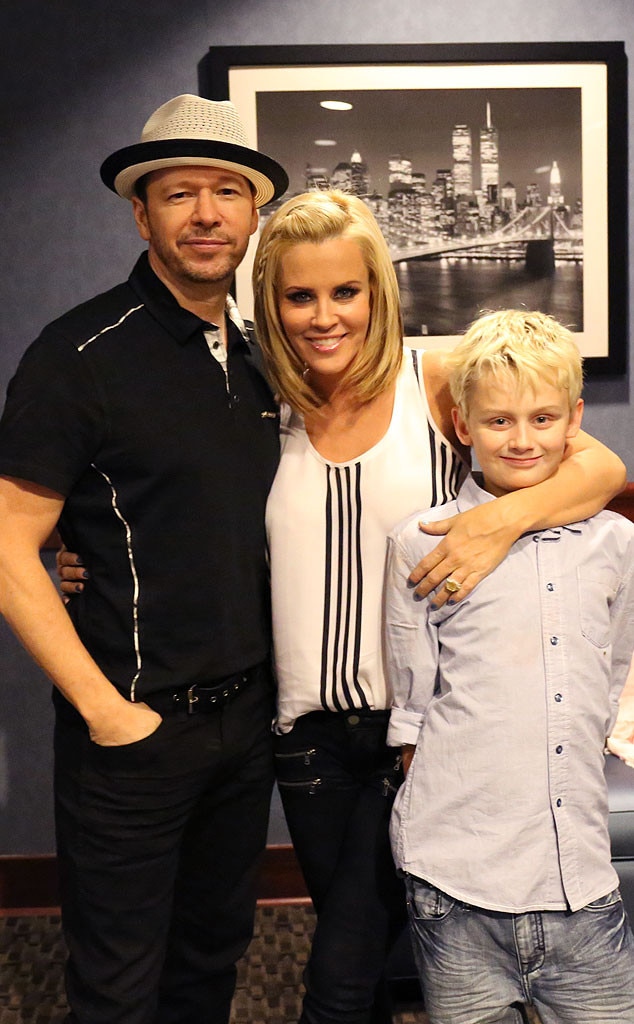 Happily married husband and wife: Donnie Wahlberg and Jenny McCarthy with their son
Source: Pinterest
Both of his sons are living together with him and his current wife Jenny.
Jenny McCarthy's Dating History: Previously Married To John Mallory Asher
McCarthy previously dated a guy named Ray Manzella from 1994 until 1998. After their breakup, she began dating an actor and director John Mallory Asher and after months of dating, they got engaged in January 1999 and eventually tied the knot on 11 September the same year.
They even have a son, Evan Joseph Asher, (born on 18 May 2002) but, unfortunately, Jenny and John got divorced in September 2005, after six years of their marriage.
Well currently, Jenny is married to Donnie and are sharing a happy life together. We wish them all the very best for their future.
For more updates, stay connected with FamousStardom.