Fifty-one-year-old American actress Halle Berry has already been married thrice. In other words, while she has had an amazing career so far, her personal life seems to be pretty messed up. Afterall, marrying and divorcing thrice is not a joke.
Today, we will discuss not just her three unsuccessful marriages, but also her past and present relationships. Stay with us to know more.
Is Halle Dating Anyone?
Halle Berry has had three failed marriages. Her third and latest divorce was from actor Oliver Martinez, who seems to have rekindled his romance with Kylie Minogue. The couple divorced in December 2016. Since her last divorce, she hasn't  been linked to anyone.
The mother of two even posted a picture of herself on Instagram wearing a "No More Boyfriend" t-shirt.
 Halle, during a Q&A at the 2017 City Summit and Gala in Los Angeles, said she had learned to deal with three failed marriages, not easy especially when there's a child involved.
She added,
" (As) women, we go into marriage thinking it's going to last forever and that this is our prince on a shiny horse.That's what fairy tales taught me as a kid... and I'm kind of anti-fairy tales today."
Halle Berry
Source: nationalpost
Halle even posted a lovely picture of her son and daughter on Instagram. But in the comment section, one commenter wondered why she didn't show the full image.
The photo shows 8-year-old Nahla and 3-year-old Maceo lying side by side but with their faces cropped out.
Berry responded to the comment, saying, "I've noticed you several times now, so let me be clear. I'm not ashamed of my children. I try to find creative ways to incorporate them into my feed because they are the biggest part of my life, but I also work very hard to keep their identities as private as I can considering they are only children." 
Halle Berry's Unsuccessful married life
Halle was first married to baseball player David Justice. She first saw him playing basketball on TV in 1992. They became close when they exchanged their numbers via Justice's hometown reporter.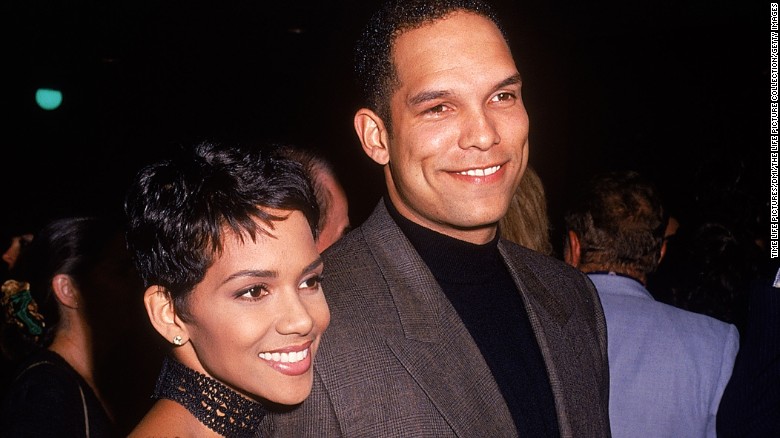 Halle Berry's first husband David Justice
Source: edition
The couple married on January 1, 1993. However, the marriage didn't last long and the couple split in February 1996. Their divorce was finalized on June 24, 1997. Berry revealed that after her first divorce she was depressed and wanted to commit suicide.
Sadly, Halle's second marriage turned out to be as messed up as her first marriage.Her relationship with the singer/songwriter Eric Benet didn't go well.They married on January 24, 2001, and divorced on January 3, 2005. Eric is now married to his long-term girlfriend, Manuela Testonlini.
Halle Berry and her second husband Eric Benet
Source: Dailymail
Besides her marriages, she was also in a serious relationship with French-Canadian model Gabriel Aubry. Their story started when they met at a Versace photo shoot in November 2005.They even have a daughter together, Nahla. Berry's first child Nahla was born in March 2008. On April 30, 2010, they broke up.
Halle Berry and her boyfriend Gabriel Aubry with their daughter Nahla
Source: AskDro
After a series of broken marriage and failed relationships, she then found love in the arms of actor Olivier Martinez. They married on July 13, 2013. They have a son named Maceo. The boy was born on October 2013. However, like her previous marriage, this too ended in a divorce.
                           Halle Berry and Gabriel Aubry with their son Maceo
                     Source: TMZ
Halle seems tired of her numerous marriages and relationships. Right now, her name has not cropped up with anyone else. Looks like she is enjoying her life with her children.