James Hetfield is best known as the co-founder of the American heavy metal band Metallica alongside band members Lars Ulrich, Kirk Hammett, and Robert Trujillo. 52-year-old Hetfield, an American musician, singer, and songwriter along with his successful carer is also blessed with a happy married life with his wife.
Professional since 1978, James is living with his wife Francesca Hetfield happily since 1997 and shares 3 children. Although James is known for his headbanging and aggressive singing, it turns quite calm when it comes to his relationship and love life. Want to know more about James Hetfield's married life, affairs, and children? Know here.
Successful Married Life of Metallica singer James Hetfield
James Hetfield is married to Francesca Tomasi for over 25 years as they tied the knot on August 17, 1997. It is reported that the couple started dating in 1992 and still providing justice to their long journey of relationship.
Moreover, reports claim James and Francesca met during Metallica's tour called Wherever We May Roam for their Black Album. The Argentinian beauty was working as their stylish in their wardrobe department.
And they fell in love at first sight which feels like some scene from a movie, which is adorable.
CAPTION: Metallica's James and Francesca happily married for over 21 years now SOURCE: Daily Entertainment News
The tour ended in 1992, and the couple officially started dating that year. After dating for 5 years, James proposed to Francesca.
The couple even now is free from the mishaps of divorce and separation and is enjoying happy family life with their 3 children.
Also Read: After Divorcing Husband, Jim Hoffer, MSNBC's Mika Brzezinski And Joe Scarborough Dating Each Other
Children of James and Francesca Hetfield
James and Francesca have three children. The couple welcomed their first child Cali Tee Hetfield, on June 13, 1998.
On May 18, 2000, the couple welcomed their second child Castor Virgil Hetfield, also their only son. Their youngest daughter who is their third child Marcella Francesca Hetfield was born on January 17, 2002.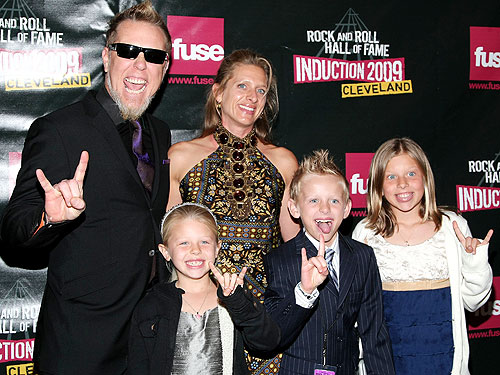 CAPTION: James and his family during the 2009 Rock and Roll Hall of Fame Induction SOURCE: Rock and Roll     

He has also got the initials of his wife tattooed on his right hand. The adorable couple renewed their vows in 2004 in the Caribbean.   
James as aggressive as he seems in his music is very mellow in his real life and he credits his wife for that. In an interview on NPR's Fresh Air, the Metallica singer stated that after meeting his wife he has learned to deal with his anger and become mature.
He is also sober and has been undergoing a rehab program since 2002, maintaining total abstinence from alcohol. And being a father to three kids he didn't want to be a bad example to them.
Also Read: Former MLB Star Darryl Strawberry, Wife Said "No More Sex". Why?
Video: James Hetfield performs with his daughter Cali 
The metal singer has admitted in an interview that he is happiest when spending time with his family. James has always enjoyed various outdoor and indoor activities like skateboarding, snowboarding, sketching, hunting, etc., which he enjoys doing with his family.
In June 2018, James was seen with his family on the lavish yacht holiday in Mykonos.
CAPTION: James Hetfield and his family In Yacht Holiday
SOURCE: Daily Mail
Also, the music gene seems to run in his family. His oldest daughter Cali performed with him, a cover of Adele's song Crazy for you for Acoustic-4-A-Cure in 2015 and also in 2016 where she performed the song I put a spell on you.
Amid a blissful relationship, James is also not far away from past affairs.
Also Read: Olympian Diana Taurasi Net Worth. See How Much She Earns With Her WNBA Career. Is She Lesbian?
Past Affairs of James Hetfield
Prior to Francesca, James was in a relationship with his former girlfriend Kristen from 1988 to 1990. Later the couple broke up without any disclosed reason.
Also, James has been in a relationship with Leah Storkson (1984), Marlo Broaddus (1983), and Teresa Haynes. He was also rumored to have hooked up with Alycen Rowse.
Eventually, karma led James to find his soulmate, Francesca. Best wishes to this couple.
Stay tuned for more. Famousstardom