Anthony Ramos is known for his dual roles of John Laurens and Philip Hamilton in the Broadway musical Hamilton where he worked with actors like Renée Elise Goldsberry and Phillipa Soo. Along with his successful career, Ramos has got a successful love life. The 26-year-old actor is in a lovely relationship with an American stage and screen actress, Jasmine Cephas Jones. 
Jasmine Cephas Jones, the daughter of actor Ron Cepas Jones is the co-star of Ramos in Hamilton, where she portrayed the dual role of Maria Reynolds and Peggy Schuyler, like Ramos. The couple is dating since 2015 and is still going strong in their relationship.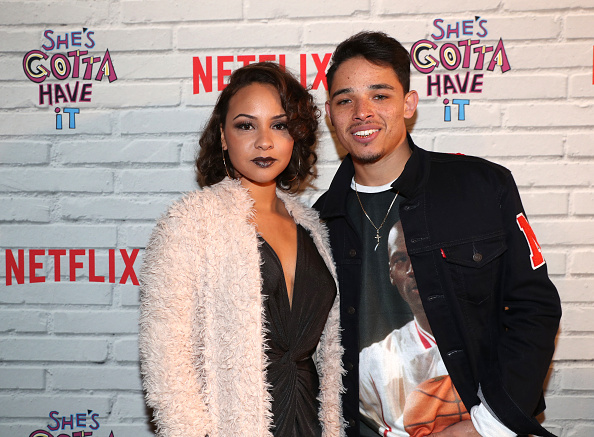 Jasmine Cephas Jones and her boyfriend Anthony Ramos
Source: Getty Images
So, are the couple engaged? Let's know all about the couple's relationship, plans for marriage, and past affairs below here.
Also Read: Enzo Amore Current Relationship Status: All The Facts Surrounding His Alleged Affairs & Girlfriends
Jasmine Cephas Jones Is Dating Anthony Ramos, Their Relationship
Similar interests and closeness of a couple in a relationship act as the catalyst for the relationship which coincides with the beautiful couple, Jasmine and Anthony. The couple first met during rehearsals for the Off-Broadway production of Hamilton at The Public Theatre in 2015.
Soon, the chemistry of the couple blossomed and they introduced themselves as lovers on February 16, 2015, and have been dating since then. 
Jasmine Cephas Jones and Anthony Ramos during their break after their performance in Hamilton
Source: Pinterest
Soon after their relationship and dating issues hit up the news, the couple began to share their love for each other through their social media.
The couple who shared Valentine's Day also celebrated Christmas together for the first time in 2015. Have a look at the posts.
Well, it's been nearly 3 years of their relationship, but the couple is deeply and madly in love with each other. Also, there are no rumors of conflicts or mishaps in their relationship. Many of us may not know, but Jasmine is 2 years senior to Anthony.
Also Read:  Mike Kanellis Married To Maria Kanellis, Are They Happily Together? Know About Maria's Pregnancy
Regarding their engagement, the lovely couple is yet to be engaged officially. And no further details of the couple getting married have surfaced on the Internet. But importantly, the couple is very much together, enjoying and sharing the lovely moments.
Have a look at some of their Instagram post.
Really Jasmine is the ace, Anthony. 
Well, the lovebirds are free from past affairs as none of them are reported to have had relationships in the past. Seems they are enjoying their first love. 
Let's wish them the best for further.
Jasmine Couldn't Watch her father's character death
Jasmine's father Ron is the actor in the famous NBC show This Is Us where actors such as Mandy Moore and Milo Ventimiglia have also performed. Everyone loves their father, isn't it? When the time of the death of Ron's character arrived in the show, not only Jasmine but also the fans got heartbroken. 
Jasmine couldn't watch the episode about her father's character's death. Yeah, it's difficult watching the loved ones die, even if it's just a show.
Regarding his emotion of Jasmine, Ron told the Los Angeles Times :
I think for her, it's just a little difficult for her, right now, to watch me in that scenario… I have a very close relationship with my daughter. She just said, 'Dad, I just can't watch it right now. It's just very difficult for me to watch.'
Family emotions.
Have a look at Jasmine's Instagram posts about her father.
Not only is Jasmine's father, but Jasmine has also won the 2016 Grammy Award for Best Musical Theater Album for Hamilton alongside Ramos.
Also read:  This Is Us actress Mandy Moore dating her new boyfriend Taylor Goldsmith after divorcing her husband Ryan Adams