How wonderful is it to settle down with the person you love and to start a happy family. Isn't it like a fairytale? We can see the same happiness, same excitement in Katherine Heigl's life. 39-year-old Katherine Heigl, known for the 2017 thriller movie Unforgettable, and her husband 37-year-old Josh Kelly, both of whom struggled to find the right groove with each other in the beginning, is now happily living with their children.
Well, today, we are going to give you exclusive information about their love life. Stay with us to know more.
Katherine Heigl's married life with husband
Just like any ordinary couples, they struggled at first to be each other's perfect match.
Katherine Heigl and her husband Josh Kelly
Source: Dailymail
Commitment is a hard thing, even if you're a famous and awesome person. The couple first met when Katherine played singer Kelly's love interest in the music video for his song Only You in 2005. They were engaged a year later, in June 2006, and the following year Josh wrote the song Hey Katie for Katherine, then his girlfriend.
The couple then married in 2009. Kelly even wrote an acoustic guitar song for Heigl's walk down the aisle. At that time he even told People magazine that marriage is all about showing someone that you love them and you're actually capable of the ultimate commitment.
He also added that they are fairly opposite but they also share a lot of values and she makes him excited to start a new family.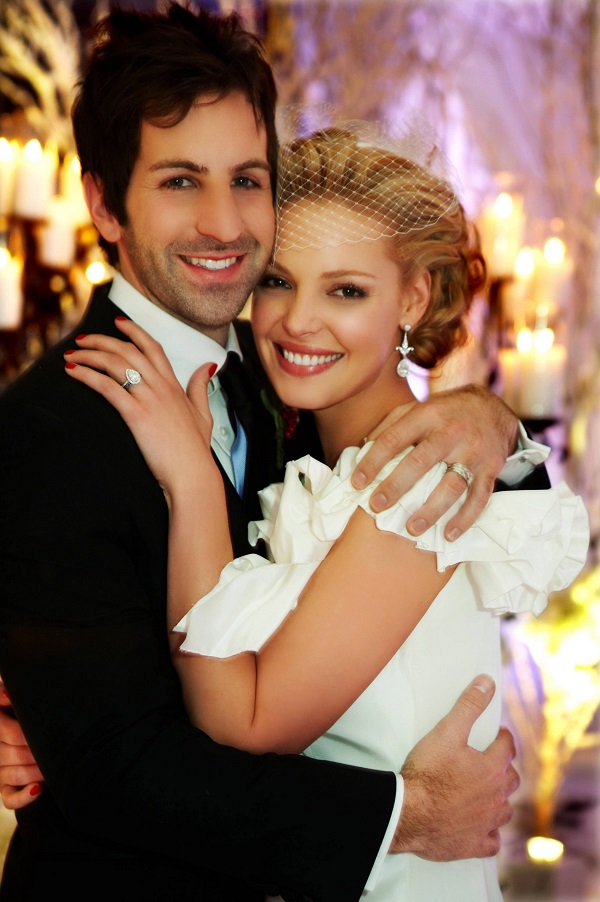 Katherine Heigl and Josh Kelley's wedding
Source: marriedbiography
Katherine Heigl and Josh Kelley: Parents to their lovely Children
We know Katherine for her countless starring roles, However, her role as a mother is one the most favorite and cherished role. She is the mother of three children, Adaladine Marie Hope, 5, Naleigh, 8, and Joshua Bishop Jr., 8 months.
Their daughter Adalaide and Naleigh was adopted. In 2009, they adopted their very first child ,Naleigh, from South Korea.
Back then in an interview with Scholastic, Heigl explained her decision. She told that they decided to adopt a baby way before they were even engaged. As her parents had also adopted her sister Meg before she was born from Korea and she wanted her family to resemble the one that she came from. They even talked about having biological children togehter. However, she added they decided to adopt first.
In 2012, they welcomed their second adopted child, Adalaide Marie Hope, who was born to a woman in Louisiana. Finally they welcomed their first biological child on December 20, 2016, the brother for two daughters.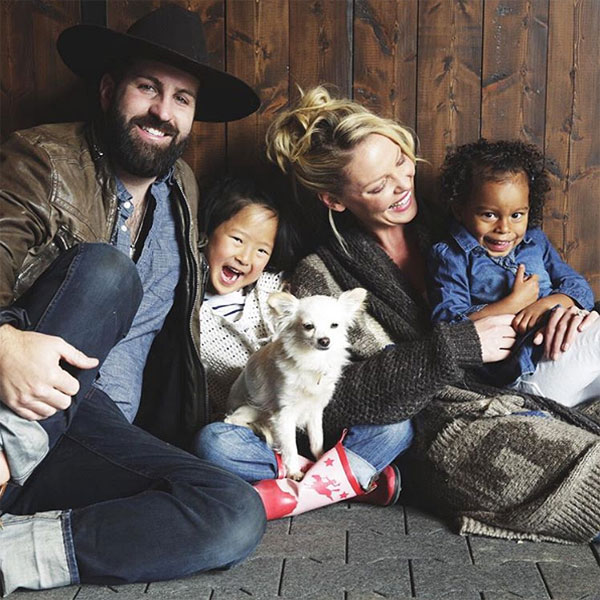 Katherine Heigl and Josh Kelley and their daughter Adalaide and Naleigh
Source: celebritybabies
Was Katherine in a relationship with John Meyer?
Katherine first met Josh around the same time she met John Meyer as well. And she started hanging out with him often. Well, they were even rumored to be in a relationship, although Katherine said it was platonic.
And Katherine even said that she decide to make Josh jealous by maintaining her relationship with John. According to her,
'These musicians, they are competitive and jealous of each other. [So] over the phone, because he was on tour, I was like, 'Josh, I've got to be honest. I just want to know where we stand because if not, I might try to pursue something with John.
Well, Josh's patience worked magic for Katherine and finally after some dating the two got married. Things might have not worked well in the beginning, but the story ended happily for all in the end. Let's hope that their life will be filled with more happiness in the future.