38-year-old Katie Holmes is an American actress known for her role as Joey Potter in Dawson's Creek, which led her to win an MTV Movie Award for Best Breakthrough Performance. Katie came much more in the highlights after she married her girlhood crush and Top Gun star, Tom Cruise. But after 5 years of relationship, the couple divorced.
Katie, who also shares a daughter with Tom, 11-year-old Suri Cruise, has finally begun talking about her relationship and affair with Django Unchained star, 49-year-old Jamie Foxx, who has won an Academy Award for Best Actor, BAFTA Award for Best Actor in a Leading Role, and a Golden Globe Award for Best Actor in a Musical or Comedy. So, how is her relationship with the Oscar-winning actor going? Let's know the truth about Katie's recent affairs and her relationship with Tom Cruise along with her past affairs.
Relationship of Katie Holmes and Tom Crusie
Katie and Tom began dating in April 2005. They were soon deeply in love with each other and they got engaged only after 7 weeks of their meeting on June 17, 2005. Katie, once in a 1995 interview, said that Tom was her girlhood crush. Her dream came real as Tom, shortly after their engagement, proposed to her at the Eiffel Tower in Paris.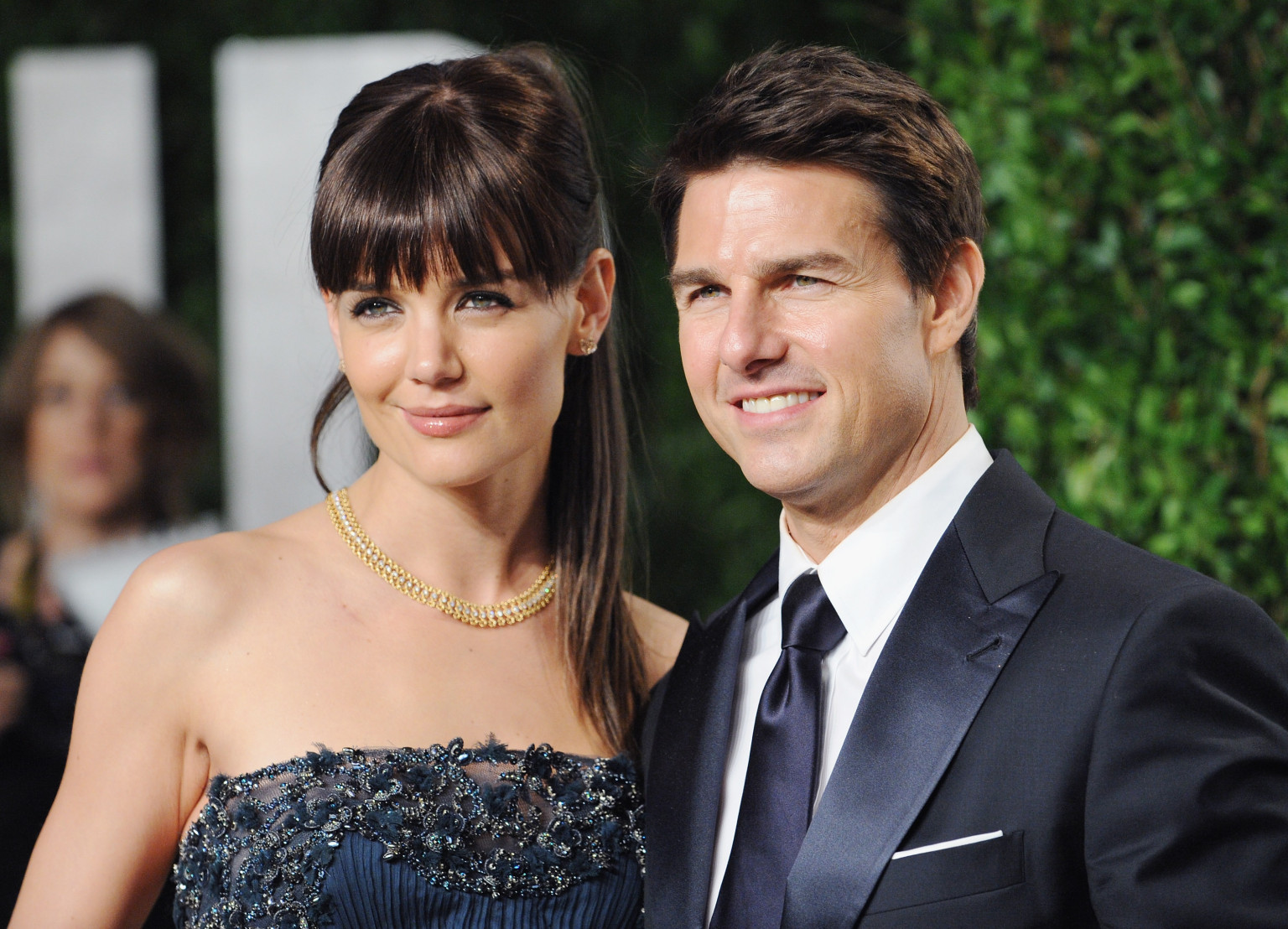 Katie Holmes and Tom Cruise
Source: Huffington
On November 18, 2006, Holmes and Cruise were married in a Scientologist ceremony at the 15th-century Odescalchi Castle in Bracciano, Italy. The couple's agency revealed that the couple had officialized their wedding in Los Angeles a day before the Italian ceremony.
The ceremony was attended by lots of celebrities, which included Will Smith and Jada Pinkett Smith, Richard Gere, Victoria Beckham and David Beckham, Jennifer Lopez and Marc Anthony, and Jim Carrey and Jenny McCarthy, John Travolta and Kelly Preston and many more.
Have a look at their wedding photo.
Tom Cruise and Katie Holmes in their wedding
Source: Nicki Swift
Their fans called them the super couple of Hollywood and named the two "TomKat". But the relationship between the two started deteriorating. And sadly, after 5 years of marital relationship, they filed for a divorce on June 9, 2012. Even their attachment to their daughter, Suri, could not save their marriage.
Details about Children and reason for separation
Tom and Katie are parents to 3 children, although Suri is their only biological child. Tom and Katie welcomed their daughter, Suri Cruise, on April 18, 2006, a year after their first meeting.
Tom and Katie with their daughter Suri
Source: Hollywoodlife
After the divorce, Katie took the custody of her daughter while Tom has got visitation rights. Katie revealed in an interview that she decided to split with Tom because there was something wrong between the two and she feared that, eventually, their relationship might resemble that of Tom and his ex-wife Nicole Kidman. Also, she said that her Scientologist husband did not allow her to scream during her labor.
Talking about Tom's other children, he adopted a son, Connor Cruise, 22, in February 1995 along with his ex-wife Nicole Kidman and also has a daughter, Isabella Jane Cruise, 24.
Connor Cruise with his father Tom Crusie
Source: NY Daily
Connor has also become an actor. He played a role in the movie Red Dawn. Similarly, his sister Isabella is married to her husband, Max Parker, since 2015.
Isabella Jane Cruise and her husband, Max Parker
Source: Daily Mail
Further details of the Cruise family have not been out yet.
You might not know but Tom is not the only one to have past affairs. In fact, he was not the first person Katie fell for, despite being her teenage crush.
Past Affairs of Katie Holmes
Prior to Tom, Katie was in a relationship with her Dawson's Creek co-star Joshua Jackson early in the show's run. The couple called their relationship a quit after dating for a while. Later, Katie met actor Chris Klein back in 2000 and started having an affair with him.
After dating for 3 years, Chris and Katie got engaged in December 2003. But the engagement was called off in March 2005 and they broke up after that. The former couple, however, say that they remain good friends.
Katie Holmes and Chris Klein
Source: US Weekly
The reason for the split of Katie and Chris is still a mystery. But soon after that, she started having an affair with Tom Cruise.
Are Katie and Jamie dating
5 years after divorcing Tom, Katie is now rumored to be dating Baby Driver and Django Unchained actor Jamie Foxx. So is the rumor true? Well, the answer is quite interesting.
As reported by The Sun Katie and Jamie confirmed their relationship after they were spotted together holding hands on a beach in Malibu on September 4, 2017. Here is the photo.
Jamie Foxx and Katie Holmes spotted in a beach
Source: YouTube
But the couple raised suspicion for the first time when Jamie and Katie were spotted holding hands in 2013 in the studio.
Katie and Jamie holding hands in studio
Source: The Sun
However, both Katie and Jamie have made everyone curious about their relationship, which has reportedly been going strong since 2013, by not publicizing it, like their fellow celebrities do
After her divorce with Tom, Katie was paid £3.6 million in child support and £3.8 million as payment on the condition that she would not publicize her future dating issues to the public. this is said to be the reason Katie has not spoken about it in the media.
But that does not mean that Katie has not come out to support her love, Jamie. As recently as December 4, Katie Holmes was spotted in New York City supporting her beau Jamie Foxx during the opening of the Privé Revaux flagship store, even though the Dawson's Creek actress, 38, and the actor-singer, 49, arrived separately to the event.
Whatever the conditions of the agreement between Tom and Katie might be, the world knows by now that they are in love with each other. We just hope that the wedding bells ring again, and soon, for the actress.