Desmond English is gaining huge popularity these days. With all his videos, he has become a very popular vine star. He throughout the internet sites is popularly known with the name as MightyDuck.
Desmond English being an extremely popular vine star is very much appreciated and has gained huge fame after doing many prank videos. He has made many videos which have been posted on his Vine and YouTube Channel.
Desmond English is popular for plotting unique ways to try and make people laugh before finding a very comedic voice on 6 seconds video app Vine. Desmond English as being very popular, everyone wants to know about his affairs and dating history. So is he in any kind of married or dating relationship; having affairs?
Desmond English has been very much popular and had more than 2.8 million followers on video app Vine and over 1.2 million subscribers on his Youtube Channel titled Mightyduck World. He is also very much active in all his social media platforms like Youtube, Vine, Instagram, and such others.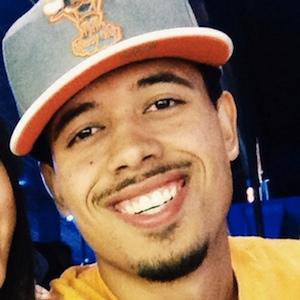 Is Desmond English single, having affair or is married?
This famous Vine star Desmond English is no doubt the crush of many female fans who follow him in his channels and social media. The efforts that this star puts to the videos have made him very much appreciated by many people. Some of the videos he made have crossed even more than 2 million views. He makes videos often by doing a collaboration with Head Capone and Chaz Williams.
While talking about his married life. The internet personality is a married man and also has a child with her. He is married to Elizabeth Kim and also has a son name, Channing. His first son Channing English was born on August 26, 2015. 
Elizabeth Kim is known for the appearances she has made on the Mightyduck World vlogging Youtube channel. She made her appearance in family-themed vlogs with her husband Desmond English. The videos have gained huge popularity and views from millions of followers.
It's been said that Elizabeth Kim is the co-creator of the Mightyduck World vlogging channel which was made on 14 February 2014. She has a great contribution to her husband Youtube channel since the beginning of its formation and has also helped to make more than 1.2 million subscribers in this channel. 
Desmond English has not only made his wife Elizabeth Kim appear in his videos but we can also see a video of his son Channing. His sister Mighty Neicy is also a popular vine star who has gained equal popularity like Desmond English.
Apart from his first child, the pair is also expecting their second child in the coming days.  Though we are not clear when they really announced their pregnancy, the pair posted a video on their YouTube channel and their Instagram profile to announce that the pair was going to have a baby girl. 
Look at the video where they revealed the gender of their child.
Desmond English was born on 8 August 1993 in Atlanta, Georgia, United States of America. Before Desmond started producing all of his comic voice on the vine, he explored several social networking sites and there, he shared his unique style and made many people laugh through it.
YouTube: Desmond English Spider Prank
Desmond English comedy videos have gained very much recognition all over the world. After the fame, he continued his work on YouTube which was his long desire. He posted videos by the name 6 seconds in his Vine videos.