Vladimir Putin was born as Vladimir Vladimirovich Putin on 7th of October 1952 in Leningrad, a former part of Soviet Union. Even though he was named as acting president earlier in 1999 after the then president Yeltsin unexpectedly resigned, Vladimir Putin is now the president of Russia who was first elected as president in the year 2000. Apart from presidency Vladimir has also had a chance to be the Prime Minister of Russia.
Vladimir Putin has been married once to Lyudmila Putina and has rumored to have dated models and athlete as well. Vladimir has confirmed about his two daughters that he got from Lyudmila and there are rumors about two other boys to be his children who were seen with the ex-gymnast Alina Kabaeva in an ice skating show at the Megasport Arena in Moscow. One of the other rumored relationships that Vladimir has is with the 23-year-old calendar girl Alisa Kharcheva. The sexy Alisa who is also known as "Miss April" is also known for posting a controversial Picture in a blog titled "Pussy for Putin" which she claimed to be the best gift for Vladimir.
Caption: Vladimir Putin's Portrait
Source: Jenixe.com
Vladimir Putin has been linked with many Russian Parties like Communist Party of the Soviet Union (1975-91), Our Home-Russia (1975-1991), Unity (1999-2001), United Russia (2008-present) and Peoples Front (2011- present).
Vladimir Putin is estimated to have a net worth of $100 billion, however, there are also rumors about his net worth exceeding far more than $100 billion.
Vladimir Putin's career
1975 - 1991
Vladimir Putin started off his career in the year 1975 when he joined KGB working as second chief Directorate in Counter Intelligence department. His job there was to monitor foreigners and consular officials in Saint Petersburg. Putin was fluent in German language and after working for almost 10 years Putin was assigned to work for the KGB in eastern Germany as an undercover agent disguised as a translator. Vladimir Putin was in Germany during the fall of the Berlin Wall in 1989 and he was the one to dispose of the entire KGB files.
Caption: Vladimir's photo during the old days.
Source: ">Youtube.com
After the fall of Berlin wall and his invaluable service to the KGB, he was withdrawn back to Saint Petersburg and started working for Saint Petersburg State University. In the university, he recruited new KGB agents and meanwhile managed to renew his relation with Anatoly Sobchak, who was also the mayor of Saint Petersburg. Putin resigned KGB in the year 1991 with the rank of Lieutenant Colonel.
1991 - present
In the year 1991 Putin started to serve for the St. Petersburg mayor's office as chairman of the foreign relation. He was assigned with the task to promote international relation, foreign investments and registering business ventures. Later on in the year, 1994 Putin served as first deputy chairman of St. Petersburg city government and also as the chairman of the committee for external relations. In the year 1996 to 1998 Putin worked for President Yeltsin in Moscow. After serving the president, Putin worked as the director of Federal Security Service which was a successor agency to the KGB.
The year 1991 was very good year for Putin as he was titled as the acting president after Yeltsin Resigned. In the year 2000 Putin was elected as the president of Russia after capturing more than 50% of the total vote. He served the nation for 8 years after winning the second term election as well and accomplished many things along the way. After his presidency ended by the constitution, he served 4 years as the prime minister. Lately, after the end of the presidential term, Putin was again elected as the president for the third time and is currently serving the nation.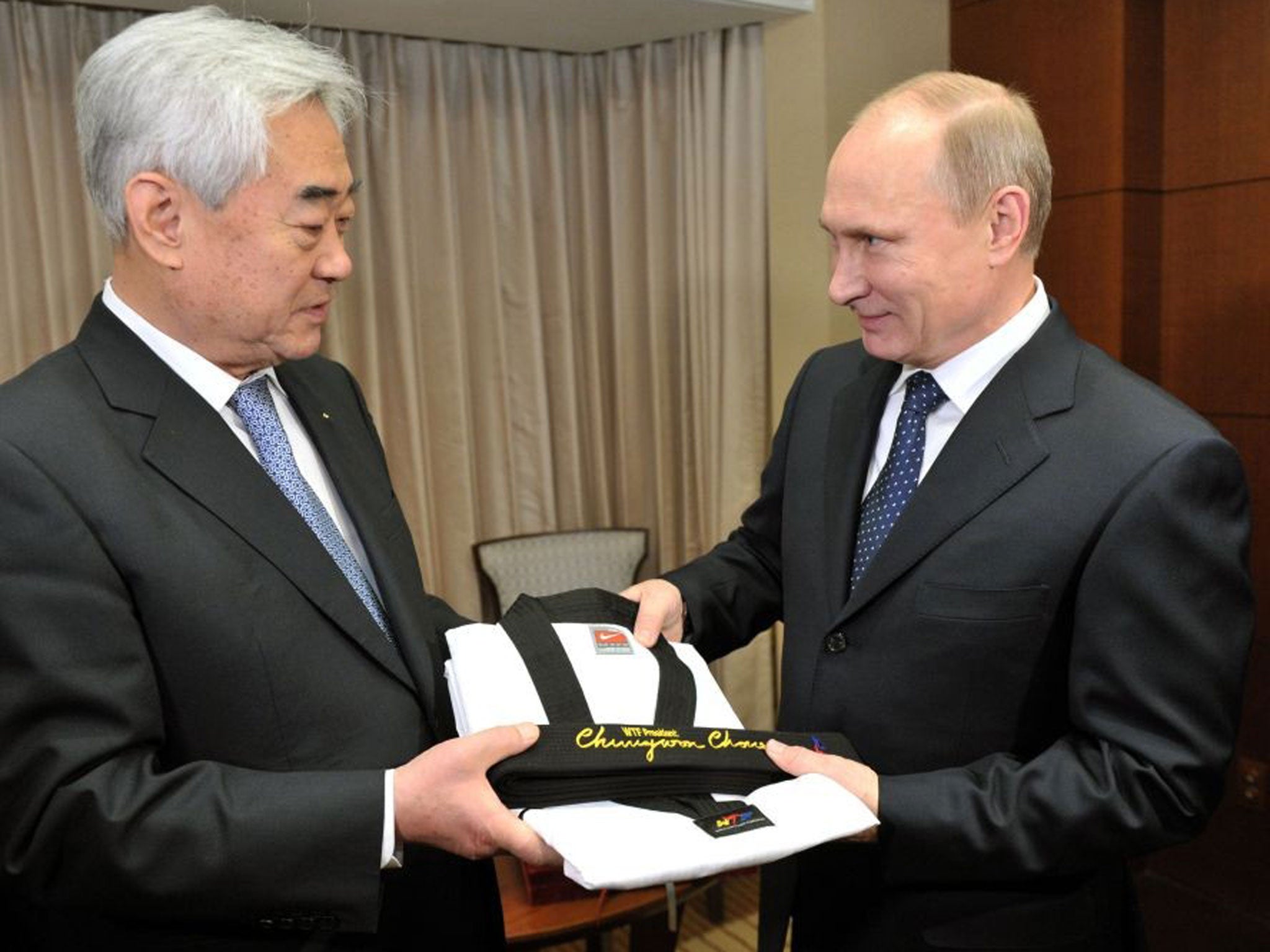 Caption: Vladimir Putin being awarded
Source: Independent.co.uk
Vladimir Putin's awards
Vladimir Putin has been awarded various times for his service throughout his career; he has been given civilian awards for multiple times by multiple countries. Not only that, he was awarded many honorary doctorates as well. Apart from that, Vladimir has been awarded peace prize and has been recognized for his service for more than once.
Civilian awards
Vladimir Putin was awarded "Order of Jose Marti" in 2014 by Cuba, "Order of the Republic of Serbia" in the year 2013 by Serbia,"Order of Saint Charles" in the year 2013 by Monaco, "Order of the Liberator" in the year 2011 by the country Venezuela, "Order of Zayed" in the year 2007 which was presented to him by the president of UAE Khalifa Bin Zayed, "Order of Abdulaziz al Saud" and "Order of Ismoili Somoni" in the year 2007, "Order of the Golden Eagle" in the year 2004 by the country Kazakhstan, "Order of Ho Chi Minh" in the year 2001 by the country Vietnam, "Legion D'Honneur" in the year 2006 by the French president Jacques Chirac and "Order of Sheikh Ul-Islam" which is also one of the highest Muslim order award.
Caption: Vladimir Putin giving a speech.
Source: sputniknews.com
Honorary Doctorates
Vladimir Putin was also awarded Honorary Doctorates by University of Belgrade in the year 2011 and was also awarded by Athens University and Yerevan State University in the year 2001.
Peace awards
Vladimir was presented with the Angel of Peace Medal in the year 2015 by the Pope Francis; during his presidential visit in Vatican City. He also received Confucius Peace Prize in the year 2011 because of his decision to oppose NATO's Libya bombing in 2011 and his decision to go to war in 1999 in Chechnya.
Recognitions
Vladimir Putin has been recognized more than once for his service. He has a mountain peak named after him in Kyrgyzstan called "Vladimir Putin Peak". Apart from peak he has also got a whole Avenue named after him in Chechnya called "Vladimir Putin Avenue" as a gesture from the president of Chechnya Ramzazn Kadyrov. He was also named as the person of the year 2007 by two of the world's popular magazine Expert and Time.
What do you think about Vladimir Putin? Please, leave your comments below.