Eric Benét Jordan is an American R&B and neo soul singer-songwriter and actor, who has received a total of four Grammy nominations, till the date of his musical career. He is professionally known as Eric Benet. Manuela Testolini who is a noted charitable worker and is best known for her first marriage to music icon Prince and her second marriage to Eric Benet.
The couple, Eric and Manuela's love story is truly an amazing one. Even Manuela relation is taken as an example by many lovers. And it will be remembered for history.
Let's know more about Manuela's love life with both of her husbands Prince and Eric.
Manuela Testolini Married Life with Late Music Icon Prince
Manuela and Prince met through a charity event, as both were the social activists. The charity event called "Love4OneAnother" turned out to be their first encounter with their love story to begin.
To a surprise note, the couple differs in the age of almost 19 years, even then age did not matter to their relationship.
The pair finally made their relationship official and tied their knot in 2001. They lived together happily in Toronto after their marriage.
Manuela Testolini and Prince tied the knot in 2001
Source: The Indian Express
Their married life was going beautifully for almost six years until they came to a crashing point. Unfortunately, they couldn't stay connected with their fragile love relationship and the couple got divorced in 2006.
According to the report, they still share their time with each other as friends after their separation.
Manuela Testolini divorced Prince in 2006
Source: Heavy
To a sad note, Prince expired in 2016 due to the intake of overdose painkiller. Testolini spoke about her late ex-husband in the interview saying;
"Prince and I had a magical journey together and I loved him immensely. The world knew him as a musical genius – I knew him as a husband, friend and fierce philanthropist,"
She added;
"His passing leaves me with such a devastating feeling of pain and loss. The love we shared, the music he made and our life together is forever engraved in my heart. I will always love and respect him. I am heartbroken beyond words."
It is true. Death can't depart the soulmates as the love still stays in the memory and feelings.
Manuela Testolini Second Marriage with Eric Benet
Manuela married her second husband Eric on 31st July 2011.
According to the sources, Eric cheated on her ex-wife Halle which led to their divorce. Such fact was mentioned in Jay-Z one of the songs of the album 4:44. Check out the lyrics;
"You almost went Eric Benet / Let the baddest girl in the world get away/ I don't even know what else to say / N—a, never go Eric Benet," and "I don't even know what you woulda done / In the future, other n—as playin' football with your son."
Eric then replied to Jay-Z via his tweet,
Even though his current relationship with Manuela is the exclusive one. People change and Eric has changed for better.
The couple is living blissfully together since their marriage. No rumors of dispute and divorce have received from the couple so far.
Eric Benet with his wife Manuela Testolini
Source: Heavy
They are blessed with a daughter, Lucia Bella Benét. Manuela is the stepmother to Eric's daughter India, in 1991 with Eric's late girlfriend Tami Marie Stauff. Recently got child Amoura Luna.
Feeling blessed what Eric said about his family in the E-News;
"My family is my everything. As we continue to grow as a unit, it's so important to document these special moments in life, so for Valentine's Day, I wanted to give my wife and family a picture that captures our pure happiness. Look at those smiles…Mission Accomplished!"
Picture of Eric's happy family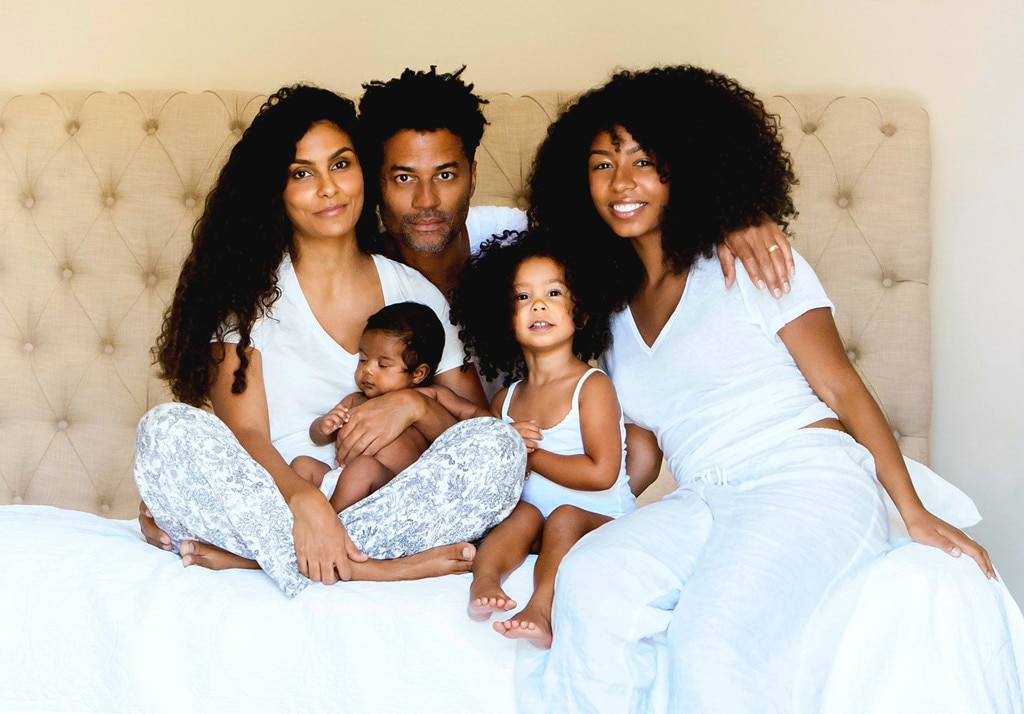 Eric Benet and Manuela Testolini with their family
Source: E! News
Let's hope their relationship go this way forever, for further updates stay connected to frostnow.com