Mariah Carey, an American sensational singer, and songwriter is estimated to have a net worth of $535 million. Carey in her later 40s is among the top singers in the United States with the record of 28 million selling units by her album Music Box. She has over 7.1 million followers on Instagram and 20.5 million followers on Twitter. 
Mariah Carey has been active in the music industry since 1988 and has won numerous prestigious awards including 5 Grammy Awards, 21 AMAs, and many others. Here, we are going to share some information about the singer's net worth, earnings, and assets. Continue reading to find out more. 
Mariah Carey's net worth and earnings.
Back in 2015, Mariah Carey's net worth was estimated to be a whopping $520 million, and according to The Richest, her estimated net worth in 2013 was $535 million. Likewise, the site also shares that she made a massive earning of $29 million in a year. 
Even though details about her net worth throughout the years are available, her net worth as of 2018 is under review. 
Also recognized as the ex-wife of American singer and rapper Nick Cannon, Carey's pay cheque are in millions. Her earnings throughout the years are massive, and back in 2012, she received $18 million for serving as a judge on American Idol and let's not forget about all the perks she gets for being a VIP judge. 
Watch Mariah Carey in American Idol.
In the following year, she was listed as the 10th highest-paid women in music by Forbes with the earnings of $29 million in 2012 that also includes her $18 million American Idol salary. Likewise, in 2007, Forbes also named her the 5th richest woman in entertainment with an estimated net worth of $270 million. 
Here we have listed some of her earnings from record sales too. 
Year
Album
Earning
2010
Merry Christmas II You
$523,000
2008
E=MC²

$2,500,000

2002
Charmbracelet
$

5,000,000

2001
Glitter

$3,400,000

1999
Rainbow

$10,000,000

1997
Butterfly

$15,000,000

1995
Daydream

$25,000,000

1993
Music Box

$32,000,000

1991
Emotions

$8,000,000

1990
Mariah Carey
$15,000,000
Watch the music video for Mariah's song All I Want For Christmas Is You
Her major source of income is her career as a singer and songwriter but being a diva, she earns as much money through endorsement deals and sponsorships. 
Mariah Carey's endorsement deals.
As Mariah is one of the biggest names in the music industry, it is not a big deal for her to get endorsement deals from high-end companies and brands. In the past, she has endorsed big names like Pepsi, Intel Centrino computers, Motorola, and others. 
Watch Mariah in the commercial for Pepsi.
In 2006, she worked with Pepsi and Motorola to launch Cool Tones, and she has also appeared in a few advertisements for Pepsi. 
Likewise, she also has launched her jewelry line for teenagers. In 2007, she launched her fragrance M in collaboration with Elizabeth Arden. The first perfume released alone made her a jaw-dropping $150 million. 
Mariah Carey M perfume ad
Source: The Perfume Girl
Throughout the years, she has released more perfumes like Lollipop Bling Perfume, and they are quite popular among fans. 
Some of the other companies which she has collaborated with are OPI nail polish and HSN.
Mariah Carey's properties and assets
Carey after her split with ex-husband Nick Cannon, in 2016, sold their L.A. mansion for $13 million. The estate is something people dream of as it features a theater room, bathroom island, aspen room, gym, basketball court, and much more. 
 LA Mansion previously owned by Mariah Carey and Nick Cannon
Source: Variety
Mariah is not only a huge buyer but also a renter. In 2017, it was reported that she was renting a Mediterranean style mansion in Beverly Hills which was previously owned by Nicki Minaj. It came as a shock to many as the duo are infamous for the feud while they were on American Idol.
Mansion rented by Mariah Carey
Source: Page Six
Nonetheless, the singer rented the house with eight bedrooms and 4.5 baths for $35,000 per month. 
She also owns a mansion in Beverly Hills which has a price tag of $23 million. The house looks almost like a resort with a gorgeous outdoor swimming pool, tennis court, and a guest cottage. The mansion also features nine bedrooms and ten baths.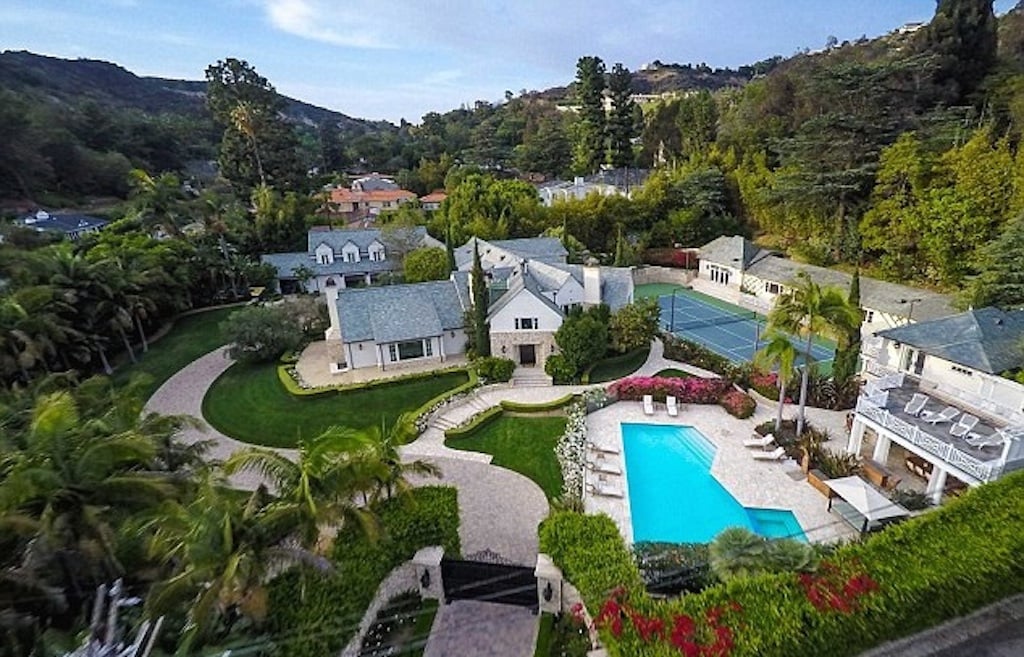 Mariah Carey's Beverly Hills Mansion
Source: Celebrity Net Worth
Similarly, other estates she owns are located in Bahama, NYC, and Bel Air which have a price tag of $4.9 million, $15 million and $7 million respectively.
Mariah Carey's Bahama Mansion
Source: Private Island News
Moving on to her automobiles, she is a big car lover and owns some gorgeous cars. She owns a Rolls Royce Drophead Coupe which has a price ranging around $440,000. 
Mariah Carey's Rolls Royce Drophead Coupe
Source: Dodoodad
She has also been spotted driving a Maybach 62S, Rolls Royce Phantom, Porsche Cayenne, and a Mercedes-Benz SLK which have a price tag of $500,000, $409,000, over $61,000, and $42,500 respectively. 
Mariah Carey's Mercedes-Benz SLK
Source: Celebrity Cars Blog
She and Nick Cannon used to own a private jet together, but we are unsure who owns it now. 
Mariah Carey's Private Jet
Source: Pinterest
Moreover, her expenses are not just limited to cars and houses. As we mentioned above, she is a diva, and she spends millions of dollars on designer fashion accessories and clothes. 
Mariah Carey $10 million Diamond Ring
Source: People
And how can we forget the infamous $10 million diamond ring which she received while she was engaged to James Packer?
In May 2018, it was reported that she sold her engagement ring for only a fraction of what it costs, $2.1 million to Los Angeles Jeweler.
Really funny, but Mariah knows how to deal with business either it be personal or professional life. Stay tuned for more.