We have read about some of the famous Instagram stars, who created a buzz on the social sites with their love affairs and relationships such as Danielle Bregoli, Malu Trevejo, Taylor Caniff. Our primary focus for today is an English model and Instagram star, Meredith Mickelson, 18, who earlier created buzz with her relationship with an English YouTube star, Ethan Dolan who has a YouTube subscriber base of 4.2 million.
The 18-year old, Meredith with a follower base of 1.4 million on her Instagram dated Ethan around 2015, but later denied her relationship with Ethan. The Instagram star has gone low in public with her love life.
So, who is Meredith dating currently? Find more details about her current relationship status here in FamousStardom.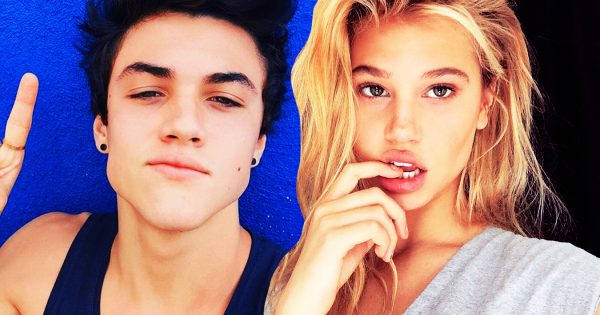 Meredith Mickelson and Ethan Dolan
Source: Superfame
Meredith Mickelson and her Ex-Boyfriend Ethan Dolan
Meredith and her boyfriend Ethan dated each other for nearly eight months from 2015 to 2016. The news on the couple's relationship aired when Steven Kelly, an English YouTube star and a mutual friend of the couple, tweeted on Meredith and Ethan's secret dating.
Ever since then the two were tagged as a girlfriend-boyfriend couple. Earlier it, Ethan shared a picture on his Snapchat of himself and Meredith, in which Meredith can be seen sleeping on Ethan's lap.
After checking out Ethan's Snapchat post, most of his fans just went crazy, but back then Ethan's relationship with Meredith wasn't clear. But with Steven, clearing the air, the couple's fans got what they wanted to know.
Also, later on, after their relationship became public, the couple shared tweets on their relationship and dating.
But, the Instagram star, gave a shocking twist on her relationship with Ethan in 2016.
It looks like the relationship between Meredith and Ethan wasn't a real one, and with the tweet, she revealed she was still single. Meredith and Ethan haven't been together now and neither there is news on the former couple. So, after denying her relationship with Ethan, who is Meredith currently dating?
Meredith Mickelson Current Relationship
After the year 2016, Meredith hasn't been linked to any other names, neither there is any data on her current love affairs on the web. So, as per the resources, Meredith is currently single and is enjoying her bachelorette.
via GIPHY
Meanwhile, Meredith doesn't seem to be in any hurry to be in a relationship but rather seems focused on her career.