In 2015, Lester Holt seemed as if he couldn't stop gushing over his wife Carol Hagen and their happy little family. Fans and audiences all over were excited to see Lester and his son Stephen Holt working together in NBC. However, all doesn't seem well with the family recently.
NBC Nightly News and Dateline NBC anchor, Lester Holt, is allegedly facing a divorce from his wife, Carol. And the reason you ask? Well, seems like 59-year-old Holt cheated on his wife with a fellow crew member.
Lester Holt' Extra-Marital Affairs
The news came up that the NBC anchor, Lester Holt, has been engaged in some extramarital affair. He was rumored to be having a fling with a crew member of his program NBC Nightly News.
SEE MORE: Top NBC host Lester Holt, Who Covered 9 Olympic Games, Says America Needs the Olympics Right
CAPTION: Lester Holt and Carol Hagen 
SOURCE: FamousStardom
None of the parties involved have made any comment on this, but it has been reported that Lester and his wife, Carol, have not been seen together publicly since this New Year. They are said to be trying to hush up the news. Sources revealed that Carol is going to file for a divorce soon on the basis of infidelity.  
Lester Holt' Married Life with Carol Hagen
Lester Holt married his wife Carol Hagen-Holt in a private wedding ceremony in 1982. Carol is a licensed real estate agent currently working at Halstead Property. The couple currently resides in Manhattan. They have two children together- Stephan and Cameron.
ALSO READ: Stephan Holt has followed in his father's footsteps and entered into journalism. He joined NBC in the February 2016
His father showed his support through Twitter for his appointment.
Back in June of 2015, Holt's wife and two sons showed their love and support to Lester by surprising the news anchor on the Today Show.
Caption: Carol Hagen with her children 
Source: FamousStardom
Lester had then revealed that the secret to making a happy marriage work is to laugh. 
We laugh a lot, we really do. I can be silly, she can be sillier. We just laugh through things and we know that everything, tough times will be a story at some point and boy have I put her through some tough times with this job.
Lester said:
She understands that when the bell rings, I like to answer it, when the big story's going on, I want to be there… I love her to death, she's has been so wonderful, she knows this job is going to bring a lot of late-night phone calls, but she's there for me and that means an awful lot."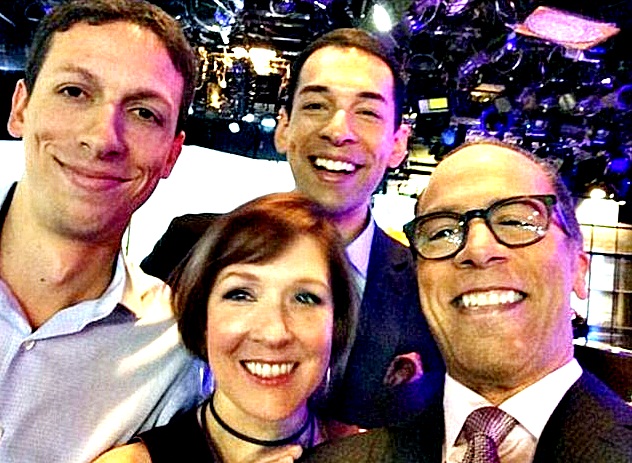 Lester Holt with his wife and children   
Source: Salarynetworth
It is sad to hear such news regarding a happy family. And the Holt couple being one of the most loved couples, it is even sadder for the fans and his regular audiences.
YOU MAY BE INTERESTED: Lester Holt: THR's 35 Most Powerful People in Media is Also Highly Paid, Know His Net Worth, Salary
Quick facts about Lester Holt:
When did Lester Holt and his wife Carol Hagen get married?
Lester Holt and Carol Hagen married each other in 1982.
How many kids do Lester Holt and Carol Hagen have?
Lester Holt and Carol Hagen have two kids of their own named, Stephan and Cameron.