Nelly Furtado and Demacio Castello once a praised couple who stayed together for a long period of time are now going to part their ways, to an upset note, they have broken up. Once appreciated couple for their strong love bond has filed for a divorce.
Nelly Furtado and Demacio Castello have now split up after their 8 years of marriage. What has caused for them to take such an attempt? We are going to reveal it to you and let u know what went wrong between them today. So please stick with us.
Also Read: Nelly Furtado and husband Demacio Castellon married since 2008 without divorce rumors
Nelly Furtado and Husband Demacio Castellon Split After 8 Years of Marriage
The 38-year-old singer Nelly confirmed about her divorce with Demacio Castellon reported by ET. Her husband, the Cuban-American sound engineer has often collaborated with Timbaland and is a famous music mixer of all time.
British Columbia-born singer Nelly
Source: NeoGAF
Furtado herself revealed about the split after 8 years of marriage in the appearance of ITV's Loose Women last summer. She told in the interview;
"I am single now," "Someone here needs to update my Wikipedia -- it's not helping my dating life!"
She went through the tough time during the breakup and the singer Furtado emotionally burst out with words saying;
"I went through an emotionally difficult time last summer and I actually wrote and sung myself songs to get through it,"

"I was going through a breakup, and I would sing to myself while I drove on these long drives and I thought to myself, 'I'm so lucky that I can write songs because I can soothe myself with them."
Nelly with her ex-husband, Demacio
Source: ET
Well, now The Grammy winner Nelly Furtado turned off the light to this long-term relationship. The star was keeping a low profile of her love life and it can be assured that she was certainly having problems with her beau.
Nelly's first encounter with Demacio and how they fell for each other
Now, let us give you a short profile on how they met each other.
British Columbia-born singer met her ex-husband Castellon while recording for her album named 'Loose'. They met by the work as Demacio was the one collaborating for her album.
Nelly and her ex-husband Demacio
Source: FrostSnow
They instantly hit it off and started dating. After two years of beautiful romance, they tied their knot on 19th July 2008.
They never had extra-marital affairs during their marriage and their relation was going very smooth. As it is said, nobody knows what the future holds. Unfortunately, they are not together anymore.
Nelly Furtado past relationship with Jasper Gahunia and have a daughter with him
Other than Demacio, Nelly was also once involved in a relationship was with Jasper Gahunia from 2001 and 2005. They were very good friends at first and then steered their way into a beautiful romance.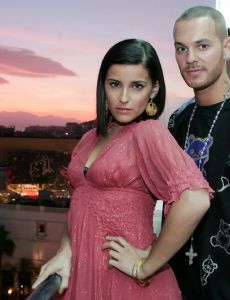 Nelly with her ex-boyfriend
Source: FAMOUSFIX
On September 20, 2003, Furtado gave birth to daughter Nevis Chetan in Toronto with then-boyfriend Jasper Gahunia. The couple never married and later ended their romance in 2005.
Nelly with her daughter
Source: FrostSnow
Talking about her failed marriage, the reason for their divorce is not clarified yet.
Well, Furtado was having a hard time through the breakup thus it took a long time to publish the album. She stated that with her new album, she has expressed her feelings regarding her break-up;
"This particular album is super personal, like, it's really raw and honest. I kind of went through some challenges personally and just tried to figure out, when we do we take journey within and ask ourselves tough questions and make sure in life we're going after things we truly want?"
She added;
"That's what happens when you put out albums and your songs become a part of people's lives. You really share that,"

"It's a beautiful thing it's such a privilege but you also need to take care of yourself and make sure your values are in the right place."
She is certainly moving on from the break-up as she is devoting her precious time on her new album The Ride. And definitely to her loving 13-year-old daughter.
The destiny may have a different plan for her. Maybe there's someone great who is waiting for her. We wish her all the luck to find a perfect man!