The celebrity couple Oded Fehr and Rhonda Tollefson has been the center of attention for a long time. A lot of people are curious about their love affair and married life as they are going well in their relationship ever since they got married.  So far no conflicts or controversies in their relationship have been reported. 
Oded Fehr is a popular Israeli-American actor who gave his notable appearance in the movies like The Mummy and its sequel The Mummy Returns as well as Resident Evil: Apocalypse, Resident Evil: Extinction, and Resident Evil: Retribution.
His wife, Rhonda Tollefson, meanwhile is a renowned film producer from the United States who is widely known for directing the 2000s drama movie Finding Forrester.
Let's get inside the personal life of the couple and find out all the details about their married life and relationship. Just stay with us.
Oded And Rhonda Are Officially Husband And Wife Since 2000: Parents To Three Children
Let's start from the beginning. It's still a question that when and how exactly the couple first met but they reportedly had their first meeting at the Los Angeles opera.
After months of dating, the two love birds finally tied the knot on 22 December 2002 but seems their wedding was held in a secret ceremony as we don't find a single picture of their wedding.
Happily married husband and wife: Oded Fehr and Rhonda Tollefson
Source: zimbio
The two also do not hold any social media accounts like Instagram, Twitter, and Facebook which could be the bridge way to their personal details. Also, they barely speak anything on these matters in any of their interviews which has kept their personal life a curious matter.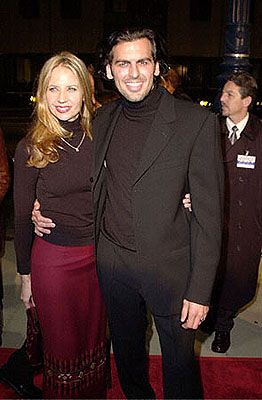 Happily married husband and wife: Oded Fehr and Rhonda Tollefson
Source: whosdatedwho
However, after a couple of years of their marriage, a piece of news regarding her pregnancy of Rhonda came to the media. Oded and Rhonda eventually welcomed their first child on 4 January 2003.
He was a baby boy and they named their son Atticus Fehr, and as they became parents for the first time, it brought unconditional happiness to their life.
Happily married husband and wife and parents to three children: Oded Fehr and Rhonda Tollefson
Source: gettyimages
Besides, the couple also has two adorable daughters namely Finley Fehr (who was born on 26 February 2006) and Azelie Fehr  (whose date of birth is yet to be revealed). The proud dad loves spending time with his children.
Video: Oded Fehr enjoying with his children
It has been about 17 years of Oded and Rhonda's marriage and their love and passion for each other are rapidly increasing every passing day. We don't see a single rumor of their divorce or any extramarital relationship.
Happily married husband and wife: Oded Fehr and Rhonda Tollefson
Source: gettyimages
The perfect family of five is living happily together. We wish the couple all the very best for their future and we hope they never separate.
For more updates, stay tuned to FamousStardom.