The veteran professional golfer Phil Mickelson has won 42 events on the PGA Tour, including five major championships: three Masters titles (2004, 2006, 2010), a PGA Championship (2005), and an Open Championship (2013).
But the golf course is not the only platform for this 52-year-old where he displays his expertise. After being married for more than 20 years with three children, Phil has proved that he is a lovable family guy as well.
Phil Mickelson's Marital Affair with Amy McBridge
Back in the early 1990s when Phil Mickelson was at The Arizona State University, he met his future wife, Amy McBride. Amy was a junior at the same university when Phil graduated. She was a Phoenix Suns Cheerleader and Phil was the face of amateur golf in the United States with his golf scholarship in Arizona State University.
Also, see American Golfer Phil Mickelson's Lifestyle and Net Worth He has Achieved From his Professional Career
He had won three NCAA individual championships and three Haskins Awards (1990, 1991, 1992) as the outstanding collegiate golfer.
Starting from 1992, they dated for two years before Phil proposed to his then-girlfriend Amy to get married and become his wife.
Phil and Amy Mickelson got married on November 16, 1996.
Phil Mickelson and Amy Mickelson have three children together
Phil and Amy Mickelson have three children together. Their oldest daughter, Amanda, was born the day after Phil won the runner-up in the U.S. Open to Payne Stewart in 1999. At the time, Amy said it was meant to be because Payne Stewart passed away a month later in a freak plane accident. And Mickelson has been the U.S. Open runner-up six times since.
Phil Mickelson and his eldest daughter Amanda
Source: Daily Mail
Their second daughter, Sophia, was born in 2001. Their third child, the only boy, Evan, was born in 2003. But Mickelson's third pregnancy didn't turn out to be all well and good. During the birth of his third child, Phil revealed that he was terribly worried he would lose both Amy and his son because a complication had occurred. Amy had ruptured an artery in her uterus and Evan wasn't breathing. But fortunately, after a couple of hours both survived the troubled childbirth.
The family has been happily living together in California in recent years.
Amy Mickelson's Health Problems; Breast Cancer
The complicated childbirth isn't the only brush with death Amy Mickelson experienced in her life. In 2009, Amy was diagnosed with breast cancer. Having never missed her husband's games, her absence in the field was misinterpreted as an impending divorce.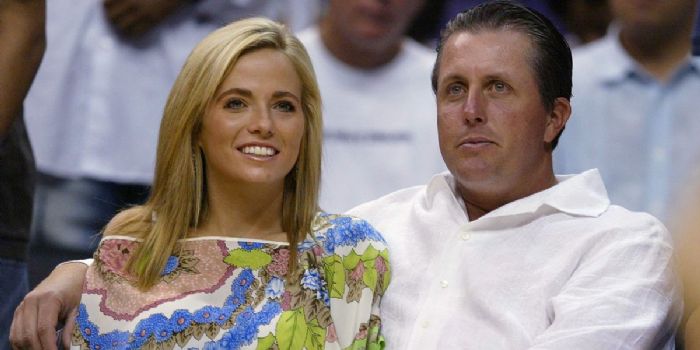 Phil Mickelson's wife Amy Mickelson was diagnosed with breast cancer in 2009
Source: whosdatedwho
Rumors cleared up for better but the truth was scarier. This cancer battle had rattled the family. Phil had taken an indefinite leave from the tour to be with his family. But soon after, Amy had pursued her husband to go back to the course. 
Also, see: Phil Mickelson Married Amy Mickelson in 1996. Know about their Married life and children
On the 31st of May of 2009, Phil announced his return to the Golf world as he stated that he would return to the game in June at the St. Jude Classic and US Open. He returned to the game after his wife had her cancer detected in the early stage. 
Today Phil Mickelson's wife Amy Mickelson is cancer-free. Moreover, the duo is active in many breast cancer charities too.
For more updates keep on visiting FamousStardom.