An American television reporter and news anchor Maureen O'Boyle is a lead anchor WBTV News 3. She has a successful career and has shown outstanding works through her talent. Her works on the media are crystal clear but let's also get to know about her personal life a little more.
Maureen O'Boyle is 53-years-old anchorwoman born in Charlotte, North Carolina. She anchors weekly report "Stretching Your Dollar" and has also reported for popular TV shows like A Current Affair and Extra. She is also a rape survivor. Sad but that doesn't make it false, she is a rape victim and that all happened while she was 22 years old and was working as an early morning anchor at WMAZ, a CBS affiliate in Macon, but as people say "What doesn't kill you, makes you stronger" as she now proves it.
Maureen is said to be currently single but has a daughter. Let's figure out her private life in detail!
Maureen O'Boyle has been in a relation with Kerry Prior
Maureen is one of ten children and constantly had to move from New York to England due to her father's work at Xerox. Later they settled back in Charlotte and her father started a specialty advertising company Timeplanner Calenders. Maureen's six brothers took over the family business and grew it to a multimillion-dollar company and sold it in 2007.
O'boyle studied journalism at East Carolina University where she conducted campus radio station WZMB. Soon, her work got recognition and she received numbers of offers from workstations like WITN, WNTC, WECT, WMAZ, and KREM 2.
An American reporter and news anchor Maureen O'Boyle
Source: Pinterest
Her professional career although began at the age of 27, in 1990, on the national show A Current Affair. Then in 1995, she anchored for LA TV series Extra.
She is multi-talented personality as we can also find her making appearances in movies like So I Married an Axe Murderer and Undisputed.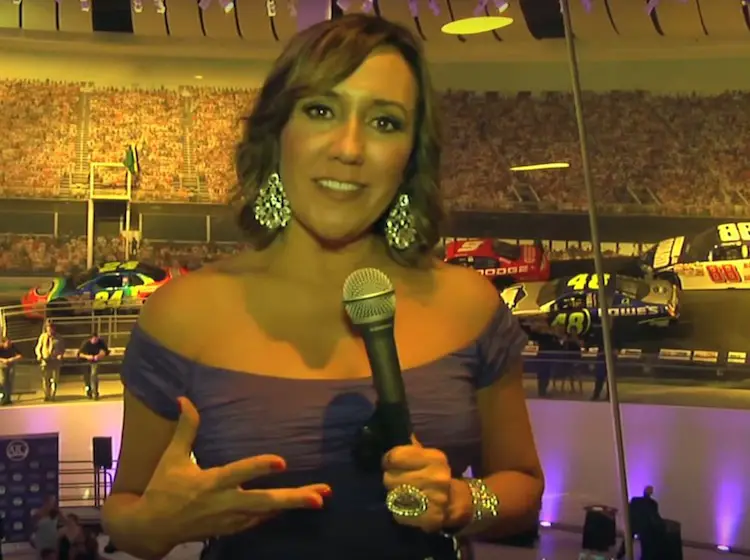 Lead anchor of WBTV News 3 Maureen O'Boyle
Source: Marathi.TV
As reported by the several sources Maureen dated Kerry Prior but except for that name, there is no further information regarding her date life with Kerry.
We know that she had a sparkling romance with this mystery person in her life. And they had a child together named Keegan. A child came into their life binding Maureen and Kerry but although it could not hold them together for a lifetime.
Kerry and Maureen are now separated. But let's know about Maureen's life with her daughter!
WBTV lead anchor Maureen O'Boyle has a daughter named Keegan
In 1999, Maureen gave birth to her baby daughter and then she left all her job to be a full-time mother. She named her girl Keegan.
We know one thing for sure, Maureen has one beautiful and smart daughter in her life. Why is that?
Read below!
When Keegan started to grow up bigger, her mother decided to continue her profession and in 2004 she joined back her hometown station WBTV. She even used to bring her daughter in a crib at her work.
Rape Survivor Maureen fought back and kept her rapist behind bars with the help of her daughter
O'Boyle revealed on People magazine in 1992 about the crime she suffered while she was young. Now, her rapist James E. Sterling is behind the bars and is sentenced to 50 years of imprisonment in 1986.
It all happened when her daughter made her realize that the man who has given her terrifying life could be walking free.
James was imprisoned for his second rape crime a woman resides in Macon, who was the victim of his wrong intentions in Georgia. She outed her rape case after saw Lady Gaga's performance in Academy Awards in a song from a famous documentary "Till It Happens To You" made by the documentary film The Hunting Ground which is about the college campus rape.
Here's a video clip where Maureen plead to keep her rapist behind bars!
She in an interview said:
"When I saw Lady Gaga singing it with all of these rape victims and survivors standing around her, I got choked up. I didn't know how to comfort and ease the fear my daughter saw in me. Keegan said, 'Mom, how old would the man be now who raped you?' I wondered about that, so I Googled his name. And there it was: James E. Starling, up for parole in April 2016."
She exclaimed if she hadn't watch Lady Gaga perform the song and her daughter hadn't asked her the question then she wouldn't have realized the fact and more women would have been victims of the rapist.
All for good! She did the right thing. But truly Maureen is blessed to have such an understanding daughter in her life. Whether Maureen in the future finds her life partner or not but she has already found the love of her life; Keegan!