Tim Curry has been a famed name in the industry since his very early days. His acting and singing skills have been much acclaimed for almost five decades. His professional acting debut was in the original London production of Hair in 1968. He then appeared in several productions at the Royal Court Theatre, a connection that would lead to the breakout role that would change his life forever. Although all his success in the professional field is known to all, his personal life has rarely grabbed much attention.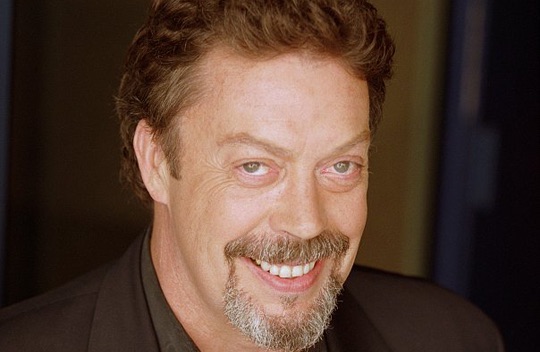 Image: Tim Curry
Well, in this section, we will learn in detail about his love life, affairs, and relationship, just stay with us. 
TIM CURRY IS A VERY PRIVATE PERSON
Tim has never had a wife. He was never on the gossip pages for having a long list of girlfriends. He had once said in an interview that he "almost got married". Many believed that he was referring to his relationship with Annie Potts. Though never officially confirmed, they were supposed to be pretty serious about their relationship and were planning to get married.
Tim Curry and Annie Potts in 1988
Source: pinimg
Their first movie together was Pass The Ammo, a 1988 movie in which they played the roles of married characters. Their stint together was said to have been the initiation of their affair. However, Tim has never spoken about his affairs with either Potts or any of his co-stars.
Also Read: Garry Pastore & Melody Pastore's Married Life, Are They Happily Together? Do They Have Children?
TIM DATED ANNIE POTTS
The duo reconnected in 1997 when they were shooting "Over the Top", an American sitcom, together as on-screen couples. In the series, Annie's character cannot resist the temptation of her former husband in the series. But their real life turned out a bit different.  
Tim dated Annie before they got married
source: Pinterest
Potts was married to James Hayman since 1990 so a relationship between Tim and Annie was not possible for the second time.
Image: Tim Curry and Annie Potts
But a lack of rumors (and facts) regarding affairs of Tim sparked speculations that maybe Tim was gay.
TIM WAS RUMORED TO BE GAY
Heightened recognition through Rocky Horror in 1975 led to the actual establishment of Tim as a fan favorite and a cult classic. It made Curry both a star and a cult figure.
But even with his stardom, he was single. This started speculations that maybe the superstar Tim was gay, but Annie as his girlfriend and speaking about him getting "almost married" in an interview says otherwise. 
For more stay tuned to famousStardom.com.