Angelina Jolie, the Tomb Raider star is one of the well-established actresses in the world. With her involvement in the movie business, she is living quite a fabulous lifestyle with all the amenities that highest-level celebrities can have. She won a number of awards and titles in her career and was also titled "Miss world Elegant" in 1994.
Besides her acting skills, Jolie the mother of six children has won million of hearts with her amazing fashion choices, style trends, and her fabulous body shape. We are not amazed millions of women wants to be like Jolie.
Hidden Secrets for fabulous body of Angelia Jolie
Angelia Jolie looks gorgeous with her lean and svelte body shape for which she follows a regular WORKOUT ROUTINE trained by Gunnar Peterson. Her workout plans consist of yoga, kickboxing, twisted lunge, set up and shoulder exercise, lunges and bicep curls, squats etc.
Angelia Jolie in her boxing attire
She follows the workout routine with the strict diet regime. She consumes lots of protein, boiled vegetables, fruits, raw salads and plenty of waters. She normally has a six meal plans of breakfast, snacks, lunch, evening snacks, dinner and midnight snacks.
Jolie's Net Worth, Properties and Cars
Jolie's estimated net worth is around $160 million. She lives in a $35 million worth mansion in Chateau Mirval consisting 35 bedrooms, surrounded by a moat, a private lake, and forest. She also has a luxurious mansion worth $1.7 million in Los Feliz in Los Angeles, USA. Along with that, she owns a New Orleans Mansion worth $3.5 million, Villa Costanza in Northern Italian hills of Valpolicella and also a luxurious mansion in Richmond, West London.
Chateau Miraval: The french mansion worth $60 million.
Source: hello magazine.com
Villa Costanza in Northern Italian hills
source; Blogspot.com
The lady owns two private jets, helicopter, and various cars from manufacturers like Range Rover, Jaguar Xj, Ford Explorer, BMW-Hydrogen 7 & Chevrolet Tahoe.
Angelina Jolie's Favorite Brands, Designers, and Products
The diva always wears noticeable and fully tempting outfits. She prefers carrying Louis Vuitton and Saint Laurent handbags. She stylizes her looks from various makeup artists among whom Toni G is her latest one. She uses "Mac" beauty brands for her skin.
A perfect match of Louis Vuitton hangs bag with the pair of jeans for Jolie's casual look.
Her signature parts like lips and eyes are enhanced by THE MAC Maleficent collection, which have all required shades. She loves Clarisonic to maintain her skin freshness. Besides these, the beauty diva never forgets cleanser, toner, moisturizer, sunscreen in her daily makeup.
Jolie's favorite fashion designers are Max Azria, Ellie Saab, Saint Laurent, Atelier Versace. She has flaunted beautiful dress designed by them so many times in the red carpet. Her glamorous and eye catchy looks have always made her style icon.
ANGELIA JOLIE, flaunting the beautiful dress designed by Max Azria.
Source: Daily Mail.co.uk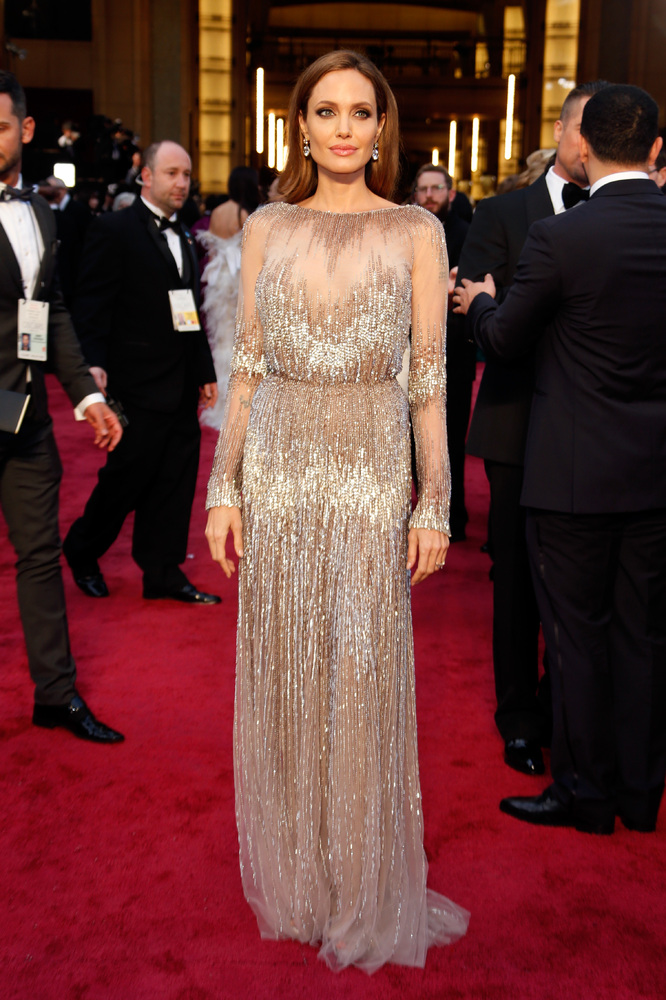 The lady's Oscar looks in sheer, nude colored gown by Ellie Saab
Source: Huffpost.com
Latest Affairs and Marriage of Angelina Jolie
After she divorced with Brad Pitt, there are rumors that now she is dating a married billionaire for whom she cheated on her husband Brad. It's reported that they are seeing each other for the last six months.
Jolie with her husband Brad Pitt at the 18th Annual Screen Actors Guild Awards.
source: nbcnews.com
Jolie in Social Media
Jolie can be seen active in Twitter as @AngelinaJolie. Though she is not following anyone she still has 48.2K million followers. She usually tweets about her gratitude or feelings towards certain incidence. She also uses her twitter for endorsing her products and brands for charities causes.
Angelia endorsing the fragrance "Guerlain" on her twitter.
Jolie's involvement besides her acting Carrer
Angelina is actively supporting different charities and foundations like UNICEF, UNHCR, Vital Voices, Halo Trust, a global action for children, peace one day and much more.
Mind blowing picture of Angelia Jolie which shows her as a girl with a golden heart
Respect to this amazing lady's work. We hope she continues to amaze us with her work.