It's time to congratulate one of the most favorite married couples from the United States: Evan Bass and Carly Waddell as they are expecting their first child in the family.
Evan Bass is an American businessperson and reality-television star who rose to fame after being a contestant on two popular American reality television shows The Bachelorette and Bachelor in Paradise. His wife, Carly Waddell, meanwhile, is a famous actress as well as a renowned singer from the United States.
The pair, who got married earlier this summer in a lavish wedding ceremony conducted by The Bachelor's host Chris Harrison, is now all set to welcome their first child as Carly announced her pregnancy a few days back.
Let's learn this story in detail. Just stay with us.
Carlyn Waddell Is Pregnant: Excepting Her First Child With Beloved Husband Evan Bass
Baby on the way for the Bachelor in Paradise couple!!
On August 7, the young and gorgeous singer Carlyn Waddell announced that she is pregnant with her first child. The announcement was done through an Instagram post that featured a picture of her alongside her husband Evan Bass and it read,
"Surprise! Bachelor in Paradise's Carlyn Waddell and Evan Bass Are Excepting Their First Child Together."
Here's that post, guys, check it out.
The picture carries a surprising caption that reads:
SECRET IS OUT GUYS!!!! Evan and I are SO EXCITED to announce we are HAVING A BABY!!! What a beautiful, wonderful, wild year it has been and the adventure continues Feb 2018! (also Evans face here is hilarious and wonderful)
Carlyn told PEOPLE on Sunday "We'are so happy to be expanding our family as we welcome Baby Bass in 2018."
Happily married husband and wife: Evan Bass and Carly Waddell
Source: dailymail
While this baby will be their first together, Bass also has three kids from a previous marriage and all of them are sons.
Congratulations both of you!!
Dating Life And Married Life of Evan And Carly: Their Beautiful Wedding Ceremony
The 34-year-old handsome hunk Evan Bass first met his better half on the set of Bachelor in Paradise. They fell in love during the season and eventually began dating. The most interesting fact is that they were the only couple from the season who stayed together. Ever since it's only gotten better for these two.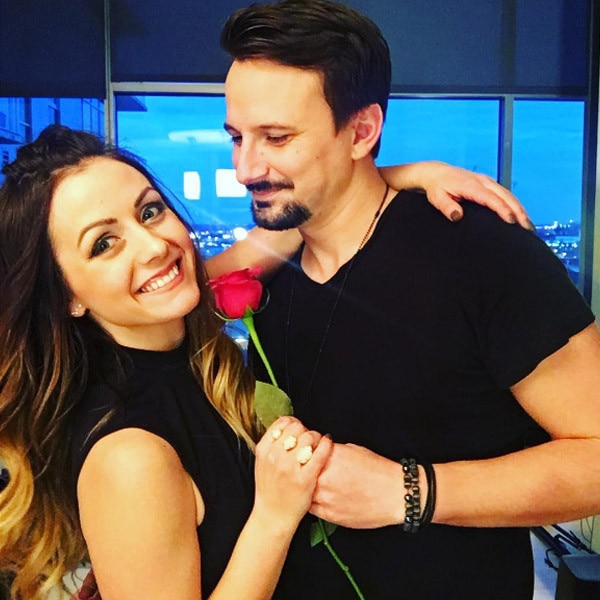 Happily married husband and wife: Carly Waddell and Evan Bass
Source: eonline
And the pregnancy marked the pair most recent milestone since they got married in late June. The newly married husband and wife exchanged their vows during a beachside ceremony in Puerta Vallarta, Mexico, and the wedding was officiated by none other than the Bachelor host Chris Harrison.
Newly married husband and wife: Evan Bass and Carly Waddell
Source: wetpaint
Ever since then they are sharing a blissful marital relationship and now it's the time when they are soon going to a parent for the first time.
For more updates, stay tuned with FamousStardom.