An American actress, Chyler Leigh, and Floriana Lima who are best known in the television series, CW's Supergirl for portrayals of Alexandra "Alex" Danvers and Maggie Sawyer respectively, currently has been top headline news of several media.
Supergirls Chyler Leigh and Floriana Lima are the major characters of the series. They are caught kissing and often spending time together which has made most of theirs fans curious about them. Are they lesbian in television series or even in their real life? Let's find out.
Lesbian relationship between Chyler Leigh and Floriana Lima
Beautiful actresses Chyler Leigh and Floriana Lima first met each other in the third episode of the popular series, Supergirl. In this series, Chyler aka Alex is a Supergirl whereas Floriana aka Maggie is a policewoman; together they fight for the outlaw.
People thought if they were lesbians when these two girls kissed each other in one of the episodes of the series. Check out the picture.
The beautiful actresses, Chyler Leigh and Floriana Lima kissing each other
Source: static.tumblr.com
However, the director of this series has made an unusual role between these two beautiful women, and the onscreen couple is not lesbian in their real life. If they are not dating each other, who are they dating? Let's find out!
Chyler Leigh relationship besides her acting career
Gorgeous Chyler Leigh is a married woman. She is married to handsome American actor, Nathan West on 20th July 2002, and as of now, their relationship has been almost 14 years.
The husband and wife couple is blessed with three children where two are daughters named Anniston Kae West and Taelyn Leigh West and a son, Noah Wilde West.
The husband and wife couple, Nathan West and Chyler Leigh along with their three children
Source: Skyrock
The gorgeous couple is living a happy life together, and there have not been any rumors floating in the air since their married life. Besides, the duo provides equal time to their family side by side with their career too.
Floriana Lima relationship
Floriana Lima is currently dating with Casey Affleck who is also an American actor. Casey is the younger brother of actor Ben Affleck. They started dating each other after Casey divorced with his wife Summer Pheonix in 2016. Check out their photo.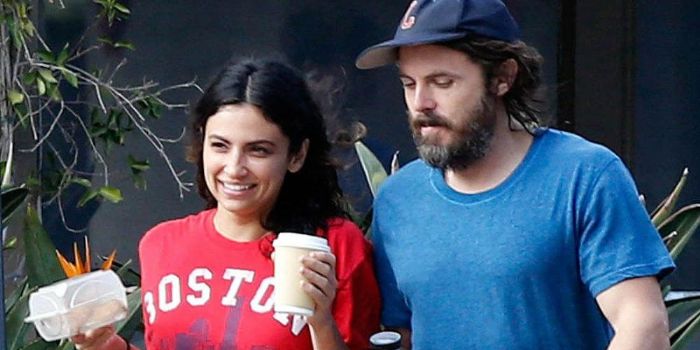 Boyfriend and Girlfriend couple, Floriana Lima and Casey Affleck Having a great time together
Source: bdbphotos
The couple is often spotted at several public places which indicates that they appear to be living quality time together.
Also read: Younger brother Casey Affleck joins elder brother Ben Affleck
Seeing Lima's and Leigh's relationship on-screen, we can say that they are only lesbian for their television series, Supergirls. No gay in real life.
We wish these two amazing couples all the very best for their future. For further details visit our website FamousStardom. Thank you for staying with us.