The gorgeous lady from the TV Series Flip or Flop is none other than Christina El Moussa and is the former wife of real estate agent Tarek El Moussa. The couple used to host the show together where they flip houses.
The lovely couple gave birth to two children but the children's existence didn't stop the couple from a separation. They officially divorced in 2017 and Christina dated her new boyfriend Gary Anderson just after her divorce with Tarek. 
Previously, Christina was spotted with Gary in public. And why did Christina separated from her ex-husband? Want to know more about it? 
Read the full article to know all about Christina and her personal life.
Christina El Moussa comes in public with her new boyfriend Gary Anderson
Christina is rumored to be dating her new boyfriend Gary Anderson but never had been witnessed together. However, the alleged couple; Christina and Gary were spotted together on 26 January 2017 in an upscale neighborhood near Gary's home in Yorba Linda, CA. There is also a rumor that the couple was seen at Gary's house the night before.
Christina and Gary looked relaxed and also looked like she was enjoying his company. 
Also, see: The Flip or Flop star Tarek El Moussa Celebrates his 36th Birthday with his Children
Christina and Gary spotted in near Gary's home
Source: In Touch Weekly
Gary was Moussa's family contractor and used to work for Tarek for many years. The alleged boyfriend of Christina, Gary is a divorced man. Gary divorced his first wife Jo Ann in 1999 and again in 2005, he divorced his second wife Denise after 4 years of marriage. Gary had known Christina for the past three years. 
Christina El Moussa and her ex-husband Tarek El Moussa
Christina met Tarek for the first time just after her graduation and when she had just entered the world of real estate business. The couple dated each other for few months and married in 2009.
On 16 April 2016, Christina and Tarek started to host the TV series on HGTV Flip or Flop and the couple was loved by all the audiences. It is the reality TV show that gives knowledge about real estate business.
Video: Why HGTV's 'Flip Or Flop' Hosts Are Calling It Quits
Christina El Moussa divorced from Tarek El Moussa after the birth of second child Brayden. Why?
Christina and her former husband welcomed their first baby girl Taylor Reese in 2010 and again in August 2016, the couple gave birth to their second child Brayden James.
The couple announced their separation at the end of 2016 after Tarek was involved with the 23-year-old woman named Alyssa Logan, who worked as a nanny for his family. It was the reason for the disputes between the couple.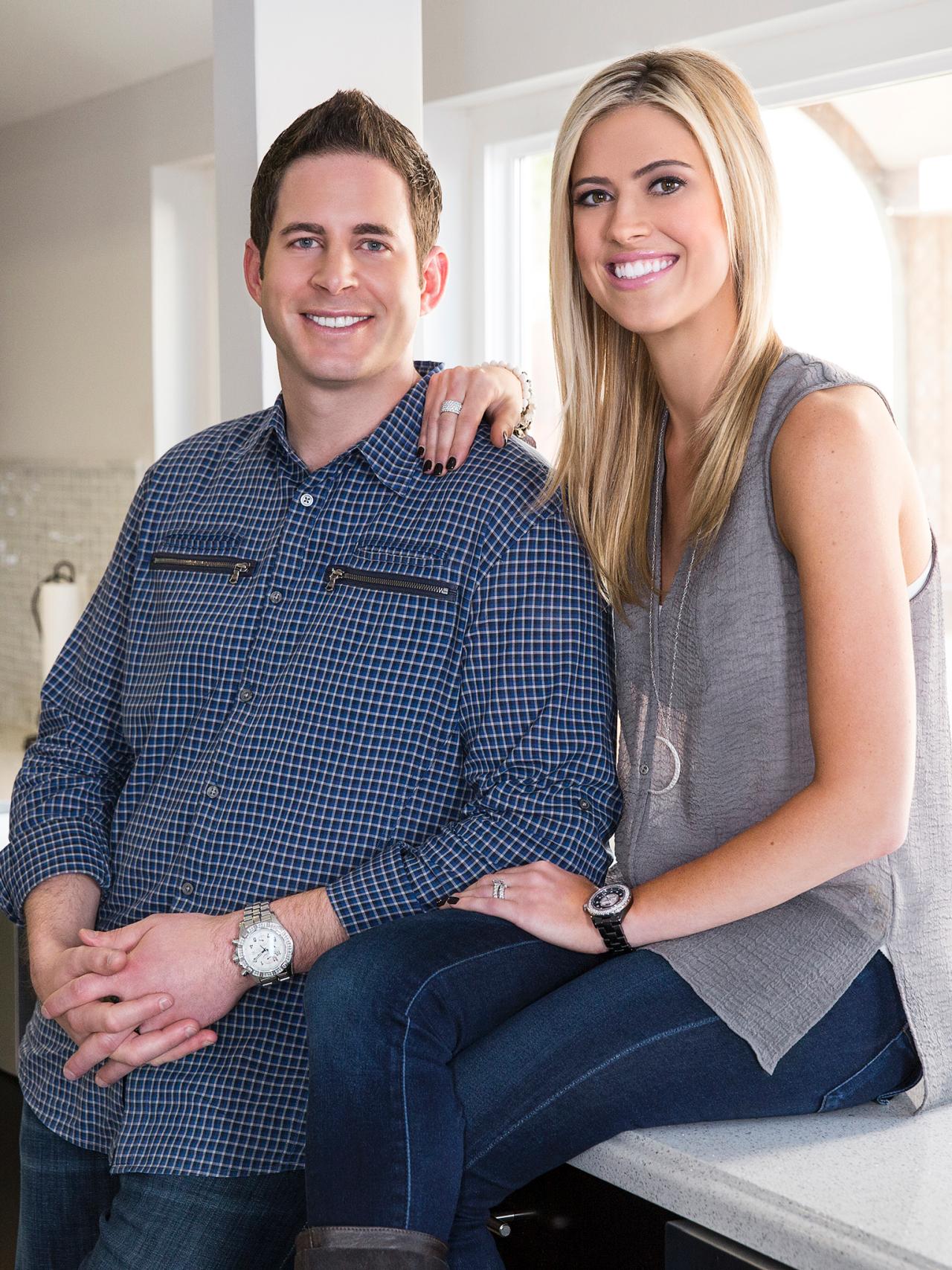 Christina and Tarek
Source: People
It is believed that Tarek was very violent towards Christina and used to treat her like a garbage. Previously, he was reported that he humiliated Christina by groping her breasts and butt and made her cry in front of all cast and crew of Flip or Flop. However, Christina denied the statement.
Well, what's the truth behind the rumor is only known by the couple, but at least we can wish that Christina was well treated by Gray. However, currently, she has already broken up with Gary. She was also rumored to be dating the hockey player Nate Thompson but, this news is still not officiated by Christina. After Gary, she has also been in a relationship with her former boyfriend Doug Spedding. 
Also, see: Christina El Moussa celebrated her 34th birthday with her boyfriend Doug Spedding, Know in Details
Romantically linked boyfriend and girlfriend: Doug Spedding and Christina El Moussa at her 34th birthday
But, recently, Christina El Moussa can be spotted together with Ant Anstead, with whom she started dating since November 2017. 
Also, see: Christina El Moussa's Boyfriend Ant Anstead Declares His Love in Sky Writing on Her 35th Birthday
Now that she is with Ant, we hope the pair manages to maintain their love relationship and respect for each other.