Princess Leia from the Star Wars movie series is none other than talented Carrie Fisher. Sadly, Fisher is not present among us today as she demised on 27th December 2016 because of a heart attack. The heaviness we are feeling is nothing in comparison to what her daughter Billie Lourd is going through. Things could have gotten worse for Lourd if actor Taylor Lautner wasn't by her side.
Lautner held Lourd's back when she needed someone. Lautner's support to Lourd was adored by her family member a lot, in fact, her uncle even made a comment saying that Lautner acted like a husband. Is he planning to be Lourd's husband for real? What about his other affairs and relationships? Let's find out.
Taylor Lautner there for Billie Lourd during her difficult time
Billie Lourd's uncle, Todd Fisher praised Lautner by saying that he is a spectacular and deep person. E! News reported that Fisher is quite amazed by the way Lautner has supported his niece.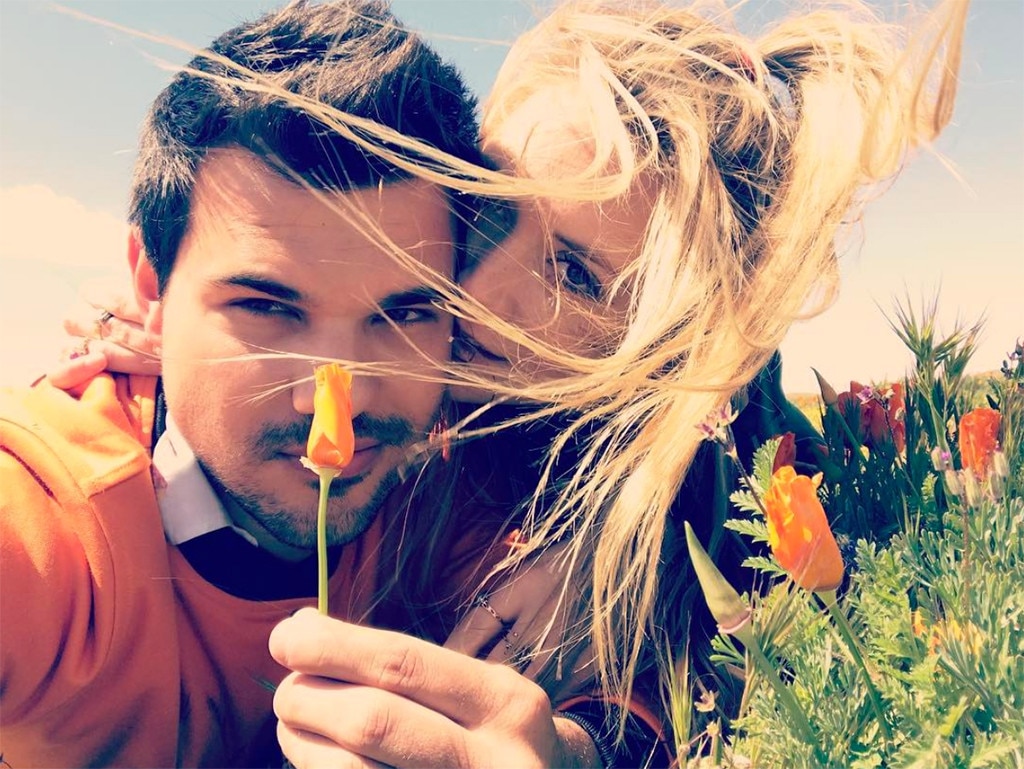 Taylor Lautner with girlfriend Billie Lourd
Source: eonline
It's not just Uncle Fisher, but even we accept that Lautner support to Lourd was great while she suffered from such deep grief. It could be seen on Lautner's Instagram posts. One of his post's caption read that Lourd was one of the strongest and most fearless individuals he had ever met.
He also wrote, "Absolutely beautiful inside and out. I'm lucky to know you."
Taylor Lautner could be Billie Lourd's husband for real
The pair has been dating since early December. Time and again, Lourd and Lautner's amazing date photo and vacation snaps made us go aww. However, who had thought Lautner was so serious in a relationship where he would act as her husband and comfort her.
"He'[Lautner] stepped up and acted like a husband would act. I mean, not that that's what's going on, but it's just an amazing support system for her and I'm glad he's in her life."
Watch Todd Fisher praise about Taylor Lautner:
He further revealed that he's concerned about boys hanging out with his niece as she is cute. "She's had other boyfriends, good boyfriends, but I'm certainly going to give that guy the extra look-over. I don't give a shit what his background is."
Taylor Lautner past affairs and relationships
In the past, Lautner has dated a bunch of girls. He has been in a relationship with Sarah Hicks, Selena Gomez, Taylor Swift, Lily Collins, Maika Monroe, Marie Avgeropoulos and Raina Lawson.
Also, read top 10 reasons why everyone loves Selena Gomez.
Taylor Lautner with girlfriend Billie Lourd
Source: Yi bada
Since Lautner has already been acting like a husband with Billie Lourd and has been with her during her difficult times, we hope the pair is thinking about getting engaged soon. Lautner and Lourd will undoubtedly make a great husband and wife.
Also read Billie Lourd spend quality time with Taylor Lautner. Send special wish on his birthday.
Let's just wait what the pair has to say.