If you have grown up watching WWE, you might be familiar with the name Randy Orton. Though the wrestlers seem to be fierce and filled with anger when performing, they too have a soft side. Orton's soft side is his love life. He has been married twice.
Orton was formerly married to his ex-wife Samantha Speno. The couple's relationship was cherished by a lot of their fans who couldn't believe it when the news about their divorce came out for the first time. As of now, both of them are happy with their individual lives. So what went wrong between them? Let's find out in detail about their relationship.
Randy Orton married life with Samantha Speno
Randy Orton is said to have met his ex-wife for the first time in a bar. Their meeting transformed into a love affair soon after that. The couple got engaged in 2005 in a romantic ceremony. Just after around two years of being engaged, Randy Orton married Samantha Speno in September 2007 in a private yet intimate wedding ceremony in front of their family members and close friends.
Randy Orton with former wife Samantha Speno  Source: YouTube
Their married life was going great in the beginning. Within a year of getting hitched, they welcomed their first child, a daughter named Alanna Marie Orton, together.
ALSO SEE: Samantha Speno And Her Former Husband Randy Orton Still In Touch With Each Other Despite Divorce
Randy Orton's divorce issues with his wife Samantha Speno
Their marriage ended up in a divorce in 2013 after Speno filed for it after a long six years of their relationship. According to TMZ, the reason behind their separation was stated as "irretrievably broken". Even so, the couple's divorce did not have much drama as they settled with a friendly agreement quickly.
Despite the separation, Speno and her ex-beau are still very good friends. Orton often visits his daughter whose sole custody was granted to Speno during the divorce of their divorce settlements.
Randy Orton and Samantha Speno: Divorce settlements
Having tied the knot in 2007, Orton and his now ex-wife Samantha finalized their divorce after five years of togetherness in 2012. As per their divorce settlements, Orton would retain several six-figure bank accounts, his gun, his jewelry, one of the couple's houses, and his interest in his WWE contract. Samantha was also given full custody of their only daughter. He pays $4500 each month in child support.
SEE MORE: Samantha Speno is still single after her divorce with Randy Orton. What must be the reason? Find out here.
Randy Orton married his wife Kim Marie in 2015
At present, Orton is happily married to his current wife Kim Marie AKA Kimberly Kessler. Just after around a year after divorcing his first wife, he got married to his second wife, Kim Marie in November 2015.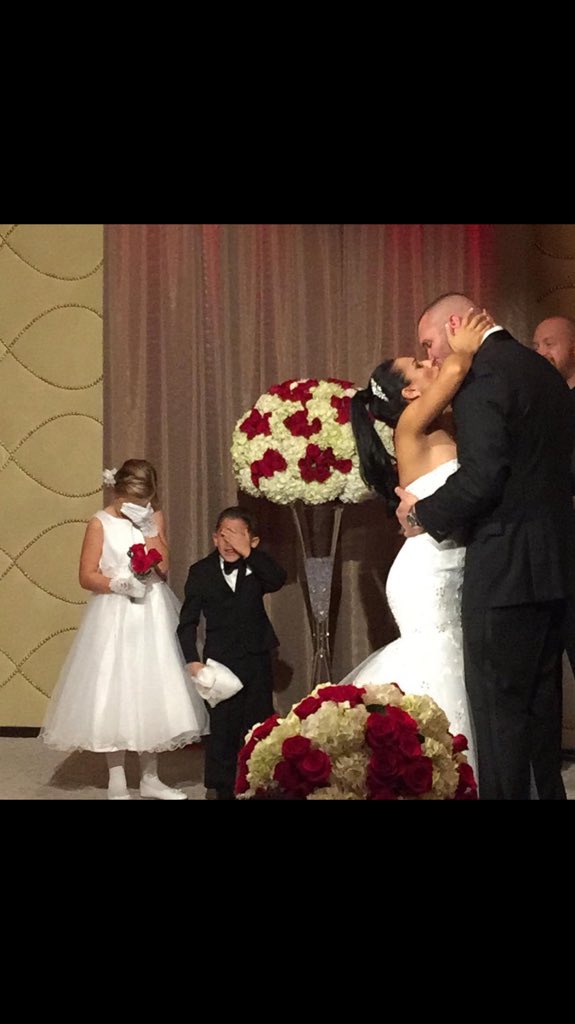 Randy Orton kissing his bride Kim Marie  Source: Randy Orton's Twitter
When Marie was pregnant, she gave slight hints to all her fans through her social networking activities.
They welcomed a gorgeous daughter named Brooklyn Rose in November 2016 which made Orton a father for the second time.
Watch Randy Orton's adorable daughter Brooklyn Rose Orton
Overall, Orton had a happy marriage with Speno and their divorce wasn't so hard as well despite the fact that divorces are heartbreaking. Orton's current married life is going well and the pair shows no signs of being separated.
For now, Randy Orton and his second wife, Kim are spending a blissful married life.
A Quick Review:
Who is the Current Wife of Randy Orton?
Randy Orton is currently married to Kim Marie.
When did Randy marry and divorce his first wife Samantha Speno? 
The couple got married in 2007 and got divorced in 2013.
What is Randy's children's name?
He has two children from his marriage, Brooklyn Rose Orton, and Alanna Marie Orton.
How much is Randy Orton's Net Worth?
As of early 2022, Randy Orton's net worth is around $7 million.