Commenting on someone's skin color, ethnicity, weight, and such are obscene, and so is subjective of the American comedian, actor, writer, producer, and voice actor, Gabriel Iglesias. 46-year-old Iglesias known as Fluffy is famed for his show I'm Not Fat… I'm Fluffy and Hot & Fluffy.
Well, Gabriel Iglesias who is diagnosed with Type II diabetes has not only beaten the given two years tenure to live by doctors but also is enjoying a happy life with his son, Frankie, and girlfriend Claudia Valdez. It's been years since the couple been together, so are they married, is Claudia his wife? Let's know.
Is Gabriel Iglesias Married? 
There has always been a constant question of whether Gabriel Iglesias, who has also appeared in All That, alongside Nick Cannon and Amanda Bynes, is married or not. Is he involved in any kind of relationship?
As of 2023, no news on Gabriel's marriage has shown up, but he does have a lovely relationship with his girlfriend, Claudia Valdez. 
YouTube: Gabriel Iglesias's Standup Comedy
Well, Gabriel despite being a famous person is free from the conflicts of past affairs and controversies.
The comedian has been dating his girlfriend or lets' say wife-soon-to-be Claudia Valdez since 2008, but still, the holy knot lacks to complete themselves as husband and wife.
Maybe in the near future, they will get married, best wishes ready to shower isn't it?? 
Now, let's know more about Gabriel's girlfriend and relationship.
Gabriel Iglesias's Relationship With Girlfriend Claudia Valdez
Most of you might not know, but this 46-year-old big guy is currently living a blissful life with actress Claudia Valdez despite being unmarried.
Furthermore, they even have a child; a son named Frankie Iglesias. 
CAPTION: Gabriel Iglesias and Claudia Valdez with their son 
SOURCE: Celeb-Gossip
It is reported that the couple started dating in 2008. They were reportedly first spotted attending A Wish For animal benefit at a laugh factory in January 2008.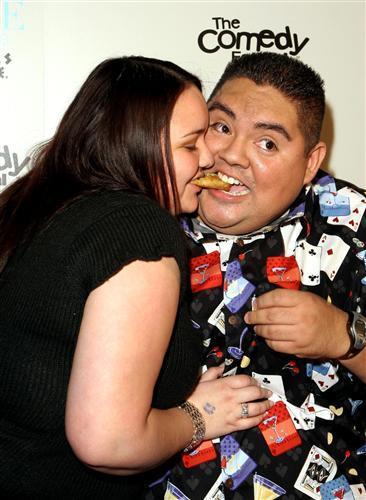 Gabriel Iglesias with his girlfriend, Claudia Valdez  Source: Getty Images
Though they have not yet shown their real relationship details, they are very much happy together and share a strong bond together.
Well, their love is also very much apparent in the picture above.
ALSO SEE: Gabriel Iglesias Net Worth 2018: His House and Car Collection
Secret Of Gabriel Iglesias's Son Frankie Revealed!
Many of us might not know, but Frankie is not Gabriel's biological son, and yet he calls him his own. This little guy was born to Claudia during her previous relationship, though the detail is not disclosed.
But like formerly mentioned, our comedian Gabriel, or fluffy from his show "I'm Not Fat… I'm Fluffy and Hot & Fluffy", has a big heart. He has been a father figure to Frankie ever since he began dating Claudia.
Father and son relation: Gabriel Iglesias and Frankie  Source: Pinterest
The Sole responsibility of Frankie has been taken by this duo as his birth parents would. His genuine concern seems to be with his kid probably because being raised by a single mother has made him realize the importance of a father figure in a child's life.
The comedian has a special bond with his son and even confirmed via Twitter that Frankie will be his only son.
In January 2017, a fan of his asked him how his son Frankie was doing. For that, the comedian replied stating that his son was doing great and is already 19. He also added that he wants to free Frankie and asks if there are any cute girls to take him off his hands. 
But Gabriel has hardly ever publicly mentioned his heartfelt good deeds. This family resides in California.
We love this big guy. And sure do hope he comes up with more shows of his own.
Quite a Joker!
California-born Gabriel Iglesias, who is in such a secretive married relationship, is a comedian from a Mexican background. His big heart and equally big body are something that makes him ever so lovely. Check out this best comedy video by Gabriel Iglesias.
His jokes are mostly based on Mexican American culture and obesity jokes. He even finds a way to make everyday life aspects into something heartwarmingly funny and entertaining.
Once Gabriel left his path of comedy due to alcohol and depression, and now the comedian is back. In his comeback tour, Gabriel performed his stand-up comedy routine as part of the Aces of Comedy series at The Mirage Hotel & Casino on April 14, 2017, in Las Vegas.
As of early 2023, Gabriel Iglesias' net worth is reported to be around $40 million that he might have collected from his comedy and acting career.
We wish him the best for further.
For more updates stay on famousStardom.