It is as riveting a curiosity to know how billionaires fare with their personal life. Any news covering their married life, divorce, children, and family spread like a wildfire. Similarly, the intriguing side of American billionaire Steve Wynn and his love-hate relationship with his ex-wife Elaine Farrell Pascal is a treat for the scandalmongers. Business tycoon Steve Wynn is listed among the 1,810 billionaires in the world by the Forbes (2015) report. And his lifestyle is no different; from lavish houses, luxury cars, and fancy outfits to extravagant affairs, outlandish weddings, and astronomical divorces, he has done it all, seen it all.
Also Read:  How Rich Is GOT's, Sophie Turner? Her Net Worth In 2018 Is $5 Million, Her Upcoming Projects
So what is the current personal status of the former CEO of Wynn Resorts Limited is the question that begs answers. Wynn is tipped as 'the casino mogul' of Las Vegas. His feuds and friendships with the current presidential nominee Donald Trump show his no-holds-barred attitude towards his work.  
Steve Wynn's property
Source: Skift
Time has turned him into a septuagenarian but his suave remains unaffected. Steve Wynn has been married thrice, divorced twice (his latest divorce settlement with his ex-wife Elaine was one of the biggest in the history- $741 million in stock in Wynn Resorts), and has been married to Andrea Hissom, mother of model and recording artist Nick Hissom for six years now.
Steve Wynn's married life with Elaine Farrell Pascal
What is it so special about Steve Wynn's ex-wife Elaine that we cannot help but rave about her every time we talk about Wynn? It was their bond and vision that helped him grow in leaps and bounds. The estranged couple was believed to have met on a blind date arranged by their parents. They got so into each other that they married in 1963. Post marriage and post-Wynn's father's death, the couple moved to Las Vegas and built two casino empires there. The tides turned and the couple was dubbed one of the greatest marital partnerships in the history of America. The couple has two daughters: Kevyn and Gillian.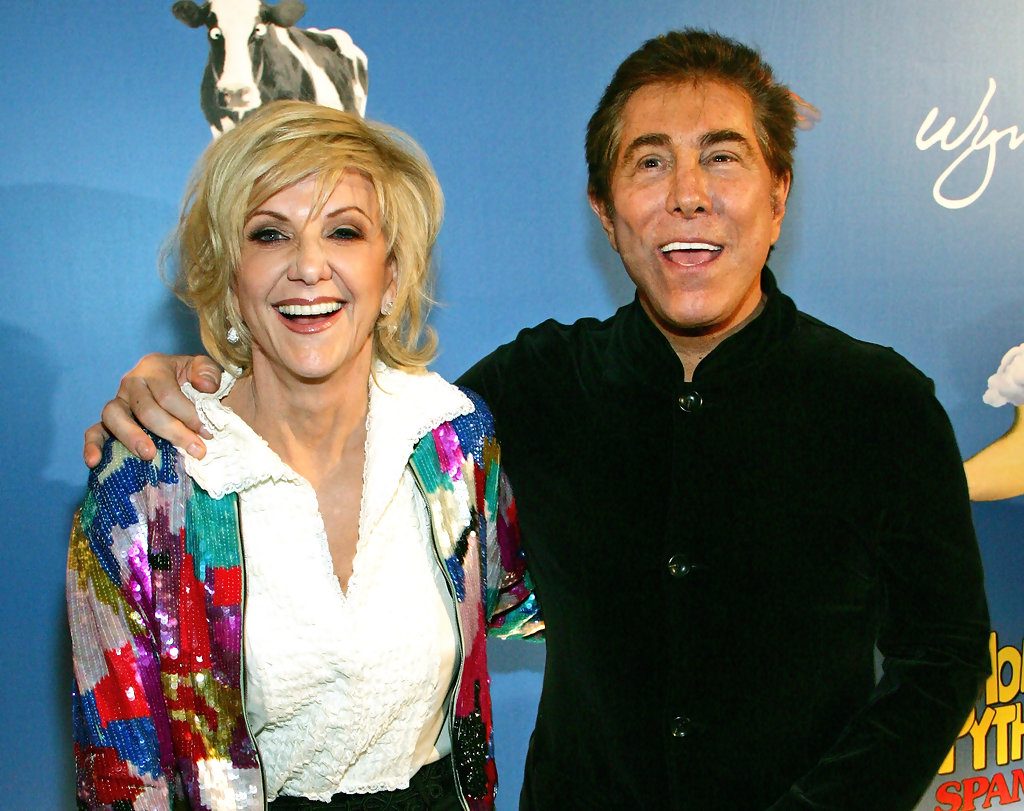 Steve Wynn with his ex-wife Elaine Farrell Pascal
Source: Celebrity Family
The married couple got divorced for the first time in 1986, got reunited in 1991, and got re-estranged in 2010. Their latest part turned ugly as Elaine was voted off as the director of the board by Steve Wynn's hand-picked board of directors after 13 years in 2015. 'Fortune' magazine once touted Elaine as the "irrepressible first lady of Las Vegas", but she had no voice and no stand in the Wynn Resorts. She was the third-largest shareholder of the company.
My heart and soul and my life's work and my professional career. It represents the most significant portion of my net worth. And I have earned the right to stay on the board and oversee the next phase of dynamic growth.
 Elaine said.
The series of ups and downs resorted Steve Wynn to making remarks such as,
There will be comeuppance for that as you will see shortly. I've tried everything under the sun to help out, and nothing has worked. That's not unusual in the world of divorces.
Steve Wynn's marriage with Andrea Hissom
Wynn's marriage with socialite Andrea Hissom in 2011 was dubbed by many as America's answer to the British Royal Wedding of Prince William and Kate Middleton. The casino mogul's marriage was such an opulent affair that it was dubbed as 'The American Royal Wedding'. Clint Eastwood served as the best man and was one of many big names in the lavish ceremony held at the Encore resort in Las Vegas.
Steve Wynn and Andrea Hissom
Source: Daily Mail
Andrea Hissom, Steve's second wife is surely one of the luckiest women alive. Being married to a billionaire septuagenarian hunk, an art lover, and a romantic hubby is something to envy, something to rave about. The couple loves each other's company, it seems. The wedding itself is a testament to how much Steve loves his new wife Andrea Hissom. 
Also Read: Who Is British Singer Kate Nash Currently Dating? Also, Know Her Ex Boyfriend Ryan Jarman
Fading age and a need for company
There have not been any rumors or news of any kind of rift between the Sultanate of casinos and his sultana, and they seem to be enjoying their newly married life. Any possibility of divorce between the couple would be nothing but a far as Steve Wynn is getting old and he definitely needs a company to oversee himself and his fortune which is worth billions. 
We are happy that Steve Wynn finds the love he's been seeking entirely and hopes that there is no occurrence of another third divorce.
For more updates stay tuned to famousStadom.