An American actor, Thomas Sadoski and his newly married wife, actress Amanda Seyfried welcomed their first baby girl in last week. The celebrity couple was engaged in the fall of 2016 and eloped in a private ceremony.
MTV Movie Awards winner for Best On-Screen Team, Amanda dated few men including Mamma Mia! co-star Dominic Cooper and actor Justin Long before dating Thomas. Similarly, Thomas was once married to Kimberly Hope but got divorced.
Both the couple's personal life seems very exciting. Isn't It? Well then, read the full article to know all about Amanda and Thomas's newborn baby and their past relationships and affairs.
Thomas and his wife Amanda welcomed their first daughter
As people say children are the pivotal links in a relationship which strengthen the bond between a married couple and the birth of Amanda and Thomas' child shall do that to the already lovely couple.
Thomas and her wife had announced Amanda's pregnancy a few months back and on 24 March 2017, the lovely couple was blessed with a beautiful and adorable daughter.
Instagram: Thomas and Amanda flaunting her baby bump.
Amanda recently told in a tabloid about becoming a mother,
"I've never been excited by anything more in my life — and ready,"
Thomas and Amanda's past relationships
Thomas and his wife Amanda both were involved with different partners in the past and to add to that Thomas was once married for eight years before he met Amanda.
Thomas and his first with Kimberly Hope
The Other Desert Cities actor Thomas Sadoski and casting director Kimberly Hope dated each other for eight years after they met in the 90s'. After eight years of successful love story, the couple finally decided to tie the knot.
Thomas Sadoski with his ex-wife Kimberly Hope
Source: Daily Mail
Thomas and his long-term girlfriend Kimberly got married in 2007 but their marriage did not last for life long and on 14 August 2015 the married couple got divorced. The pair di not gave birth to any children and was together for more than fifteen years.
Thomas Sadoski with his first wife Kimberly Hope
Source: Daily Mail
Amanda and her few ex-boyfriends
Amanda Seyfried has a few dating history. Among them, most known affairs are with Mamma Mia star Dominic Cooper and actor Justin Long.
Video: Amanda sang in Mamma Mia in a song "Honey, Honey", "Lay All Your Love on Me"?
Mean Girls star sexy and gorgeous Amanda and an American actor Dominic started dating each other since 2008. The couple met each other in a movie party and dated till 2010.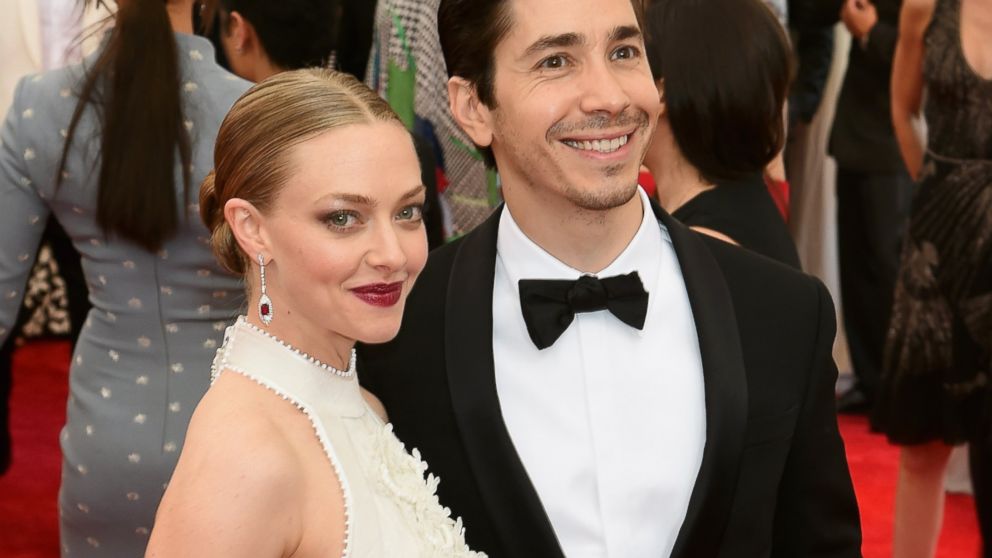 Amanda with her ex-boyfriend Justin Long
Source: ABC News
Three years later, after Amanda's breakup with Dominic, she started to date Justin Long in 2013. The lovely couple got apart in September 2015 after Amanda met Thomas.
Thomas and Amanda's past relationship did not work out well but we use that their married life remains for lifelong.