Travis Fimmel, an Australian actor, and former model is most popular for his work in the TV series Vikings and for his movie Warcraft. He is also known for his role opposite of Patrick Swayze in the TV series The Beast & for the high-profile Calvin Klein campaign.
The 37-year-old actor is currently reported to be single, however, he was in relation with some girls in his past days. To know more about his love life, stay with us.
Travis Fimmel Current-Relation
The very handsome and talented actor Travis has a huge number of female fans so, he has been frequently asked about his personal life. We found Travis as a romantic person as he used to be linked with many girls. Regarding this, people might think he is in relation currently, but it might not be true. So, Travis Fimmel is possibly single at the time
People might be thinking that he is in relation with Paula Patton, an actress who played Travis' co-star in his blockbuster movie Warcraft. In the film, Travis and Paula have seemed in a very romantic relation. Travis stated that he found no trouble performing his role as a romantic lover of Paula after the release of warcraft which possibly is the reason, which made people think about his relationship with Paula.
Video: Lothar & Garona chemistry from Warcraft 
Travis Fimmel Affairs
Though Travis is single at present, he had been linked with a number of girls in the past. Travis Fimmel has been living a single life since 2009. Before this, he was in a romantic relation with Mei Melancon. Travis started dating Mei in 2007 and he continued the relationship with her till 2008.
Caption: Mei Melancon
Source: movie fan central
Travis Fimmel never remained in a relationship for a longer time. He dated Jessica Miller in 2002 and broke up with her after dating her only for a few months. He also dated Rachel Hunter in the same year (2002) and broke up after dating only for a few months.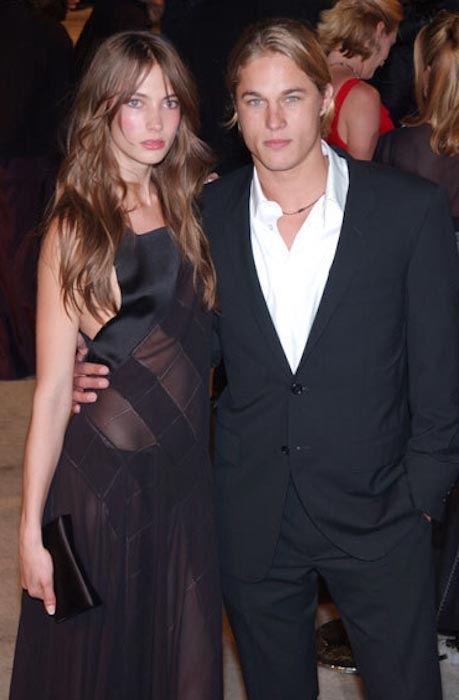 Caption: Travis Fimmel with Jessica Miller
Source: Pinterest
He was also in a relationship with some other girls for short terms. He has dated the girls like Merrin Dungey, Nicole Appleton, Ceara-Lynch, Nita Kuzmina, and Joy Bryant in his last days.
It is just three weeks since Travis made a farewell to his hit History series Vikings. "Vikings" is the series that follows the tales of the raiding, trading, and exploring Norseman of early medieval Scandinavia. Travis played the lead role as Ragnar Lothbrok in the show which began its airing in March 2013.
Now Travis has planned to work with the A+E cable network which is developing a scripted anthology series about some of history's most infamous characters. The first installment of the show will tell the true story of Wyatt Earp and the show will focus on other iconic sinners and anti-heroes.
We are waiting to see this talented actor once again in front of the screen. We hope he delivers yet again some scintillating performances.