Jeffery Dunham, a.k.a. Jeff Dunham is a comedian and ventriloquist based in the United States. Best known for his appearances on TV shows like The Tonight Show, Sonny With a Chance starring Demi Lovato, Later Show With David Letterman, and many others, Jeff is married twice in his life.
Something that started out of practice in front of the bathroom mirror at night and making woodpecker jokes, Jeff became the 3rd highest-paid comedian after Jerry Seinfeld in 2009. 56-year-old, Jeff Dunham is currently married to his wife Audrey Dunham nee Murdick after divorcing his first wife. The couple is the parents of their 2 twin children.
However, we are going to talk about his personal and love life in this section. Continue reading to find out more about his marital life with his wife Audrey Dunham, his divorce from his first wife, their children, and his past affairs. 
Also Read: Who Is Toby Kebbell Currently Dating? All About His Past Affairs & Relationships
Jeff Dunham Married Life with Second Wife Audrey Dunham: Their Children
Jeff Dunham is currently married to his wife Audrey Dunham, who is a personal trainer, competition bodybuilder, and certified nutritionist. The pair started dating back in mid-2009, not long after Jeff filed for divorce with his first wife whom we will talk about below. 
Almost two years into the relationship. Jeff finally popped the question, and the couple got engaged on 25th Dec 2011.
The following year, on 12th October 2012, the couple got married, though the details of their wedding ceremony are unknown. It's sure that it was a grand star-studded wedding. 
Moving on to 2015, on the 14th May of the year, Jeff announced on his Facebook that he and his wife were expecting their twins. 
The twins James Jeffrey and Jack Steven were born on 11th October 2015, five months after the announcement was made.
Nonetheless, it has been six years since the couple got married and ten years since they have been together.
Even so, there have been no rumors about the pair splitting or getting a divorce which is a piece of excellent news. 
Also Read: Is The Twilight Saga Actress Lea Enslin Dating Anyone? All About Her Affairs, & Relationships
Jeff Dunham's First marriage And Divorce.
Jeff was first married to wife/American producer Paige Dunham. They first met in Florida's Comedy Corner and soon started dating in May of 1992.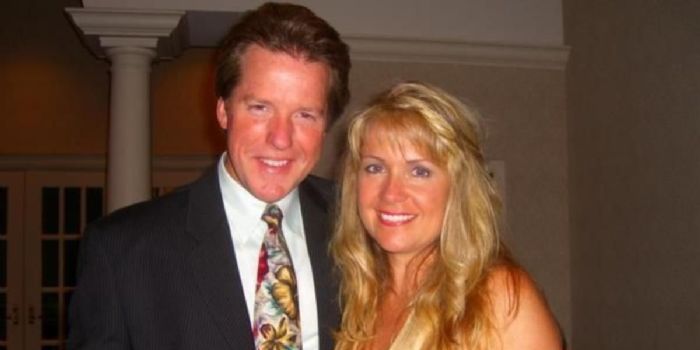 Jeff Dunham with ex-wife Paige Dunham
Source: whosdatedwho
Almost after two years of dating, the couple decided to tie the knot and got married on 19th May 1994. Right after getting married, Jeff adopted Paige's 27 years old daughter from her past relationship who was born in August 1991. 
Just a year after getting married, the pair gave birth to their first child, a daughter, on 11th September 1995. Her name is Ashlyn, and she is currently 23 years old. 
Later on, after almost two years, the couple had their second child, a daughter, on 20th June 1997. Her name is Kenne, and she is currently 21 years old.
Their relationship was quite healthy but, as time passed and Jeff gained fame, he started spending a lot of time working away from home. This created a strain in the relationship eventually resulting in a divorce.
Jeff filed for divorce in November of 2008, and it was finalized in 2009. 
The couple was married for a massive 14 years, yet their marriage could not be saved.
However, at the end of the day, it was best for both of them, and Jeff has found the woman of his life, and we hope that Paige has found her man too.