Stephen Joseph "Steve" Kornacki, Jr., a.k.a. Steve Kornacki is a writer, political journalist, and TV host from America. Steve is best known as NBC News' National Political Correspondent. He also is a contributor at MSNBC Live 4 P.M edition and also co-hosts the show. 
As a writer, Steve has written articles for The Daily Beast, The New York Times, New York Post, and many other renowned and big forums.  Throughout the year 2016, he also was the multimedia anchor and data analyst for MSNBC. 
Here, we are going to talk about Steve Kornacki's relationship and love life. 
Is Steve gay or straight? Coming out as gay 
The 38-year-old Steve Kornacki knew that he was different from a very young age. During his school years, he always asked himself why he was not as attracted to the cheerleader as his other friends. Steve who is a handsome man was always an attraction for girls and certainly was boyfriend material. However, girls were just not his cup of tea. 
It was not until 2011 that Steve came out as gay not only to his family but the entire world. In the year, he wrote a very personal column for Salon. It was before the article got published that he passed out the copies to some of his friends and loved ones and everyone shared that they were proud of him.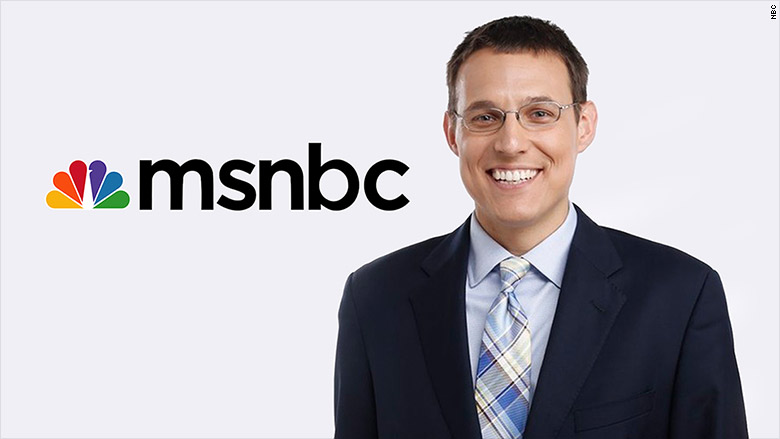 Steve Kornacki 
Source: CNNMoney
The famous journalist even claimed that he felt more comfortable after opening up about his sexuality to the world. As Steve shared, born in a tiny city, initially he would have never imagined exploring the side of him. He thought of getting married and having a wife with kids because it was the only option. 
However, as the world has evolved and the LGBT community is well understood and respected, he decided to open up and even quoted, "Most people used to be exposed to only a select cross-section of gay people. But the atmosphere has changed so much."
The journalist, coming out as a gay man made a lot of news, and currently, he is among the well-known gay journalists along with Rachel Maddow and Thomas Roberts. 
Is Steve Married? Is he in a relationship? 
Previously, there were rumors claiming that the journalist was married to a woman and secretly got a divorce from her. However, there is no legit proof about it and cannot be stated as the truth.
Meanwhile, Steve does know how to keep his personal details very private as there are no reports about him being in a relationship with a woman or a man. Even though there are rumors that he is dating a man from the same industry, no claims have been made. 
So, it is safe to say that the man is still single and there are no legit reports about the man being in a relationship.